WASHINGTON ― Sen. Susan Collins (R-Maine) said Friday she plans to support Supreme Court nominee Brett Kavanaugh, paving the way for his confirmation.
Collins announced her decision at the end of blistering 45-minute speech in which she defended Kavanaugh's judicial record, criticized his opponents, and laid to waste Christine Blasey Ford's claim that he sexually assaulted her.
"I believe that [Ford] is a survivor of sexual assault and that this trauma has upended her life," Collins said, before offering a series of criticisms of Ford's allegations. "I do not believe that these charges can fairly prevent Judge Kavanaugh from serving on the court."
The long-awaited announcement comes as a blow to Democrats and women's groups who view the appellate court judge as a serious threat to the Affordable Care Act and reproductive rights, which Collins claims to support.
Women's groups also hoped Collins would have voted to reject Kavanaugh's nomination based on the allegations of sexual assault that were leveled against him late in the confirmation process. Last month, the Maine lawmaker called for a pause in the process to hear from Ford, the woman who accused Kavanaugh of groping her in high school when they were both teens. The FBI conducted a limited investigation of the allegation, but the report proved inconclusive.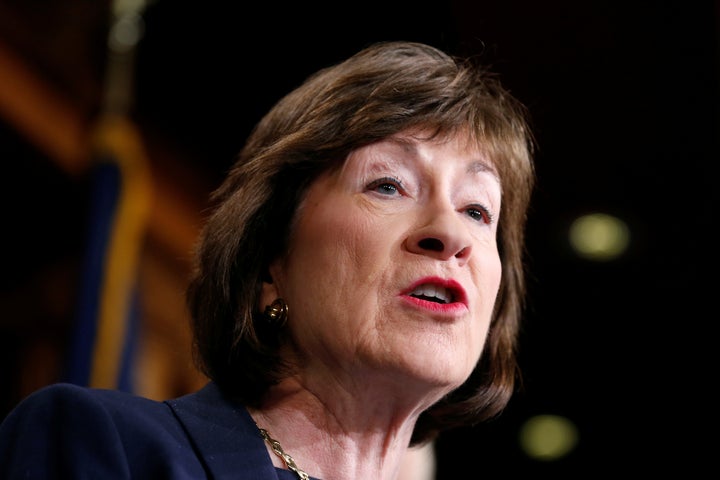 The Senate is expected to hold its final confirmation vote on Saturday. With Collins and Jeff Flake of Arizona, another wavering GOP senator, on board, Kavanaugh's bid to the high court appears to be all but assured. Shortly after Collins' speech, Sen. Joe Manchin (D-W.Va.), another potential swing vote, announced his support of Kavanaugh.
Nominated by President Donald Trump in July to replace former Justice Anthony Kennedy, the 53-year-old Kavanaugh is viewed by legal experts as a reliable conservative who will tilt the balance of the Supreme Court to the right for decades.
Collins, a blue state lawmaker, faced an intense lobbying campaign organized by progressive groups aimed at persuading her to reject Kavanaugh based on his record as a federal appellate court judge and other issues. Causing particular concern to the groups were comments Kavanaugh has made praising Supreme Court Justice William Rehnquist's dissent in Roe v. Wade, the landmark 1973 decision that legalized abortion rights nationwide.
In addition to millions of dollars spent on anti-Kavanaugh TV ads in Maine, activists sent Collins' offices 3,000 coat hangers, a symbol of the dangerous method for terminating a pregnancy used when abortion was illegal and many women resorted to risky procedures.
In Friday's announcement, Collins dismissed concerns that Kavanaugh would vote to gut Roe.
"Protecting this right is important to me," she said, before arguing that Kavanaugh's stance on judicial precedent would protect Roe. She did not mention the judge's public criticism of the landmark ruling nor his recent vote against an undocumented teenager who was seeking an abortion.
She also pointed to opposition from women's rights groups on other Supreme Court justices who were nominated by Republican presidents but ended up later voting to enshrine reproductive rights.
"Suffice it to say, prominent advocacy organizations have been wrong," she said.
Opponents also seized on an email Kavanaugh wrote in 2003 as an official in President George W. Bush's administration in which he seemed to question whether Roe was "settled law." The email appeared to contradict assurances Collins said Kavanaugh gave her in a meeting in August that he accepted the settled law notion about Roe.
"He often describes Roe as precedent upon precedent," Collins said earlier this month, referring to Kavanaugh's confirmation hearing testimony. She further repeatedly expressed confidence he would not vote to overturn the landmark decision.
Along with not being swayed by the concerns over Kavanaugh's views on abortion rights, she apparently discounted claims from Democrats that he could be expected to rule in favor of overturning the Affordable Care Act and against upholding its insurance protections for people with preexisting medical conditions.
Collins was one of three Senate Republicans who helped defeat the GOP effort to repeal Obamacare in 2017, and progressives hoped she would step up in its defense once more.
During his 2003-2006 tenure at the White House working for Bush, he controlled the flow of papers to the Oval Office as staff secretary. During that pivotal time after the Sept. 11 terror attacks, the Bush administration dealt with controversial issues like detainee treatment and the Iraq War. Democrats wanted to know whether Kavanaugh expressed his opinions in any documents or emails on such controversial matters as the torture of detainees.
"I don't see a need for those," Collins told HuffPost in July, referring to Kavanaugh's staff secretary records.
Collins not only voted for Trump's previous Supreme court pick, conservative Neil Gorsuch, but for all of the president's scores of nominees to lower federal courts. That includes one who compared Roe v. Wade to the infamous 1857 Dred Scott decision that ruled slaves could not be U.S. citizens.
Collins, 65, is up for re-election in 2020 and some progressives are eyeing a concentrated effort to defeat her as a way to hold her accountable for her record on judicial appointees. But Collins, first elected to her seat in 1996, has worked hard to sustain her popularity among Maine's voters.
Alana Horowitz Satlin contributed to this report.
Popular in the Community