WASHINGTON -- Democratic leaders in the Senate may have rejected a bipartisan push among more junior members to come up with a compromise to Capitol Hill's fiscal standoff, but at least a dozen senators working behind the scenes Sunday were still rallying around a plan led by Sens. Susan Collins (R-Maine) and Joe Manchin (D-W.Va.).
It's unclear how the effort has changed since Senate Democratic leaders shot it down Saturday in favor of direct talks between Majority Leader Harry Reid (D-Nev.) and Minority Leader Mitch McConnell (R-Ky.). But the basic idea was to fund the government through March at the levels specified for 2013 in the 2011 budget deal, and to raise the debt ceiling enough to last through January, to give time to negotiate a longer-term budget. The plan would leave Obamacare alone, but replace for two years a device tax that helps fund the law.
Even though Reid and his fellow leaders rejected the idea -- objecting both to the short-term debt limit hike and to keeping deeper across-the-board spending cuts in place through March -- it got a new burst of support on Sunday.
Sens. Mary Landrieu (D-La.) and Bob Corker (R-Tenn.), both praised the bipartisan push in Senate floor speeches.
"We had a group of folks that had an idea. I thought it was a good starting place, candidly, with six Republicans and six Democrats, who had an idea of a way to move beyond this," said Corker.
"I want to associate myself with the effort underway by Sen. Collins from Maine and Sen. [Amy] Klobuchar from Minnesota (D), Sen. Mark Pryor (D) from Arkansas and others on both sides of the aisle that have been working throughout the evening, the night, early morning hours, talking, trying to find a way forward," said Landrieu.
A Democratic aide confirmed the talks were ongoing and attracting fresh interest, but was unwilling to go on the record, citing the leadership's opposition.
Corker, who like Landrieu said he supports the talks between Reid and McConnell, said he believes the bipartisan effort was blocked by Democratic leaders because many in their party want to undo the spending cuts that remain in the Collins compromise, which would fund discretionary programs at $988 billion in a continuation of this year's sequestered budget.
"Let's face it. We all know what happens around here. Two nights ago the White House weighed in, and leadership on the Democratic side pulled back from there, asked the 12 folks not to have a press conference yesterday to announce what their efforts were," Corker said, adding that Democrats were now guilty of the same "overreach" he said Republicans in the House committed by starting the funding showdown in a bid to target Obamacare.
Democrats want to set spending levels at $1.059 trillion and end sequestration. But an aide on Sunday denied that Democratic leadership was trying to bust the budget caps, saying senators would stick with sequestration into December -- as offered in an earlier compromise -- if the House passed a "clean" bill to fund the government, which remains shut down.
"We stand by that bill and would happily accept it or something similar as a way out of the current impasse, and leave the debate over 2014 levels for another time," the aide said, speaking on condition of anonymity because negotiations are ongoing. "This bill has been sitting in Speaker [John] Boehner's lap for weeks, and he could end the shutdown tomorrow if he would simply bring it up for a vote."
Still, Corker saw the Democratic stance as a bid to get more, sooner. "In fairness, what's happened over the last couple of days is the other side of the aisle has gotten a tick too cute," he said.
And while Democratic leaders were rejecting the Collins plan, McConnell embraced it.
"There is a bipartisan plan in place that has the support of Democrat and Republican senators," McConnell said in a statement Sunday. "It would reopen the government, prevent a default, provide the opportunity for additional budget negotiations around Washington's long-term debt, and maintain the commitment that Congress made to reduce Washington spending through the Budget Control Act -- the law of the land. It does all this while maintaining our commitments to reduce spending, cutting an Obamacare tax and improving anti-fraud provisions in the law. It's time for Democrat leaders to take 'yes' for an answer."
Reflecting the tense and odd nature of the standoff, McConnell's support for the Collins plan sparked a statement from the six Democrats involved suggesting they were pulling back.
"We have been involved in productive, bipartisan discussions with Sen. Collins and other Republican senators, but we do not support the proposal in its current form. There are negotiations, but there is no agreement," the statement said, with Sens. Heidi Heitkamp (D-N.D.), Joe Donnelly (D-Ind.), Angus King (I-Maine), Pryor, Klobuchar and Manchin signing on.
If Democrats were to accept the plan, the compromise would give Republicans two small victories of sorts -- ensuring that deeper budget cuts than Democrats want stay in place for at least three and a half more months, and temporarily replacing the medical device tax in Obamacare. Democratic leaders are loath to go along because it would likely mean rewarding GOP hostage-taking, and because the public has been overwhelmingly on their side in the battle.
Reid closed Sunday's unusual session by saying that discussions with McConnell had been "substantive" and that he was optimistic. But aides familiar with the talks said no deal of any kind was expected Sunday night.
Michael McAuliff covers Congress and politics for The Huffington Post. Talk to him on Facebook.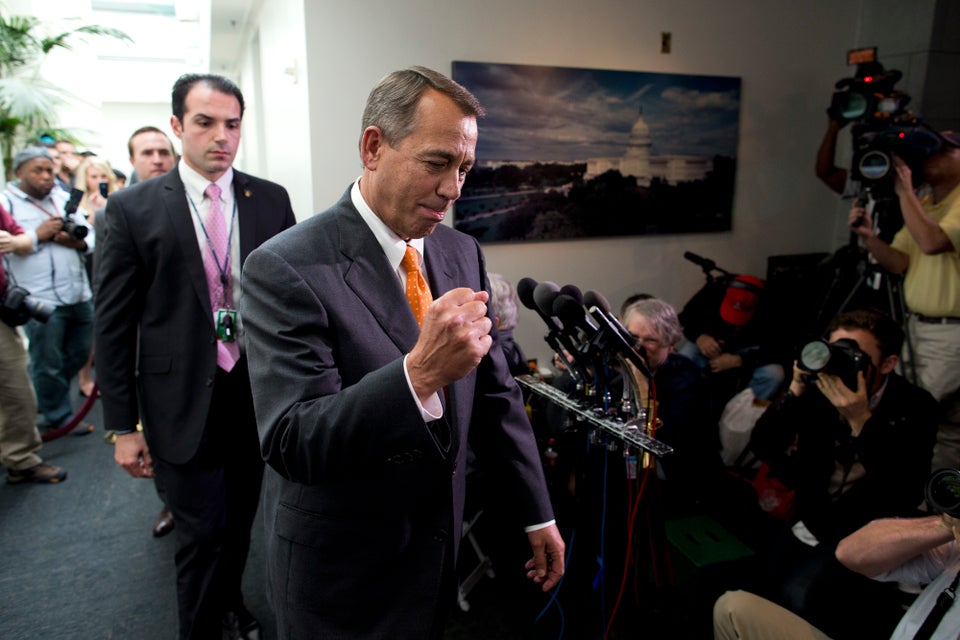 2013 Government Shutdown
Popular in the Community