Maine's Republican Sen. Susan Collins said that she would not be swayed by President Donald Trump's apparent threats to pull the plug on key Obamacare funds, including subsidies for members of Congress and their staff.
In a Sunday interview with Jake Tapper on CNN's "State of the Union," Collins first said that even if Trump cut off Congress' subsidies, it would not change her mind about opposing the health care repeal.
Tapper then asked whether if cuts to cost sharing reduction payments, or CSRs, that the federal government provides for low-income people would affect her decision.
"It would not affect my vote on health care but it's an example of why we need to act ― to make sure that those payments, which are not an insurance company bailout, but rather help people who are very low income afford their out-of-pocket costs toward their deductibles and their co-pays," Collins said in response.
Trump tweeted on Saturday that he would end "BAILOUTS for Insurance Companies and BAILOUTS for Members of Congress" if Congress did not act to repeal and replace the Affordable Care Act, commonly known as Obamacare. 
Although Trump did not make clear what he meant, he implied that he would withhold CSRs, which the federal government provides insurers to subsidize the coverage of people with incomes under 250 percent of the poverty level who buy plans on the Obamacare insurance exchanges. He also appeared to threaten the funding that the federal government uses to subsidize the cost of coverage for members of Congress and their staff, who are required to purchase the insurance of the Washington, D.C, Obamacare exchange.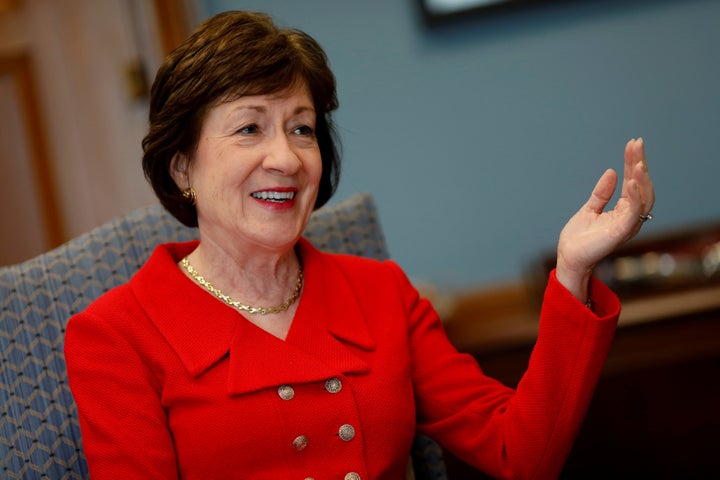 Instead, Collins said she favors developing multiple pieces of legislation in the relevant Senate committees to address Obamacare's flaws, noting that the Obamacare exchanges are "collapsing" in some areas.
Collins received a spontaneous round of applause at the airport in Bangor, Maine, on Friday from constituents pleased that she opposed the Obamacare repeal. Collins told CNN's Tapper on Sunday that the warm reception was "encouraging and affirming."
Collins resisted virtually every iteration of repeal that the Senate considered in recent months. Early Friday morning, she joined fellow Republican Sens. Lisa Murkowski (Alaska) and John McCain (Ariz.) in voting down the so-called "skinny" repeal bill, which would have eliminated Obamacare's individual insurance mandate and the requirement that large companies provide insurance to their employees.
Collins' steadfastness has not discouraged the president or senior Trump administration officials from threatening to torpedo the exchanges through moves like cutting off the CSRs.
Kellyanne Conway, counselor to President Trump, suggested in an interview on "Fox News Sunday" that Trump was seriously considering halting the payments.
"He's going to make that decision this week and that's a decision that only he can make," she said to host Chris Wallace.
Also on Sunday, White House budget director Mick Mulvaney affirmed that it was official White House policy that Congress should not enact any new legislation, including a raise of the debt ceiling, until Congress repeals Obamacare. He did not explicitly say whether that meant that the White House would not sign any such legislation.
"Go and poll the American public and find out what the most important issue is to them right now, and it's health care," Mulvaney said in an interview on CNN's "State of the Union. "So, in the White House's view, they can't move on in the Senate."
BEFORE YOU GO
PHOTO GALLERY
2017 Scenes From Congress & Capitol Hill