Sen. Susan Collins (R-Maine), a key vote in Brett Kavanaugh's Supreme Court nomination, on Wednesday urged the woman who accused the appellate court judge of sexual assault to testify before the Senate next week.
"I think it's not fair for Judge Kavanaugh for her not to come forward and testify. Both of them need to testify under oath next Monday before the Judiciary Committee," Collins said in a WVOM radio interview.
Christine Blasey Ford, the college professor who went public over the weekend with her allegation that Kavanaugh sexually assaulted her at a party in high school, on Tuesday called for an FBI investigation into her claim before she testifies before the Senate Judiciary Committee. Blasey said through her lawyers that an investigation should be "the first step" before she is put "on national television to relive this traumatic and harrowing incident." 
Republicans ― even those who initially pushed for postponing a vote on Kavanaugh in order for Blasey to be heard ― reacted to her statement on Tuesday with disappointment. They dismissed the possibility of an FBI investigation and urged Blasey to tell her story during the committee's scheduled hearing on Monday, either publicly or behind closed doors.
"Republicans extended a hand in good faith. If we don't hear from both sides on Monday, let's vote," tweeted Sen. Bob Corker (R-Tenn.), one of the GOP senators who pushed for giving Blasey an opportunity to be heard.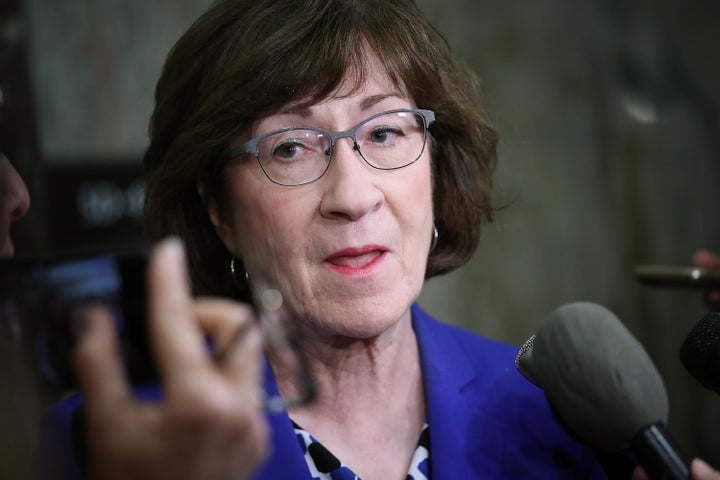 Collins, a centrist GOP senator whose voice was instrumental in pressuring Senate Judiciary Committee Chairman Chuck Grassley (R-Iowa) into postponing last week's committee vote on Kavanaugh's nomination, expressed concern that Blasey's absence at the hearing would leave "very serious" allegations "hanging over the head of a nominee who has emphatically denied them."
"That's just not a good way for this to end," Collins said. "So I think she needs to come forward and we need to provide her with any protection she may ask for, for herself and her family." 
Moreover, Collins did not appear to be swayed by the idea of federal investigators looking into the alleged incident, claiming that the FBI usually does not pursue allegations against a nominee that occurred "when the nominee was a minor." The senator also echoed President Donald Trump and other Republicans in criticizing Sen. Dianne Feinstein (D-Calif.), the senior Democrat on the Judiciary Committee, for how she handled a letter she received from Blasey in July that detailed the alleged incident.
"I recognize the letter was an anonymous one, but it seems to me the way it was handled is unfair to both the judge and the professor because it cast a cloud of doubt on both of them," Collins said in the interview.
Sen. Kristen Gillibrand (D-N.Y.), an outspoken supporter of the Me Too movement, meanwhile, told CNN that Blasey shouldn't be "bullied" into appearing at Monday's hearing.
With a slim 51-49 Republican majority in the Senate, Collins' vote could prove pivotal to determining whether Kavanaugh ends up on the Supreme Court. Her falling in line with GOP leaders over the matter of the timing of Blasey's testimony bodes well for the Senate's chances of confirming him, barring any other unforeseen circumstances. 
This article has been updated with Gillibrand's comment. 
REAL LIFE. REAL NEWS. REAL VOICES.
Help us tell more of the stories that matter from voices that too often remain unheard.