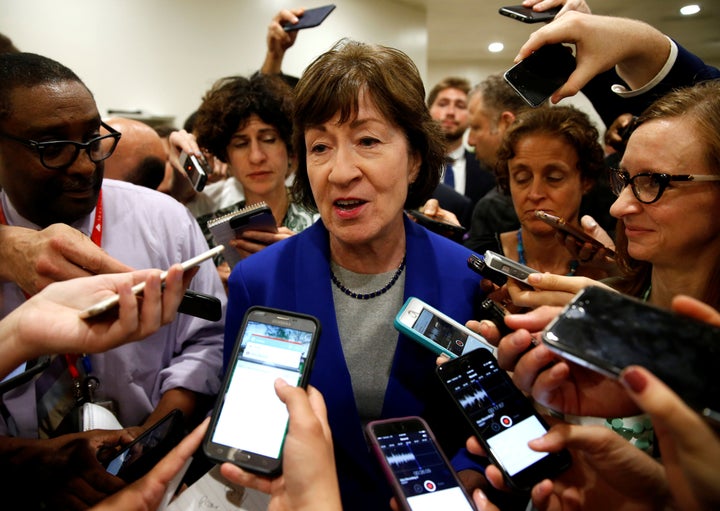 Sen. Susan Collins (R-Maine) said on Monday she would vote against a motion to proceed on the Senate's controversial health care bill, despite urging from fellow Republicans to pass the legislation as soon as this week.
Collins is one of several senators who initially expressed skepticism about the hastily drawn legislation, which was crafted largely behind closed doors by Republican leaders. Last week, she told MSNBC's Chuck Todd she could not "support a bill that is going to result in tens of millions of people losing their health insurance."
Those concerns have been echoed by several of their colleagues, including Sens. Ted Cruz (R-Texas), Ron Johnson (R-Wis.) and Mike Lee (R-Utah). Sen. Lisa Murkowski (R-Alaska) also expressed "significant concern" following the release of the CBO analysis. Sen. Rand Paul (R-Ky.) told reporters he would vote no on the motion unless the legislation becomes more conservative. Last week he called for a plan that is "more like a repeal and less like keeping Obamacare."
Every Senate Democrat has declared opposition to the legislation, and the bill will not pass if three Republican senators oppose it. The House has passed its version of a health care bill, called the American Health Care Act.
The Senate's bill, called the Better Care Reconciliation Act, was unveiled by GOP leadership Thursday, drawing immediate dissent from a swath of health care and patient groups, including the American Medical Association and AARP.
"Medicine has long operated under the precept of primum non nocere, or 'first, do no harm.' The draft legislation violates that standard on many levels," AMA CEO James Madara wrote in a letter to McConnell and Senate Minority Leader Chuck Schumer (D-N.Y.) on Monday. "We believe that Congress should be working to increase the number of Americans with access to quality, affordable health insurance instead of pursuing policies that have the opposite effect."
CLARIFICATION: This post has been updated to better reflect that Sen. Collins will vote against a motion to proceed on the bill, which would put it before the Senate for consideration.
Support HuffPost
The Stakes Have Never Been Higher
Popular in the Community