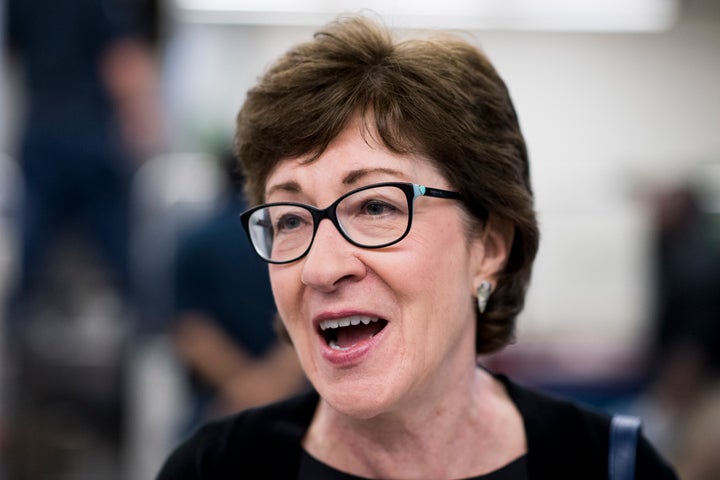 Sen. Susan Collins (R-Maine) was the only Republican to vote for a defeated amendment on Tuesday that would have prevented the Senate from adopting legislation cutting Social Security, Medicare or Medicaid.
The amendment, which Sen. Bernie Sanders (I-Vt.) introduced as an attachment to a budget resolution laying out rules for repealing Obamacare, failed to clear a 60-vote threshold needed for adoption.
Had it passed, Sanders' amendment would have created a technical hurdle, or "point of order," blocking legislation that reduces the benefits that the three programs provide. Also on Tuesday, Sanders released a list outlining 13 times President-elect Donald Trump "promised not to cut Social Security, Medicare and Medicaid."
Despite the amendment being defeated in a 49-49 vote, the Democrats still achieve their goal to hold Trump to his campaign commitment not to cut the social insurance programs. Senate Republicans have now formally declined to block legislation that would violate Trump's promise.
The president-elect's incoming Chief of Staff Reince Priebus said on Sunday that Trump would not "meddle" with Social Security and Medicare in keeping with his campaign promises. He did not address Medicaid.
The advocacy organization Social Security Works, which backs expanding Social Security rather than cutting it, has suggested that Priebus' language leaves room for maneuvering.
The group, along with Sanders, is calling for Trump to promise he would veto any such legislation.
Repealing Obamacare, President Barack Obama's signature health care reform law, a top priority for Republicans, would likely include rolling back Medicaid expansion and might have implications for Medicare as well. That would appear to put Republicans supportive of repeal in a bind if they voted for Sanders' amendment, which precludes such cuts.
Senate Budget Committee Chairman Mike Enzi (R-Wyo.) argued that a "vote in favor of this amendment is a vote against repealing Obamacare," The Hill reported.
Sen. Collins is among a group of Republican senators who have cautioned against repealing the health care law without an adequate plan to replace it.
"Unfortunately, many of the votes on the budget resolution are designed only to score political points," Annie Clark, a spokeswoman for Collins, said in a statement responding to a request for an explanation of the senator's vote for the amendment. "The bottom line is Senator Collins has long supported efforts to repeal and replace the ACA and is working to do so in a way that does not create a gap in coverage for individuals who are currently insured and who rely on that coverage."
This story has been updated to include comment from Collins' spokeswoman.
Popular in the Community