Republican Sen. Susan Collins has won reelection in Maine, edging out Democrat Sara Gideon in one of 2020's most closely watched races.
Gideon called Collins on Wednesday to concede the race, Collins told a crowd of supporters and members of the media later that day.
"I want to publicly thank Sara for her call," Collins told the crowd after walking out to the song "I'm Still Standing" by Elton John. "Let me say what an extraordinary honor it is ... to know that I will have the opportunity to serve all of Maine for the next six years."
"I feel that this is an affirmation of the work I am doing in Washington to fight hard every day for the people of Maine," she added.
Holding on to Collins' seat marks a key victory for Republicans in their quest to maintain control of the Senate.
Collins, the most senior Republican woman in the Senate, has handily won reelection in past years, but headed into Election Day this year in a virtual tie in polling with Gideon, Maine's House speaker.
Independents Lisa Savage and Max Linn were also on the ballot this year, but trailed significantly behind Collins and Gideon throughout the race.
With roughly 75% of estimated votes reported Wednesday afternoon, Collins led the race with nearly 50% of the votes, according to The Associated Press. Gideon was in second with about 43% of the vote.
Collins, 67, has positioned herself as a pro-choice, moderate Republican. But her voting record in recent years ― including voting to pass President Donald Trump's tax act in 2017 and to acquit him during his impeachment trial earlier this year ― has come under the intense scrutiny of her more liberal-minded constituents.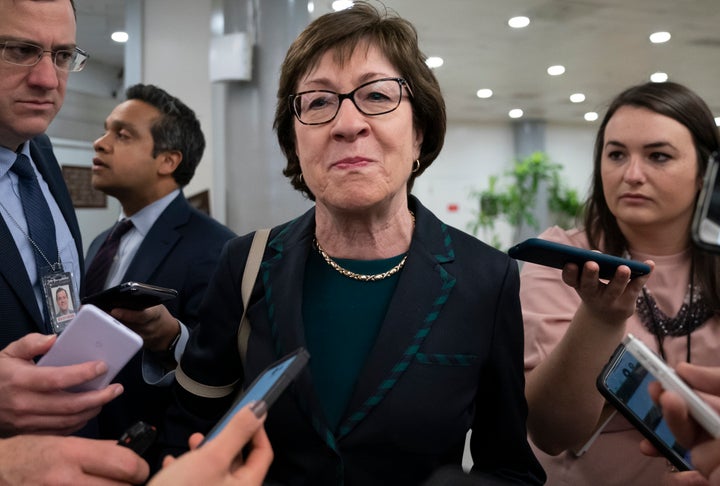 Her critical vote to confirm Brett Kavanaugh to the Supreme Court in 2018 following Christine Blasey Ford's allegation that he sexually assaulted her when they were both in high school drew renewed attention to Collins' reelection bid.
Sexual assault survivors and reproductive rights activists descended on Collins' office in Washington during the confirmation hearings, demanding the so-called moderate vote no on Kavanaugh.
Activists launched a crowdfunding campaign for Collins' would-be Democratic challenger should the senator vote to confirm Kavanaugh, which she ultimately did. Gideon, 48, collected the roughly $4 million in crowd-sourced donations after winning the Democratic primary in July.
Gideon said Wednesday that she told Collins she will "always be available to help serve the people of Maine."
"Ultimately, that's why I entered this race and it's why I got involved in public service in the first place," Gideon said. "My parents taught my sisters and me that we should always look at the world around us and figure out how we could each make a difference for people. ... While this election may be over, we have to work together to build a better future."
Collins pledged while campaigning in 1996 and 2002 that she would serve only two terms in the chamber. But with this year's win, she'll begin a fifth term in January. She's the first senator from Maine to do so since the state has directly elected its senators, Collins told her supporters Wednesday.
This is a developing story. Check back for updates.
Popular in the Community