 The parents of missing Utah mom Susan Cox Powell are planning a cadaver dog search of her father-in-law's former Washington state home.
Steven Powell -- the father of Susan Cox Powell's husband, Josh Powell -- has not resided in the residence since 2011, when he was arrested. Authorities said they found inappropriate photos of two young neighborhood girls in his home.
The photos were found while investigators were searching for evidence about his missing daughter-in-law.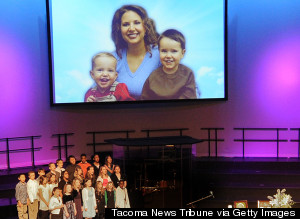 A photo of Susan Cox Powell and her sons
"The little girl victims who I represent obtained a $2 million judgment against Steven Powell," Bremner told The Huffington Post. "They now own his house [and] there are no restrictions left regarding searching."
Prosecutors ultimately obtained a conviction against Steven Powell for several counts of voyeurism in connection with the photos. He served nearly two years behind bars before he was released in March.
In addition to the photos of the girls, authorities found several journals during their search of Steve Powell's home that show he had a sexual obsession with Susan Cox Powell, The Associated Press reported.
Susan Cox Powell has been missing since Dec. 7, 2009, when she failed to show up for her job as a stock broker at Wells Fargo Financial in West Valley City, Utah. She was 28. Her husband told police he had been camping with their two children, ages 2 and 4, and had last seen his wife around midnight.
Suspicious of Josh Powell's story, investigators named him a "person of interest" in his wife's disappearance and he moved in with his father for a period of time after that.
Josh Powell killed himself and the couple's two children in a house fire in February 2012.
While police do not believe Steve Powell was directly involved with Susan Cox Powell's disappearance, they do suspect he may know more about it than he has let on, the AP reported.
Bremner said she does not have a timeline for when the cadaver dogs will be brought in, but it should be soon.
"[The girls] are allowing the Coxes to search there," Bremner said. "We don't know if Susan Cox Powell is alive or dead, but [her family] will continue searching."
REAL LIFE. REAL NEWS. REAL VOICES.
Help us tell more of the stories that matter from voices that too often remain unheard.
BEFORE YOU GO