 After Susan G. Komen for the Cure's controversial decision several weeks ago to cut funding to Planned Parenthood, and the subsequent reversal of that decision, the cancer charity has hired a consulting firm that specializes in messaging strategy to essentially ask its donors: Do we still owe you an apology?
Penn Schoen Berland (PSB), which was founded by former Democratic pollsters Mark Penn and Doug Schoen, circulated a survey among Komen's supporters last week to assess the damage caused by the public backlash against the charity in early February. The 20-minute questionnaire first asks a series of questions to determine how favorably people feel about Komen now and how likely they are to donate to it, as compared to the American Cancer Society, Planned Parenthood and the Breast Cancer Research Foundation.
It then launches into a series of questions about messaging: Did you read the media stories about Komen defunding Planned Parenthood? Which parts of certain passages most affected your opinion of Komen? Are you upset with the organization as a whole, or a few individuals? Was the decision about political ideology?
Komen founder Nancy Brinker and its public relations team maintained throughout the Planned Parenthood controversy that their decision was based on a routine change in grant criteria that disqualified organizations who were under federal, state or local investigation. But emails later surfaced showing that Karen Handel, Komen's senior vice president for public affairs and a former Republican candidate for governor in Georgia, actually drove the decision to defund Planned Parenthood because some of its clinics provide abortions. Handel then apparently led the effort to make the move look non-political.
In an attempt to assess the damage caused to Komen's reputation, the survey runs statements by the respondent and asks him or her to rate their believability. One statement, for example, says, "Susan G. Komen is an organization of right-wing conservatives with an anti-choice agenda. They decided to stop funding Planned Parenthood, which has become a punching bag of anti-choice Republicans, even though Planned Parenthood helps to provide life-saving cancer screenings for young and low-income women who do not have regular medical care."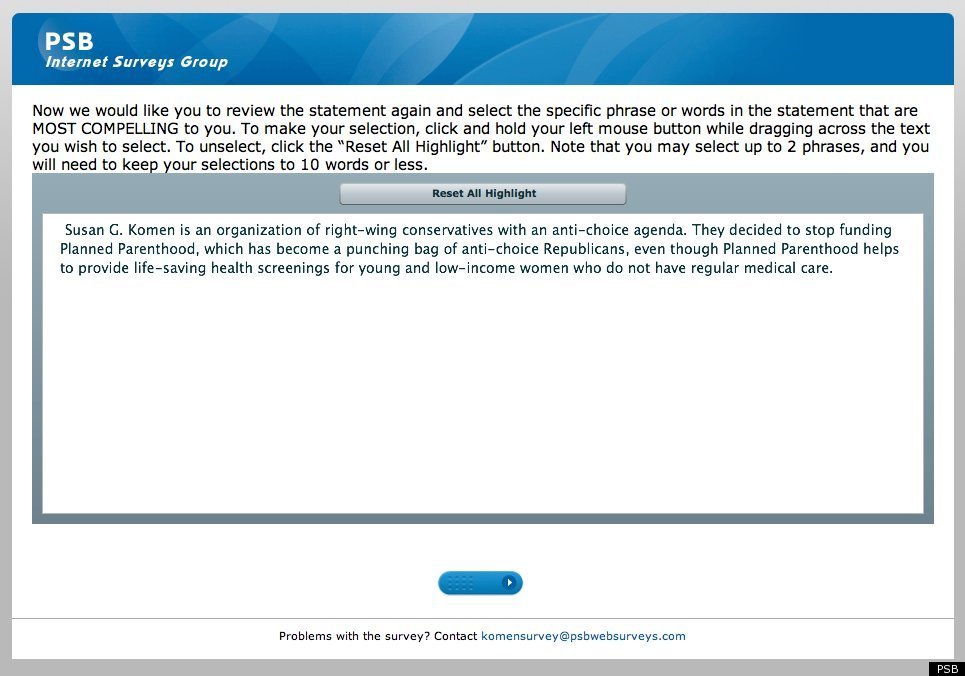 Perhaps most interestingly, one section of the Komen survey asks participants whether they feel that the organization still owes them an apology, and then lists a series of potential apologies to test whether or not they are effective. The options range from deeply apologetic to defensive and deflective of blame. "We made mistakes, but political elements on the right and left have sought to use our missteps to advance their own political agenda," one potential apology reads.
PSB wraps up the survey by listing a diverse cast of politicians and celebrities and asking the reader to rate which ones would be the most credible as Komen's new spokesperson. The list includes Sheryl Crow, George H.W. Bush, Bill Clinton, Sandra Day O'Connor, Ellen Degeneres, Melissa Etheridge, Lance Armstrong, and Rudy Giuliani.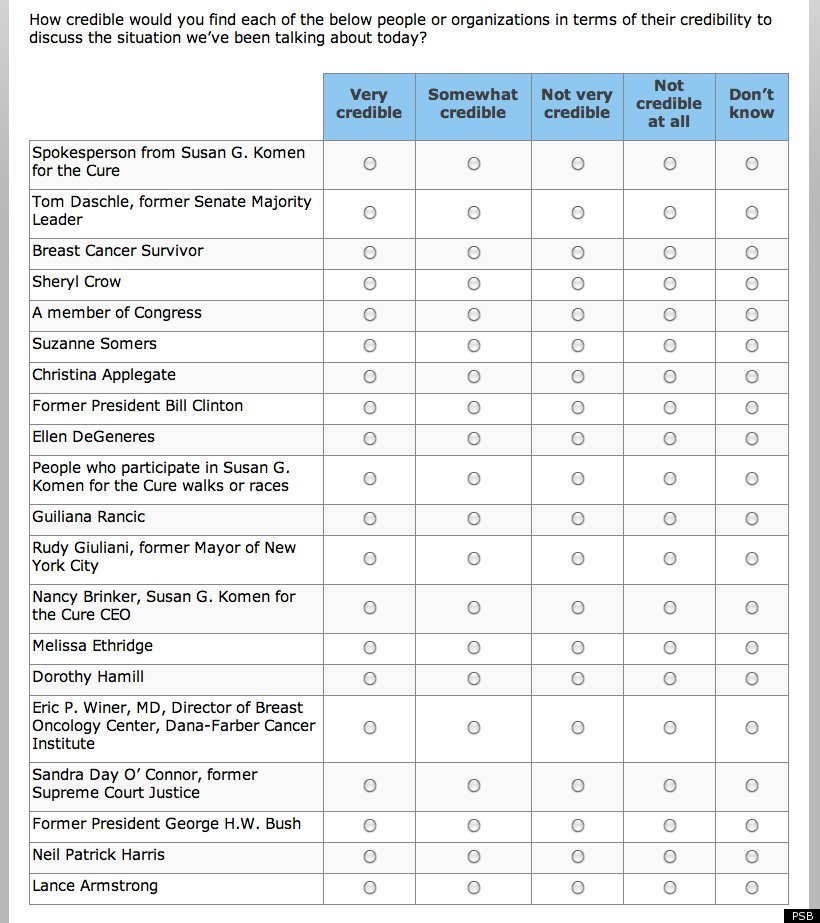 Komen and PSB did not respond to The Huffington Post's requests for comment about their partnership.
Below see some sample questions from the Komen survey.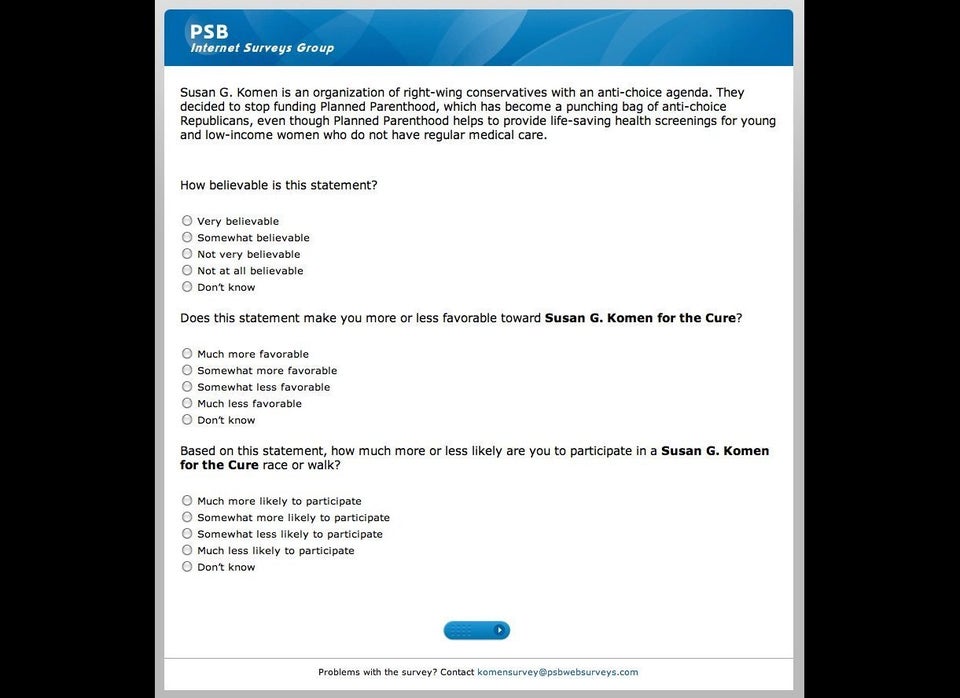 Susan G. Komen Survey
Popular in the Community