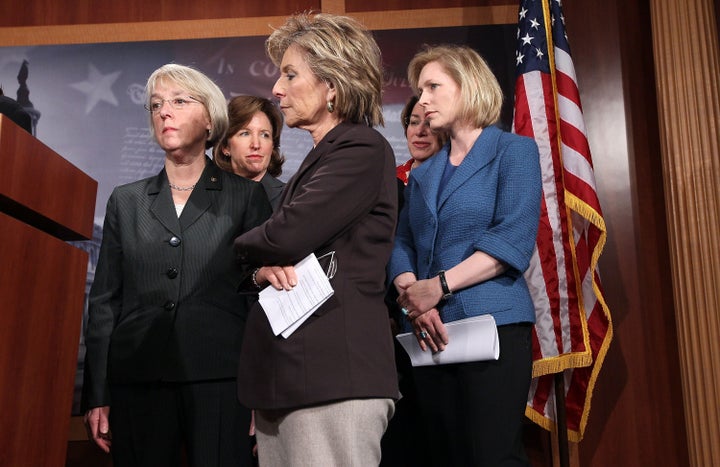 Led by Sens. Barbara Boxer (D-Calif.) and Kirsten Gillibrand (D-N.Y.), seven Democratic senators and the Democratic Senatorial Campaign Committee are appealing to backers on all of their websites to sign on to "One Million Strong For Women" in hopes of harnessing the energy displayed in the backlash against Komen.
"The strong public outcry in response to the Susan G. Komen Foundation's decision to defund Planned Parenthood last week -- which they later reversed -- shows how powerful we can be when we come together," says an email expected to be sent Wednesday by Gillibrand's office and obtained by The Huffington Post.
"Our right-wing opponents continue to launch attack after attack against women's rights, women's health, and women's economic security -- and we've got to fight back every single day," the appeal argues.
"The next battle over the Obama administration's decision to make contraception more affordable under the new health care law is already underway," it says, referring to a White House decision to require most employers to include birth control coverage in their insurance plans. "It's hard to believe that in the 21st century we have to fight for access to birth control, but that is the fact -- and there will be many more fights in the weeks ahead."
One fight as recently as Tuesday in the House of Representatives was over a Republican bill that aims to extend civil rights to fetuses, barring doctors from performing abortions if the physician thinks the woman is seeking to end a pregnancy because of sex or race.
"Our opponents tried to defund Planned Parenthood, in the federal budget and in many states. They tried to destroy our Medicare and Medicaid lifelines, which would be particularly devastating to women," the email says. "They tried to get the Susan G. Komen Foundation to cut off support for Planned Parenthood."
Other senators involved are Ben Cardin (D-Md.), Frank Lautenberg (D-N.J.), Robert Menendez (D-N.J.), Patty Murray (D-Wash.) and Charles Schumer (D-N.Y.).
Popular in the Community