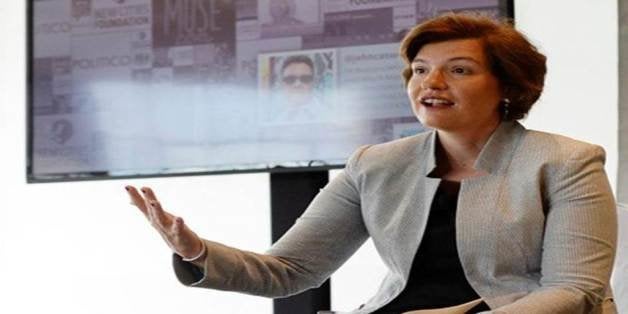 NEW YORK –- On Thursday morning, Politico cofounders John Harris and Jim VandeHei introduced Susan Glasser to the entire Rosslyn, Virginia, newsroom -- which is now hers to run day to day as the publication's new editor.
Some of Politico's 200-plus staffers already knew Glasser, who joined the D.C. news organization last year and spearheaded the launch of Politico Magazine. But Glasser's new mandate gives her "full authority" over Politico's daily Washington coverage, the magazine and premium subscription service Pro. While the two cofounders remain integral to the company's future plans, there was a changing-of-the-guard feel to the ceremony, as someone other than Harris or VandeHei will get to call the shots.
VandeHei, now chief executive, is renowned for touting Politico's success in front of the company's staff, who he has affectionately described in the past as a "cult." The gathering for Glasser was no exception, as VandeHei delivered a rousing speech and predicted Politico would double in size by this time next year, according to sources present. He also jokingly dismissed rumors that The New York Times or another media company might buy Politico, telling staffers that "there's no way in hell" that owner Robert Allbritton is selling.
Harris, who remains editor-in-chief but will focus more on U.S. and European expansion, praised Glasser as a "great, natural editor" and recalled her strong reporting during their days together at The Washington Post. The lovefest continued as Glasser heralded Politico as the best platform in journalism and mentioned how in her early days, as editor of Roll Call, she hired a young reporter named Jim VandeHei to cover Congressional House leadership.
Glasser's long-standing ties with senior leadership are a key reason she was tapped Thursday to become the news organization's first editor. She worked with VandeHei, Harris and Politico chief operating officer Kim Kingsley at the Post. And her husband, New York Times reporter Peter Baker, covered the White House for the Post alongside both VandeHei and Harris.
But it's not friendship alone that vaulted Glasser so quickly up the masthead. Glasser shares a similar language and ethos with the company's cofounders when it comes to Washington journalism, and has a track record of her own for media innovation.
In an interview with The Huffington Post, Glasser said she feels "really lucky" to be grappling with today's disruptive media environment alongside colleagues she has known and worked with for nearly two decades. Glasser also expressed gratitude that Politico's cofounders were letting her "take their baby on the road." Harris and VandeHei have seemed reluctant in the past let anyone else take the keys.
On Sept. 7, executive editor Rick Berke abruptly resigned from the No. 2 position in the newsroom, citing strategic difference with Harris and VandeHei. Berke, who joined Politico to great fanfare last October after 27 years at The New York Times, didn't have the authority he expected in that top management position, according to newsroom sources.
Politico has a unique culture, into which Berke didn't seem to fully assimilate. That was evident when Berke referenced "Politico" in his recent goodbye memo, while Harris and VandeHei, in a memo of their own immediately after, opted for "POLITICO," the bombastic all-caps house style. Glasser mentioned "POLITICO" 16 times in her Thursday memo to staff and even expanded upon the news organization's "win the morning" mantra by writing that Politico should aim to win the "afternoon and evening too with smart, authoritative, impactful, independent and original journalism."
The Huffington Post reported Monday that Glasser would be promoted to a larger leadership position at Politico, but the mandate she was given is even broader than staffers expected, and one in which she has the authority to make significant changes.
After rising from Roll Call intern to top editor while still in her 20s, Glasser next overhauled The Washington Post's Outlook section. She proved to be a formidable and at times divisive figure in the Post newsroom and lost her job as national editor in April 2008 amid concerns over low morale. Glasser is said to grow frustrated when she believes editors and reporters are being complacent, another tendency she shares with the hard-charging Politico cofounders.
In 2009, Glasser revamped Foreign Policy's website in an effort to drive the foreign affairs conversation online, not unlike Politico had done for politics two years earlier. She joined Politico last year to launch its magazine, which has not only produced deep reporting inside the Obama White House, but also has won several awards and published both the highest-trafficked and most-shared articles in Politico's history.
Glasser told HuffPost she's excited to work at a news organization that is highly specialized and where there's a true "alignment between what the business model is and what the journalism is."
"It's not chasing this elusive general interest audience or to get pageviews for its own sake," Glasser said of Politico. "It has this clear-cut mission around journalism and owning and shaping Washington reporting around politics [and] core institutions of the government."
The biggest change in recent years at Politico has been the launch and expansion of Politico Pro, which is now the prime revenue-generator for the company. There are now more reporters working for the subscription-based service, which covers 13 specific policy areas like health care and defense, than work for the main publication. Last week, Politico announced the hiring of veteran journalist Timothy Noah to lead a new labor policy vertical for Pro.
Glasser pointed to both Pro and the magazine as two successful start-ups Politico has developed since its 2007 launch, and as evidence the company continues to transform. "Politico has a pretty good track record of growing and broadening and jumping into new things," she said.
Politico's mission has expanded into premium policy coverage and long-form journalism, and it now is looking toward Europe -- but its bread-and-butter coverage areas, like political, White House and Congressional reporting, haven't changed much since the publication's inception. Reporters like Maggie Haberman and Jake Sherman still land big scoops, but the site has lost its advantage now that the rest of the industry caught up to (and keeps poaching from) Politico.
Politico was ahead of the curve during the 2008 election, and consistently scooped lumbering legacy media outlets. Now, many outlets not only break political news online, but are equally fast in pulling together a behind-the-scenes tick-tock or quick take based on the political story of the moment.
BuzzFeed, which is helmed by former Politico reporter Ben Smith, became the media darling of the 2012 election, and social media continues to change how politics is consumed on a daily basis. Political junkies no longer to need to keep hitting refresh on Politico's homepage when they can get their fix on Twitter.
When asked about staying ahead of the competition, Glasser acknowledged that Politico, like every media company, "needs to innovate" and that "standing still is not a recipe for success."
"That's where I feel its good to be in a place where change and adaptation and growth are built into its DNA," she said, adding that Politico is "in a good position to be constantly reinventing itself."
Disclosure: This reporter worked at Politico from Nov. 2007 to March 2010.
Related
Popular in the Community