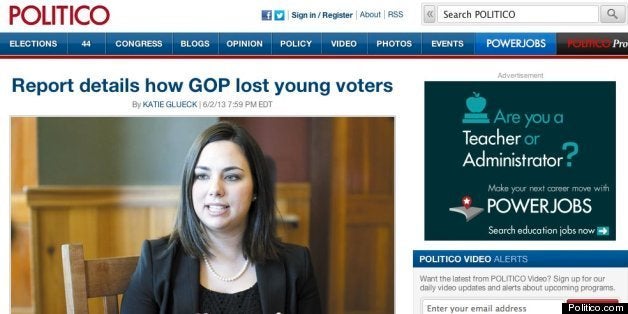 In her new position, Glasser will lead "divisions that produce deep, magazine-style journalism and in-the-moment opinion pieces," according to a staff memo obtained by The Huffington Post.
Politico editor-in-chief John Harris and executive editor Jim VandeHei described Glasser as "among the most respected thinkers and editors of her generation." They said the long-form journalism and opinion expansion that Glasser will help oversee is the company's largest in three years.
Glasser proved adept at reinvigorating Foreign Policy magazine by bringing in high-profile contributors and making the website a go-to source for news and discussion of the day's biggest international issues. As ForeignPolicy.com relaunched in 2009, military writer Tom Ricks said Glasser would be "running a daily online newspaper on foreign affairs and national security" and "bring[ing] to that sector Politico-type coverage."
"Susan has been instrumental over the years in helping to build Foreign Policy into the thriving, internationally-respected media organization it is today," David Rothkopf, CEO and editor-at-large of the FP Group, said in a statement. "We're grateful for her leadership and all of her tireless efforts to expand Foreign Policy's multi-award-winning coverage in both print and online, and we wish her the best as she moves on to pursue new career challenges."
Since launching in 2007, Politico has been better known for churning out scoops and turning around quick, behind-the-scenes stories on politics and policy in Washington. But Politico has pulled back at times and produced long-form journalism, including a series of ebooks during the 2012 election. Still, the hiring of Glasser suggests the publication is serious about producing long-form journalism on a more regular basis.
Harris and VandeHei wrote that Glasser will "rely heavily on outside contributors for the magazine," but said there will be openings available for both current staffers and the potential "high-impact hires."
We are thrilled to announce today the largest expansion of our company in three years - and a new POLITICO leader to guide this effort.

Susan Glasser, the editor-in-chief of Foreign Policy, will be joining us next month as a top editor charged with creating and running new editorial divisions that produce deep, magazine-style journalism and in-the-moment opinion pieces. She will also continue to write on foreign policy and national security.

With the encouragement of our publisher, Robert Allbritton, we will be investing substantially in this effort and hiring a number of new senior-level writers and editors. Best of all, we will continue to grow every other part of the organization while adding these new layers of coverage.

This is a big moment for all of us. Susan, among the most respected thinkers and editors of her generation, will be a core member of our leadership team, editing and managing a new POLITICO magazine online and in print. She will direct a stable of reporters, editors and support staff in producing daily, conversation-driving opinion and analytical pieces, making ourwebsite all the more indispensable to readers.

We see Susan as central to the evolution of this newsroom, and we want to share some of the thinking that brought Susan into the POLITICO fold.

The two of us think of POLITICO's life span in several stages. The first was the initial launch of our publication in 2007 - proving that this new media age presented an amazing opportunity to cover politics and Washington in a new way. The second chapter was the launch of Pro three years ago, which reflected our determination to make POLITICO the capital's dominant news organization on policy as well as politics. It also reflected our belief that POLITICO's business model must rest not just on advertising but also on subscriptions and events.

With Susan's help, we intend now to tackle a fresh challenge: embracing what we see as a coming renaissance in long-form journalism, as readers search for distinctive work that cannot be easily cannibalized or commoditized.

This next stage of POLITICO's growth has two main components. The first is to add magazine-style journalism to ournewsroom - the kind Susan has produced masterfully throughout her career. Like all our journalism, these stories will aim to take full advantage of our digital platform and the enormous audiences available to us there. Susan will also oversee special glossy editions of this new POLITICO magazine, stocked with profiles, investigative reporting and provocative analysis.

The second major component of this new enterprise - and Susan's mission here - is to add vitality and impact to POLITICO's daily report by marshaling the best outside contributors to produce analysis, argument and first-person perspectives on the news of the day. We imagine this content as melding the best of several traditional platforms - newspaper op-ed pages, for instances, or Sunday Outlook and Week in Review sections - and revitalizing them for contemporary times. The key to doing this successfully is to have a relentless editorial mind setting the agenda, with a creative sensibility for driving the conversation in Washington and beyond.

Susan has just that sort of mind - and she has a track record of achievements to prove it. Nearly 20 years ago, Susan at a very young age was one of the most successful editors ever at Roll Call (VandeHei was among her reporters). She edited the Washington Post's Outlook section during one of the best runs in its history - it has rarely been more provocative or essential. In recent years, she has been the author of one of the premier media success stories around by transforming Foreign Policy magazine into a fascinating and indispensable publication in print and online. She has an extraordinary knack for finding interesting ideas, and assembling the right mix of editors and reporters who can make those ideas happen.

We have brainstormed with her often over the years and always left with a conviction that Susan should be part of our leadership team. Now, she will be.

Susan will join us in July, after she finishes up some considerable responsibilities still pending at FP. Some of the most specific questions about the expansion of our newsroom may have to wait until her arrival, when all of you get a chance to know her and discuss ideas together. Susan is very respectful of the talent we have in our newsroom and the publication we have built, so people who have proposals will find her eager to listen.

Already, we can say this much about this new venture: Susan's operation will not be a separate island. She wants and we expect her to be fully integrated within POLITICO. There will be no person more essential in creating a seamless relationship between our existing organization, and these new coverage areas, than Danielle Jones, who has been the critical force in the continued growth of our newsroom since she became deputy editor-in-chief at the start of the year.

Susan will report to us and work closely with Danielle, Bill Nichols and Craig Gordon, all of whom are committed to helping this new project succeed. And Susan will participate fully with this group and with Chief Operating Officer Kim Kingsley to help us as we map out our larger strategy for the future.

While Susan will rely heavily on outside contributors for the magazine, there will be a number of openings both to transfer people currently at POLITICO, as well as to make a number of high-impact hires. We are also eager to leverage the talent we already have in our newsroom to make the magazine a success. This is great news for everyone: The beat reporter looking to spread his or her wings, for example, might wish to propose a magazine piece for Susan or a sabbatical-style period of working with Susan for a defined period.

The decision to recruit Susan and back the kind of journalism she will bring is a direct reflection of the injunction given to us by Robert Allbritton and Fred Ryan - an order to keep thinking ambitiously about how to extend the POLITICO brand, deepen the impact of our journalism and grow the business.

We hope all of you feel as enthusiastic about this as we do. Susan and the rest of our senior team believe that high-impact, magazine-style journalism is not a throwback to the past - it is a genre that is even more essential in today's hyperkinetic news environment. It is a style of reporting and a mind-set about illuminating what matters most that has a brilliant future, as some distinguished traditions adapt to take advantage of the vast storytelling possibilities presented by technology.

If we have learned one thing in the past seven years about what works in media, it is this: Success means producing distinctive, high-value journalism, something that isn't being done by others or can be done better by us. High-value journalism can be in the moment - it can be a whiteboard from one of the policy teams that gives Pro subscribers the real-time intelligence they pay for, or it can be a deeply reported enterprise project, like the digital books we published with Random House on the 2012 campaign. In short, it is excellence - not workaday, commodity journalism - that readers demand and reward.

We have the utmost confidence that Susan and this new enterprise will help take POLITICO to new levels of excellence. And we have never been more excited to be in journalism, and at POLITICO. We're anxious to have all of you meet Susan, and you'll be invited to a happy hour with her later this month, before she arrives at work. As we emphasized at the last round of staff meetings, our best ideas come from you, so we'd love your suggestions for this promising new phase of POLITICO. We'll both be around the newsroom all day, so please drop by or shoot us an email with any questions. Thank you for your hard, smart work, which has brought POLITICO to this enviable juncture.

John, Jim

REAL LIFE. REAL NEWS. REAL VOICES.
Help us tell more of the stories that matter from voices that too often remain unheard.