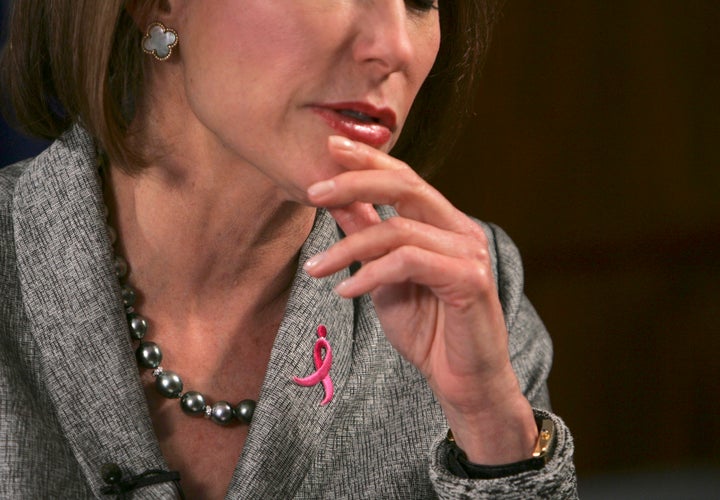 WASHINGTON -- For years, some conservatives have criticized Susan G. Komen for the Cure for giving grant money to Planned Parenthood for America, because a small part of what its clinics provide is access to abortion services. In the past week, Komen caved to the pressure and pulled Planned Parenthood's funding, later changing its decision after a loud public response.
In the past, however, the Komen foundation and its founder and CEO, Nancy Brinker, have responded very differently, saying that giving into the pressure to break ties with Planned Parenthood would be tantamount to abandoning women who desperately need health services.
Brinker outlined her views in her 2010 memoir "Promise Me," the site milowent noted. In the book, obtained by The Huffington Post from the local public library, Brinker recounted a 2004 "political dustup," in which a corporate sponsor, Curves, withdrew its support because Komen affiliates had given money to local Planned Parenthood clinics. The foundation, however, refused to buckle and stood up for its nonpolitical mission [Emphasis added (pp. 315-316)]:
When you donate to a local SGK affiliate or support a walker in a Race for the Cure, 75 percent of that money stays right there in your neighborhood to serve local women. We don't spend money building Susan G. Komen Breast-Cancer-R-Us facilities; we get the most bang for our buck by funding services that can be offered through existing local infrastructure. The grants in question supplied breast health counseling, screening, and treatments to rural women, poor women, Native American women, many women of color who were underserved -- if served at all -- in areas where Planned Parenthood facilities were often the only infrastructure available. Though it meant losing corporate money from Curves, we were not about to turn our backs on these women. Somehow this position translated to the utterly false assertion that SGK funds abortions.

As controversy swirled, several pro-life advocates, including Catholic bishops and Sister Carol Keehan of the Catholic Health Association, sprang to our defense. Unfortunately, the false assertion has persisted for years, hopping around the blogosphere like a poisonous frog to this day, frequently coupled with the ridiculous old wives' tale that abortion causes breast cancer. [...]

I was sad to lose the corporate support of Curves, and I have the utmost respect for its founder's religious convictions -- as I do for all people of every faith -- but we remain focused on our mission.
Last week, the Associated Press reported that Komen was cutting off the hundreds of thousands of dollars it gives to a number of Planned Parenthood affiliates for breast-cancer screening and other breast-health services. The move came less than a year after Komen hired Karen Handel as its new vice president. Handel had run for governor of Georgia in 2010 on an aggressively anti-abortion and anti-Planned Parenthood platform. Handel wrote in her campaign blog that she did "not support the mission of Planned Parenthood."
As Brinker indicated in her book, Komen has often found allies within the Catholic community -- which has many members who are often very outspoken against abortion access -- for its work with Planned Parenthood.
In the spring of 2008, Health Progresss, the official journal of the Catholic Health Association, published an article called "Cooperating with Philanthropic Organizations." It was written by Dr. Ron Hamel, CHA's senior director for ethics, and Dr. Michael Panicola, a corporate vice president for ethics at SSM Health Care.
The paper examined whether it was "permissible for Catholic health care organizations (CHCOs) to be involved with and support the activities of philanthropic organizations (POs) such as Susan G. Komen for the Cure," in light of its association with Planned Parenthood. Their conclusion, essentially, was that it was fine. From their findings (emphasis added):
Before considering whether the cooperation between CHCOs and Komen is morally licit, it is first necessary to consider the cooperation between Komen affiliates and Planned Parenthood. What is the moral object in this instance of cooperation? It would seem that the moral object in these situations is to fund a project that will provide breast health services to underserved women. The moral object would seem to be "good." In fact, it has no relationship to the wrongdoing itself, though some would argue that by providing funds to Planned Parenthood for breast health services, Komen is "freeing up" money for abortions. No evidence exists that this is the case.

Is Komen's cooperation formal, that is, does it approve the wrongdoing of Planned Parenthood, namely, abortions? Evidence is not available to prove this. Komen has taken no public stands with regard to abortion or the claimed right to an abortion. ... In fact, the Komen affiliate is not cooperating with wrongdoing, but is cooperating with a wrongdoer in the pursuit of something good. ...

The fact that some Komen affiliates, at times, provide funding to Planned Parenthood specifically and solely for breast health services cannot on the face of it is [sic] construed as wrongdoing. This is all the more true in those cities where the local Komen affiliate has not funded and does not fund Planned Parenthood projects. If there is any cooperation at all (and we do not believe there is), at most, it would be remote material cooperation which, as the Catholic tradition teaches, can be justified for a proportionate reason. The good that Komen does and the harm that would come to so many women if Komen ceased to exist or ceased to be funded would seem to be a sufficiently proportionate reason.
Hamel and Panicola even defended much of the local work that Planned Parenthood clinics do in providing health services -- not abortion -- to women in underserved communities, writing, "In some areas, Planned Parenthood may be the only source of free or low-cost women's health screening services (e.g., pap smears, mammograms, etc). All the Planned Parenthood grant proposals that are funded are concerned with breast health education and screening, or with the prevention and treatment of breast cancer."
In a bit of prescience, the two men also warned that not helping women fight breast cancer, simply because of tangential concerns about abortion, may become a scandal.
"If there is no cooperation with wrongdoing on the part of the CHCO, what about the possibility of scandal?" they asked. "Would the fact that a Catholic provider collaborates with an organization some of whose local affiliates sometimes fund a community project by Planned Parenthood, aimed at breast health services for poor women, likely lead others into sin? This is truly difficult to imagine! What seems more likely is that a public decision not to collaborate with Komen because of its very loose and remote connection to Planned Parenthood would itself create scandal. It could lead to a misunderstanding of the Gospel and diminish faith in the church and its leadership."
Komen's initial decision to break with Planned Parenthood and its side connection to abortion has, indeed, created scandal and arguably diminished faith in the foundation's mission and leadership.
Spokepersons for Komen and CHA did not return requests for comment.
Calling all HuffPost superfans!
Sign up for membership to become a founding member and help shape HuffPost's next chapter