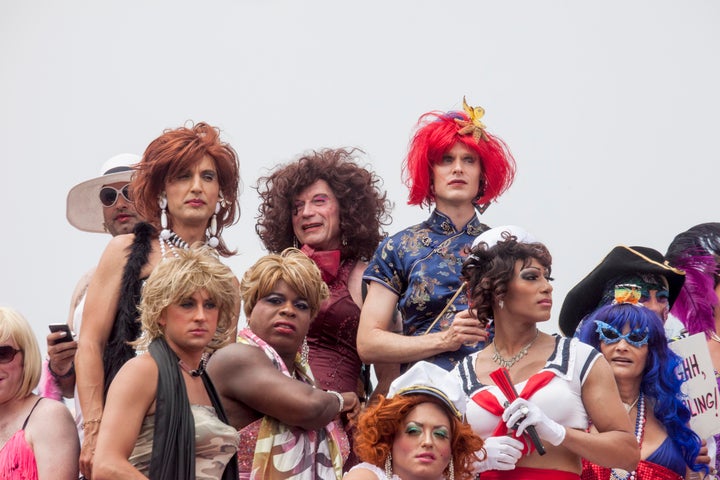 Photographer Susan Kravitz has captured one of Fire Island's best-known annual events for posterity in a dazzling coffee table book. 
Many Fire Island visitors today, however, don't realize the solemn origins of the Invasion. In 1976, a drag queen, whose real name was Terry Warren, was denied service at the Blue Whale restaurant in the Pines. This prompted a group of drag queens, many of whom were friends of Warren's, to descend upon the Blue Whale from neighboring Cherry Grove and demand service from wait staff. 
These days, of course, the Invasion is a much more celebratory affair. Still, the photographs in Mascara, Mirth & Mayhem track the progression of the lesbian, gay, bisexual and transgender (LGBT) movement. Over the course of the book's 147 pages, the tone of the images shifts from the somberness of the HIV/AIDS crisis in the 1980s to the joyous days just after the Supreme Court's ruling on marriage equality in 2015. 
Kravitz said the book is reflective of her journey toward accepting own sexuality, too. 
"This is about my own journey—initially, as a married woman who, in 1979, came to visit Cherry Grove one rainy afternoon, and then as a lesbian, who returned with camera in hand a couple of years later to begin photographing for the next 45 years in this extraordinary community," she writes in the introduction. "In the end, my photographs are about human rights and freedom of expression, seen through the lens of the Invasion."
Check out a selection of Kravitz's images below, and head here to read more about Mascara, Mirth & Mayhem. 
Calling all HuffPost superfans!
Sign up for membership to become a founding member and help shape HuffPost's next chapter