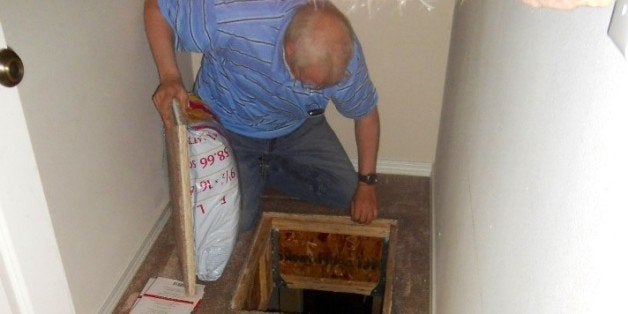 The parents of Susan Cox Powell, the missing Utah mother of two, have started to comb through her father-in-law's former home in Washington state, where they have found not only tragic reminders of the past but also potential clues to her disappearance.
Bike helmets meant to protect two small heads, a beloved children's book, computer files and articles of clothing were among the items recovered over Memorial Day weekend from Steven Powell's former residence.
"To the Powells, those things appear to be nothing more than junk," said author Gregg Olsen, who visited the house with the family. "It indicates just how much they really cared about the boys and their mother."
Steven Powell, the father of Susan Powell's husband, Josh Powell, hasn't lived at the residence since 2011. He was arrested that year on several counts of voyeurism after police found inappropriate photos of young women and girls from the neighborhood in his home.
Two victims of the voyeurism recently purchased the home and have permitted the Cox family to go through it.
The Cox family told HuffPost that among the items of interest they found is a box that contains computer-coding files. The family said they hope the files might contain information that could help the FBI get at files on a heavily encrypted computer previously owned by Josh Powell, as investigation agents have been struggling to access those for several years.
PHOTOS FROM INSIDE THE HOUSE: (Story continues below)
PHOTO GALLERY
Steven Powell's Former Home
Not every item is considered a potential clue. Children's toys and articles of Susan Powell's clothing are simply painful reminders for the missing woman's family.
Susan Cox Powell has been missing since Dec. 7, 2009, when she failed to show up for her job as a stock broker at Wells Fargo Financial in West Valley City, Utah. She was 28. Her husband told police he had been camping with their two children, then ages 2 and 4, and had last seen his wife around midnight.
Suspicious of Josh Powell's story, investigators named him a "person of interest" in his wife's disappearance, and he moved into his father's Puyallup, Washington, home.
Josh Powell's children were removed from his care after Steven Powell's arrest and placed with Susan Powell's parents. The two families waged a bitter custody battle through February 2012, when Josh Powell killed himself and the two children in a house fire.
Josh Powell's brother, Michael, committed suicide a year later.
While police have said they do not believe Steven Powell was directly involved with Susan's disappearance, they do suspect he may know more about it than he has let on, the Associated Press reported.
According to Olsen, Susan Powell's family plans to conduct a thorough search of the premises to see if she is buried there. In the coming weeks, a network of volunteers, including trained dog handlers, will comb the 3,200-square foot house and the surrounding property.
"I don't know if we'll find her here or not, but I know I have to continue the search, and this house has never been searched by dogs," said Susan Powell's father, Chuck Cox.
REAL LIFE. REAL NEWS. REAL VOICES.
Help us tell more of the stories that matter from voices that too often remain unheard.
BEFORE YOU GO