WASHINGTON -- In a phone call with the president on Thursday, U.N. Ambassador Susan Rice formally withdrew her name from consideration as the next Secretary of State, putting an abrupt end to a political drama that had unfolded on the Senate floor and television airwaves for months.
Rice made her decision, administration officials told The Huffington Post, "during the last couple days," after considering the heated battle that would have ensued had she been tapped to replace departing Secretary of State Hillary Clinton.
"If nominated, I am now convinced that the confirmation process would be lengthy, disruptive and costly – to you and to our most pressing national and international priorities," Rice wrote in her letter to President Barack Obama. "That trade-off is simply not worth it to our country."
"Her decision demonstrates the strength of her character, and an admirable commitment to rise above the politics of the moment to put our national interests first," the president said in a statement shortly thereafter. He will meet with Rice in person on Friday.
For all the high-minded niceties offered publicly, a genuine frustration could be felt below the surface. Not just from Rice's defenders, who had spent weeks yearning for the White House to push back more forcefully against her critics, or from Democrats, who wanted Obama to go forward with the nomination and make an example out of those pledging to block her appointment. It also came from within the administration itself, which felt that a few dogmatic lawmakers, aided by a sympathetic press, had had a damaging effect on the course and conduct of foreign policy.
"She has been overwhelmingly confirmed for two different jobs in two different administrations and any fair reading of her record was exceptional," said Tommy Vietor, a White House spokesman. "We are confident she could have been confirmed."
The state of play on the Hill seemed to confirm that Rice's withdrawal wasn't related to congressional vote counts. Top Democrats have said for some time that Rice was likely to secure the support needed to win confirmation. A Senate Democratic aide told the Huffington Post Thursday that Senate Majority Leader Harry Reid (D-Nev.) hadn't whipped his caucus -- that is, taken a tally of his members -- so there was no reason to think that calculus had changed. The aide added that Reid felt confident he could have held the Democrats in line, making it so that only five Republican senators were needed to confirm her.
Rice's nomination would certainly have been in the majority leader's interest. He had warned the White House against nominating Sen. John Kerry (D-Mass) to the Foggy Bottom post because doing so would create an open Senate seat in Massachusetts. Kerry now appears to be the frontrunner for the nomination.
In a show of defiance, Vietor notably declined to rule out a future post for Rice.
"She is going to go to the UN and down the road she could be Secretary of State, National Security Advisor, any number of things," he said.
For weeks, Rice was accused of having intentionally misled the American people about the cause and nature of the September attack on an American diplomatic post in Benghazi, Libya. Two senators in particular, John McCain (R-Ariz.) and Lindsey Graham (R-S.C.), charged that Rice's role in conveying the administration's early understanding of the events -- that they had been inspired by an anti-Islam video and were not an act of terror -- was enough to disqualify her from a cabinet position.
There was, at one point, genuine disagreement within the administration over how much the president and his staff needed to push back on the criticism. Obama forcefully defended Rice during his first post-election press conference, telling reporters that the critics were directing their barbs at the wrong person. For a short time, it appeared, the "come-at-me" approach would suffice.
Soon enough, Rice was angling for the opportunity to defend herself. She proposed heading to the Hill for direct talks with some of her Senate detractors. It was a gamble: she would be creating the perception that she and the administration were laying the groundwork for her nomination while lending presidential legitimacy to a line of attack that the administration didn't want legitimized. An administration official confirmed routine talks had taken place between the White House and Rice's staff over how best to respond. She ended up going.
The talks backfired. Graham, McCain, and Sen. Kelly Ayotte (R-N.H.) left their meeting insisting that it had raised more questions than it answered. Soon, another voice of dissent joined the chorus. Sen. Susan Collins (R-Maine), typically a centrist Republican, dug into the past to suggest that Rice may somehow have been responsible for security failures ahead of the terrorist bombings of two U.S. embassies in Africa in the late 1990s.
White House Press Secretary Jay Carney offered some cover during his daily briefings, but Democrats widely panned his efforts as insufficient. Left unaddressed, the controversy over Rice's appearance on the Sunday shows had metastasized beyond control, and the perception that Rice would be a lightening rod was cemented. She apparently lost the will for the battle.
"It was her decision," said one official close to the administration, "but my sense is no one tried to change her mind."
By the time the withdrawal announcement was made, even Rice's allies were caught off guard. The conventional wisdom had been that the criticism of Rice would only make Obama more eager to fight for her appointment. One friend of Rice expressed confusion over why the decision was suddenly made to not have that fight at all. But administration officials stressed that the decision was hers alone.
"I know people are going to write that [we ducked the issue] but the important thing is she made this decision ... she wanted to rise above this absurd political theater," said Vietor. "As it became clear that this could be a partisan food fight she decided it wouldn't be true to who she is to be a distraction to the priorities of the president's agenda."
Sam Stein's wife works for the Obama administration on matters of congressional oversight
Before You Go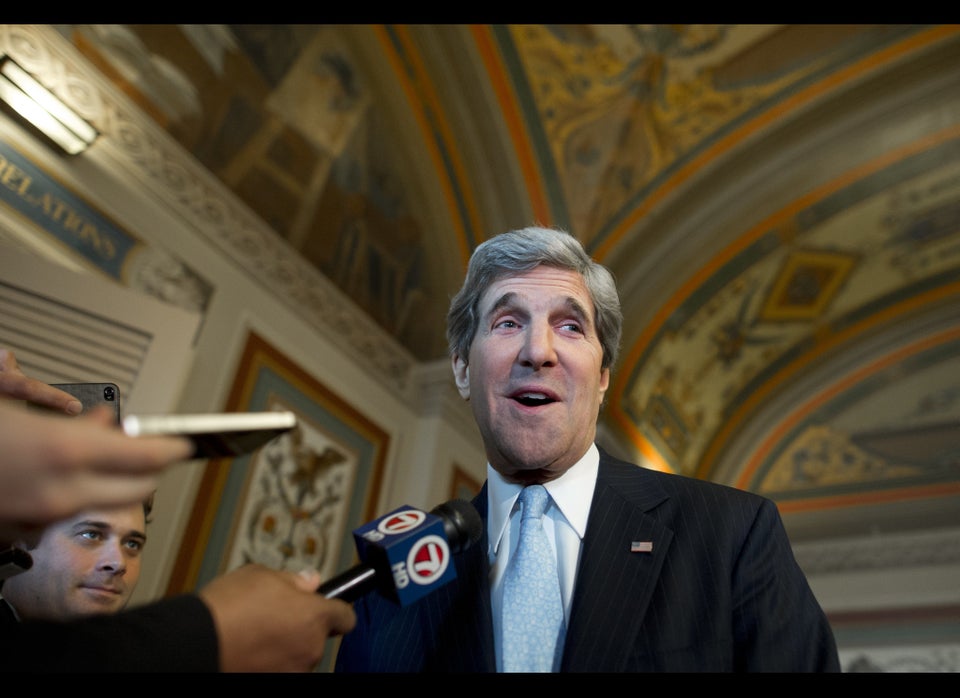 Secretaries Of State
Popular in the Community