Actress Susan Sarandon was among hundreds of women arrested while protesting President Donald Trump's zero tolerance immigration policy in Washington on Thursday.
"Arrested. Stay strong. Keep fighting," Sarandon, 71, tweeted.
About 630 women were arrested during the rally, led by organizers of the Women's March, including Rep. Pramila Jayapal (D-Wash.). Other politicians at the rally included Rep. John Lewis (D-Ga.) and Sens. Kirsten Gillibrand (D-N.Y.), Jeff Merkley (D-Ore.) and Tammy Duckworth (D-Ill.).
Capitol Police reported that demonstrators were processed on site and released.
Around 2,500 protesters marched from the Department of Justice to the Hart Senate Office Building to rally against the Trump administration's controversial family separation immigration policy. Many of the demonstrators were women dressed in white and wrapped in foil blankets, similar to those given to migrant families held in federal detention centers.
Protestors chanted "Where are the children?" and held banners that read "End all detention camps," as they swarmed the Senate building.
Sarandon has been a controversial political figure since she suggested during the 2016 presidential race that Americans vote for a third-party candidate. The actress originally supported Bernie Sanders over Hillary Clinton in the Democratic race, but said she voted for Green Party candidate Jill Stein instead of Clinton in the general election against Trump.
Many perceived Sarandon's support for a third-party candidate as taking away votes from Clinton, essentially helping Trump win the election.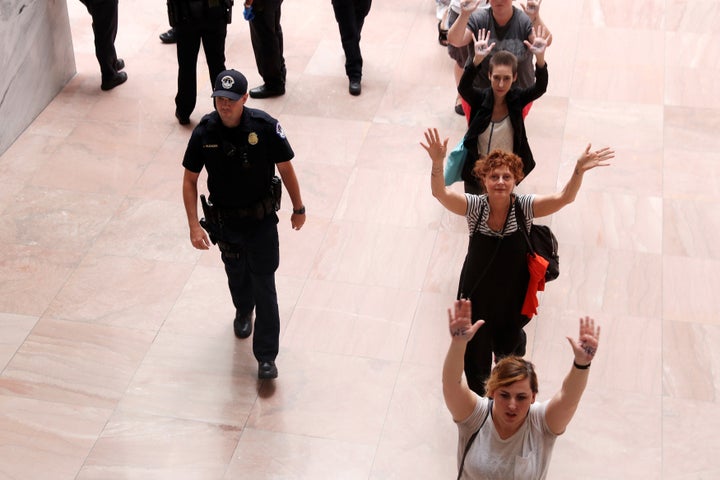 In an interview with The Guardian after Trump's victory, Sarandon repeated her anti-Clinton concerns.
"I did think she was very, very dangerous," she said of Clinton. "We would still be fracking, we would be at war [if she was president]. It wouldn't be much smoother. Look what happened under Obama that we didn't notice."
Thursday's protest against Trump's immigration policy was one of many in the last few weeks. The "Families Belong Together" demonstration, anticipated to be the largest, is set to take place Saturday in cities across the country.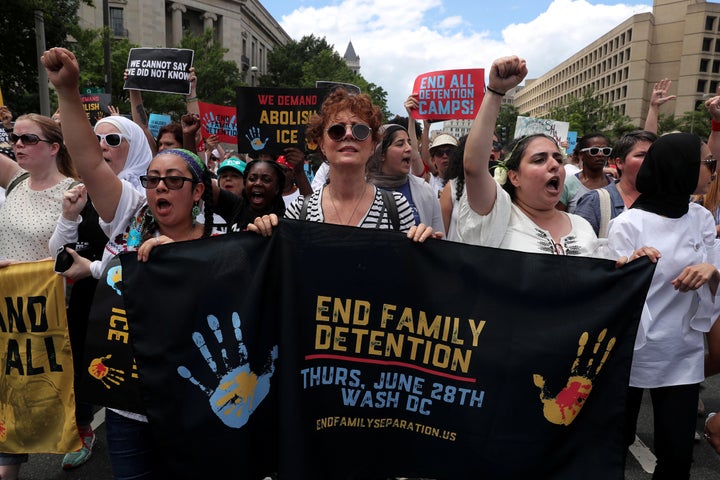 More than 2,300 children were taken from their families at the border under Trump's policy. Many have been held in facilities behind chain-link fences. Babies and toddlers were sent to "tender age" shelters, which visitors have described as "playrooms of crying preschool-age children in crisis."
Last week, Trump signed an executive order ending his family separation policy. He has taken no action to reunite the thousands of immigrant families separated at the U.S.-Mexico border.
CORRECTION: A previous version of this article identified Sen. Tammy Duckworth as a House representative instead of a senator.
Popular in the Community