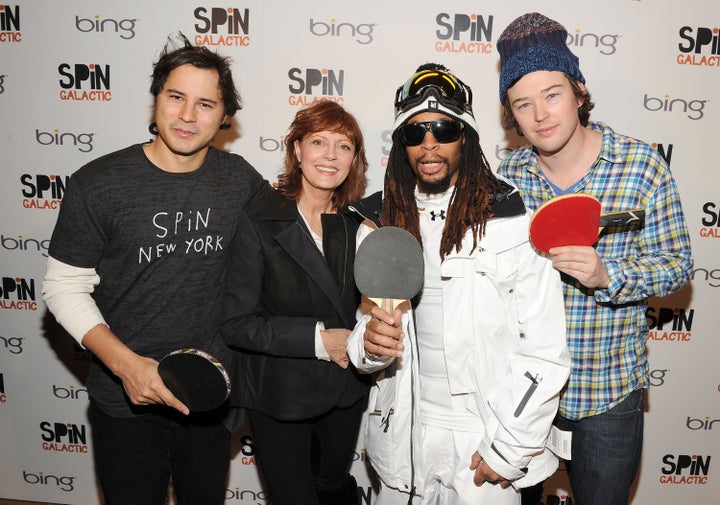 Susan Sarandon is one of America's most highly acclaimed and best loved actresses. Elegant and independent, she has commanded our attention in films as diverse as Bull Durham, Thelma & Louise, and Dead Man Walking. An Academy Award winner who effortlessly morphs on screen from philosophical baseball groupie to determined nun, she juggles equally diverse roles in her personal life. As a mother of three, Susan cares deeply about the world her children inhabit.
Susan comes from a large family and has always been interested in researching her genealogy. Having already explored the Welsh part of her heritage on her father's side, she was curious about her maternal Italian roots, and especially about her mysterious grandmother, Anita. All she had to go on was a laminated photo of Anita as a young woman and the knowledge that she had disappeared when Susan's mother, Leonora, was only two.
Leonora had struggled with the puzzle of her mother's absence all of her life, so she was apprehensive about sharing what she remembered. There were rumors that Anita had been a showgirl at New York's famous Copacabana nightclub, but Leonora wasn't sure. In fact, Leonora had been told that Anita had died and learned by accident at the age of nine that her mother was alive. After that, Leonora met with Anita at the 1939 World's Fair in New York. Leonora showed Susan a photograph of her and Anita taken at this meeting. The image showed the mother and daughter standing in front of a fun house mirror, the image distorted and unclear. The only clue Susan had revealed little about her grandmother. After their reunion at the World's Fair, Leonora and Anita met on a few occasions in New York. By this time, Leonora's father, Joseph, had remarried and Leonora's stepmother wasn't comfortable with Leonora spending so much lime with Anita. As a result, Leonora's reunion with Anita was short-lived, and contact between mother and daughter was broken again.
Susan hoped that New York records might reveal more information about her grandmother. Anita's birth certificate disclosed that she was born on March 9, 1907, to Mansueto and Angelina Rigali, both from Italy. Mansueto, it turned out, made statues. Anita was one of nine children, but only three were still living when she was born. Susan's great-grandparents, Mansueto and Angelina, had endured the loss of six children, mostly to diseases prevalent among the poor.
By 1920, a census record for the family revealed that Mansueto was widowed, indicating that by the age of thirteen, Anita had lost her mother, Angelina. Less than a year later, Anita married Susan's grandfather, Joseph Criscione. On the marriage certificate, Anita's age was given as fifteen, but when Susan did the math, she realized that she was still only thirteen and already pregnant. The family's struggles were underscored when Susan visited New York's Calvary Cemetery to pay her respects, only to discover that there was no tombstone to commemorate the nine Rigali relatives buried in Mansueto's family plot.
Now that Susan had pieced together Anita's tragic childhood, she wanted to explore the Rigali Italian roots. Research pointed to Tuscany, the region around Florence, so she flew to Florence to pick up the trail. Strolling through the city, she remarked, "From the first time I came to Italy, I felt inexplicably at home. Now I know why. My gene pool is crying out!"
At the Riccardini Library, she viewed baptism and conscription records for her great-grandfather that showed he was born in Coreglia, a town that had once supplied plaster figurines to much of Italy. A trip to Coreglia revealed generations of her Rigali family-all the way back to 1640! Susan was delighted to discover she had very deep Italian roots on both sides. This was something that Susan had understood on an abstract level, but now it was very concrete. But why had Mansueto left? A local expert explained that Mansueto was part of the first wave of emigrants who departed in 1888 in search of better opportunities. Like so many, he crossed the Atlantic in pursuit of the American dream.
Susan knew that Mansueto's hopes had not materialized upon his arrival in the United States, but she still didn't know what had become of his daughter, Anita. Returning to New York, she resumed the hunt for her grandmother and was rewarded with the discovery of Anita's 1932 marriage to Ben Kahn. By this time, Anita would not have seen her children for about five years. But almost as quickly as Anita resurfaced, she slipped away again; 1933 city directories showed that Anita and Ben already had separate residences. It seemed her second marriage hadn't worked out.
Not knowing what else to try, Susan -- now joined by her son Miles cast a wide net looking for anyone named Anita who was born on the same date as her grandmother. An Anita Fiorentino caught their attention: she was born on the right date and had passed away in Rockland County, just outside New York City, in 1984. Could she be the one?
Susan visited a library in Rockland County to search for this Anita's obituary and read that she was the daughter of "Mananetto and Angelina Regali." Despite the spelling errors in the newspaper article, Susan vas certain that this was her grandmother. Apparently, Anita had married a third time, to Dom Fiorentino, and lived outside the city for thirty-five years. The obituary stated that she was born in 1913, a distortion that Susan interpreted as her grandmother "discounting her early years where all her secrets are."
Visiting the street where Anita lived, Susan found a neighbor who directed her to Dom's nieces living nearby. Sharon and Sandra welcomed Susan and filled in the final pieces. The nieces knew nothing of Anita's earlier years, but were certain that she and Dom had adored each other. The nieces also told Susan that Anita had met Dom at a club in the city, where she rubbed shoulders with the likes of Frank Sinatra. Sharon and Sandra brought out photos and a sketch of Anita that looked eerily like Susan in The Front Page. After seventy years, the mystery was finally solved.
Susan regretted that they hadn't been able to find Anita when she was still alive -- "that she had been so close and yet so far" -- but allowed that it might have been "too much upset for her." Still, she hoped that Anita had somehow known that Leonora had carved out a better life than she. Susan observed the irony that for most of Anita's life, her abandoned daughter, Leonora, was living less than an hour away, with her own nine children.
The preceding is the sixth in a series of celebrity roots profiles from the first season of NBC's Who Do You Think You Are? The previous profiles can be found here:
Popular in the Community