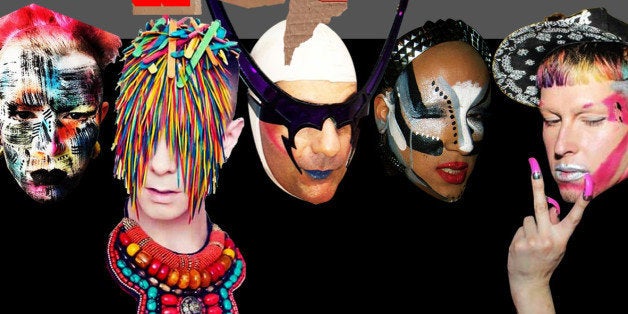 New York City nightlife impresario Susanne Bartsch has been a legend within the scene for decades, playing an integral part in the evolution of its culture since the 1980s and helping to sustain life after dark during the hyper-regulated years of Rudy Giuliani's mayorship.
Now, Bartsch is embarking on a new endeavor outside of nightlife that centers around the talents of five artists who play integral roles in her regular events. Called "bARTsch," the one-night group exhibition at the Hotel Chelsea Storefront Gallery this Thursday will feature sculptures, paintings, photos and performances from this group of artists whose work crosses conceptual lines of gender and media, body and audience, visual art and performance.
"These artists are incredible and they can get lost in that party whirlwind," Bartsch told The Huffington Post. "[The purpose of] this exhibition is to take something I find really inspiring and really innovative and put it in a different context in order to showcase the massive talents of these artists."
The artists in the exhibition include Ryan Burke, One-Half Nelson, MuffinHead, Gage of the Boone and Erickatoure Aviance.
Burke and Muffinhead, two artists featured in HuffPost Gay Voices Associate Editor James Nichols' ongoing series "After Dark," will both showcase original, never before seen work at "bARTsch" this upcoming Thursday alongside their peers.
"One of the reasons I find this exhibit so exciting is that the artists involved are not bound to any particular genre whatsoever," Muffinhead told The Huffington Post. "We are modernist/futurist romantic, pop art hyper-surrealists drawn naturally to theater and grandeur. It's a spectacularist movement that has existed for quite some time and, benefiting from exhibits like this one, has the potential to bloom into a genre all it's own."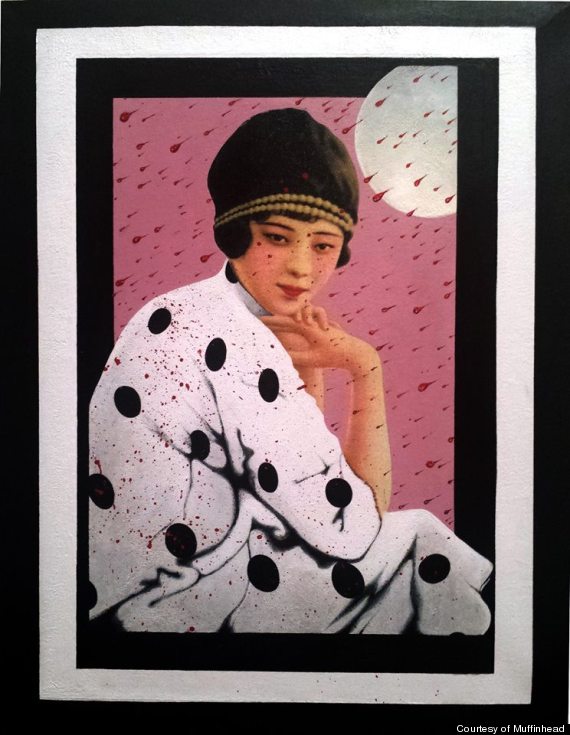 "Raining Blood" Mixed Media/ Acrylic on Vintage Chinese Advertisement
Courtesy of Muffinhead
"The series that I'm showing is called La Piqûre de L'amour (The Prick of Love) based on a dying modern romance," Muffinhead continued. "The main installation features a conjoined mannequin dressed in a kimono and covered in rows of about 5,000 straight metal pins. I wanted it to be aesthetically pleasing but to also represent the pain of love, heartbreak and loss."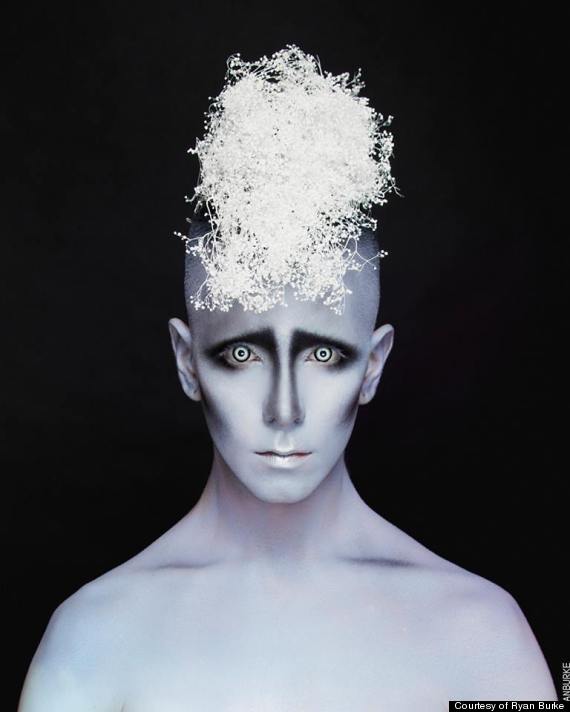 Courtesy of Ryan Burke
"I'm showing 3 new sets of portraits which involve altering the face using materials intended for other purposes," Burke told The Huffington Post. "These create new identities; humanoid creatures which have their own aesthetic not directly relatable to any culture in the past or present. I'm also doing a collaborative performance piece with choreographer Olga Dobrowolska and wearing a gown designed by Domonique Echeverria."
"bARTsch" will take place this upcoming Thursday, June 26, at the storied Hotel Chelsea Storefront Gallery. An RSVP is required for this event -- see the flyer below for more information.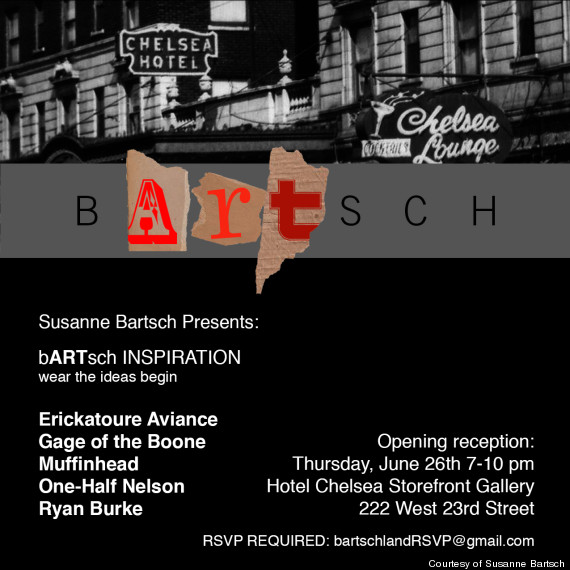 Popular in the Community