Sushi is so popular in the United States, it's almost hard to believe that it wasn't always a part of American culture. But thanks to sushi's introduction in the 1950s, we now enjoy sushi whenever we want -- on an evening out with friends or even for a quick work lunch from the corner deli. But even with sushi's wide availability, many people are confounded by it. It's easy to feel lost in a sushi restaurant, not knowing what all the different types are -- whether it has raw fish or not, and how to even begin to eat it. For the beginner sushi eater, we've put together a glossary of all the popular pieces of sushi, how they're made and what ingredients they usually contain. Then scroll below the slideshow to read more about the basics of sushi.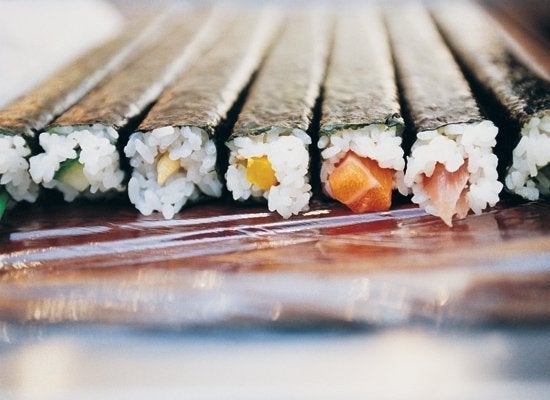 Sushi 101
Rice is the basis for much of sushi -- a special short-grain variety of rice is seasoned with a mix of rice vinegar, salt and sugar, called awase-zu. The rice mixture, called shari, is somewhat sticky so it can be formed into the shape needed for nigiri, which is topped with fish, or rolled to make maki. You can even find sushi made with brown rice. Learn about all the different types of sushi in the gallery.
Most people assume that sushi must be eaten with chopsticks (see our tutorial on how to use chopsticks), but it's actually recommended to eat certain sushi, like maki rolls and nigiri with your fingers. And you shouldn't use wasabi on all sushi -- typically nigiri is already seasoned with it. But if you prefer your sushi with a bit more wasabi, dab a bit of it onto the sushi -- never mix wasabi into soy sauce (shoyu), unless you're eating sashimi, thinly sliced raw fish without rice. Use pickled ginger (gari) as a palate cleanser between bites, not as an additional topping. The ginger can also be used as a tool to brush your sushi with soy sauce using your chopsticks. (Watch a video here to see how you should be eating sushi.)
If it's your first time eating sushi, go with a friends who understand it better than you, or sit at the bar and get recommendations from the sushi chef. They're always willing to help you understand the territory.
Once you've gotten adventurous you can ask for omakase, which means "to trust the chef" and gives the chef carte blanche to make you anything he likes -- but be sure you're ready to try anything and pay for just about anything. And with regards to fugu (the blowfish that's poisonous if it's cut the wrong way), check to see if the sushi chef is licensed to serve it.
What's your favorite sushi? Leave us a comment below.
Popular in the Community