A meteorologist in Minnesota is proving that parenting doesn't stop just because it's time to do a weather forecast.
Susie Martin, a certified meteorologist and the director of operations and for the weather company Praedictix, has received flurries of social media attention after she strapped her sleeping 1-year-old son to her back for a live forecast.
She did the maternal multitasking on Oct. 5 to celebrate International Babywearing Week, an annual event that, according to its website, promotes the benefits of baby wearing for both child and caregiver.
Organizers say baby wearing is common in many cultures and may help with parent-child bonding and combat postpartum depression.
Martin said that she first wore her child on air for a forecast in 2017 and that this year was a little more challenging.
"He is very much a toddler now," Martin told InsideEdition.com. "He is not as teeny as he was the first time. He is 21 months so he is not quite 2, but still needs his cuddles."
In a blog post on the Praedictix website, Martin said she has been into baby wearing since her child was born.
"It has been an invaluable tool for me as a mother and helped me and my son bond during the early stages of infancy," she wrote. "Not only that, but it was and still is incredibly liberating to be able to comfort my child whilst doing other tasks, which has helped me be a happier mom. To this day, it is a source of comfort and calmness for him."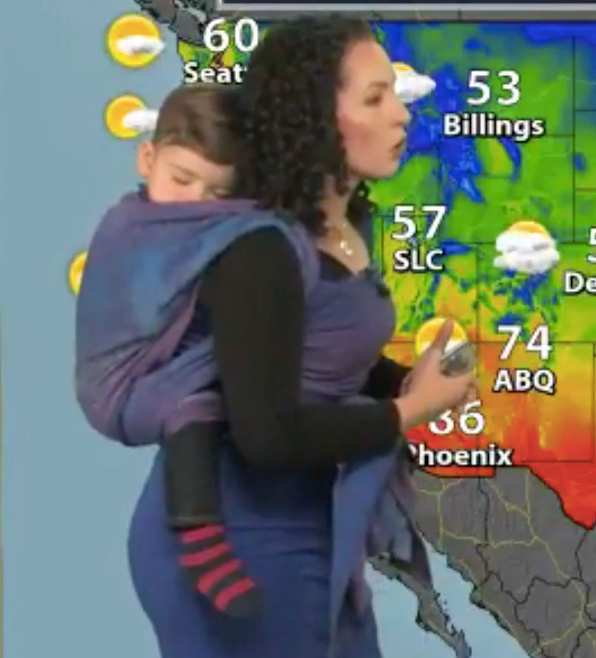 Although Martin's son weighs nearly 30 pounds, she said the "double hammock" carry she uses allows her to comfortably have him on her back for hours.
However, the Consumer Product Safety Commission warns that baby wearing comes with risks.
The St. Paul Pioneer Press notes that 159 incidents involving sling carriers were reported from January 2003 to September 2016 and that 17 resulted in a fatality.
Still, Martin said she is happy about the response she has received and hopes it inspires other parents to try bonding with their children with baby wearing.
"It does make me feel like a mom that can be very capable of doing things," she told "Good Morning America." "That's just the message that I love about it and I would say as a working mom, it's nice to be able to have this tool with me to help me do my job."