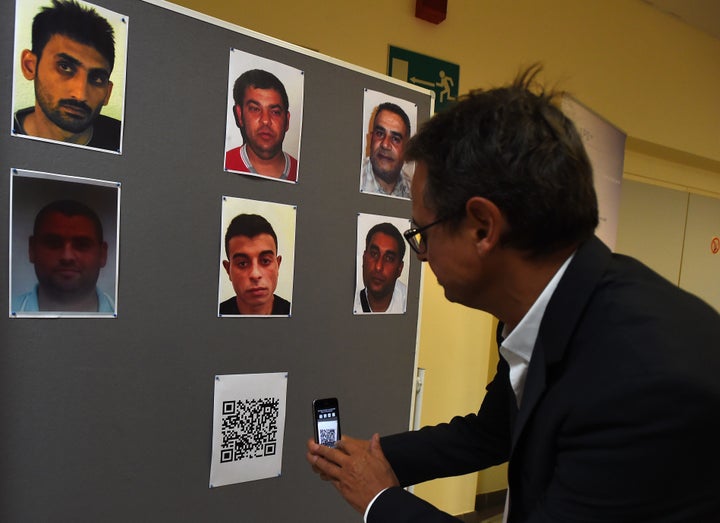 KECSKEMET, Hungary, Aug 29 (Reuters) - Three Bulgarians and an Afghan arrested in Hungary in connection with the deaths of 71 refugees found in a truck in Austria made their first appearance in court on Saturday, where they were given one month's detention to allow for an investigation.
The discovery of the refugees' bodies in a truck by an Austrian motorway on Thursday caused an international outcry. Europe is grappling with a surge in migrants arriving by land or sea, fleeing violence and poverty in the Middle East and Africa.
Along the way they face hardship and death. Calls are growing for a common European plan to prevent more tragedies.
The handcuffed suspects were escorted by special police to the court house in the central Hungarian town of Kecskemet and given one month's detention by the court.
This can be renewed monthly by the prosecution for up to a year, or by a court thereafter. No new court date was set.
 A prosecution spokesman told journalists the truck had left Kecskemet and picked up the migrants near the southern border with Serbia, before taking them through Hungary to Austria.
"In this highly important case the investigation focuses on human trafficking committed in a crime syndicate, involving the torture of the trafficked persons and targeting financial gain," Gabor Schmidt said.
Senior court official Ferenc Bicskei said the suspects face prison terms ranging from two to 16 years each if found guilty of human trafficking alone.
They would not be charged with manslaughter in Hungary because they will face that charge separately in Austria, Schmidt said.
"This horrible catastrophe was not without a forewarning," Bicskei told a press conference. "Its occurrence was a matter of time."
He said human trafficking cases had mushroomed in recent months, with 25-30 cases recorded monthly at the court in Kecskemet. Kecskemet lies halfway along a transit route between the Serbian border and the capital Budapest.
 Hungary's ruling center-right Fidesz party of Prime Minister Viktor Orban has toughened criminal laws associated with migration. The country is also building a fence along its border to stem the influx of migrants.
The oldest suspect was a 50-year-old, heavy-set Bulgarian man, while the other two Bulgarians were aged 29 and 30, Bicskei said. One 28-year-old Afghan was also detained, he said.
All four suspects appealed against their detention order, saying they had not committed any crimes, the court said.
Austrian police said on Saturday they are hoping to help identify the dead in the lorry by examining mobile phones found on some of them. Four children, including a baby girl, presumed from Syria and possibly Afghanistan, were among the dead. (Editing by Raissa Kasolowsky)
Calling all HuffPost superfans!
Sign up for membership to become a founding member and help shape HuffPost's next chapter