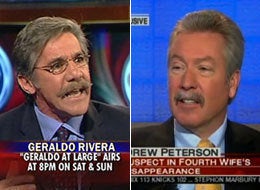 Drew Peterson, the cop eyed in the recent disappearance of his fourth wife and the death of his third sat down for an exclusive on camera interview with Today. Over the weekend, he talked to Fox News' Geraldo Rivera inside his home, after Geraldo cold-called him. Geraldo then went on Today on Monday, touting his interview.
But according to Drew Patterson:
He asked me to tell my story, and as I tell my story he says, "Well, say it like this, say it like this." Everything he said wasn't even my words.
Here's Drew, who expressed a great deal of disgust at the media, more than anything else, talking to Matt Lauer:
On a separate note, Drew didn't win any female supporters when he blamed his wife's moods on her menstrual cycle:
Related
Popular in the Community