A Delaware teen is accusing staff at her former high school of sharing a surveillance video showing her exposed breast and creating a meme about it.
The lawsuit filed by Aniya Harmon alleges the Indian River School District, Sussex Central High School, acting principal Bradley Layfield and assistant principal Matthew Jones invaded her privacy in connection to an incident that occurred in May when she was an 18-year-old senior.
According to the suit, Layfield showed surveillance video to staff of an altercation in which Harmon's clothes came apart as a school employee pulled her away from another student during an argument. The lawsuit claims, working with Layfield, Jones then used a screenshot to create a meme that included singer Janet Jackson, whose breast became exposed during the infamous "wardrobe malfunction" at the 2004 Super Bowl.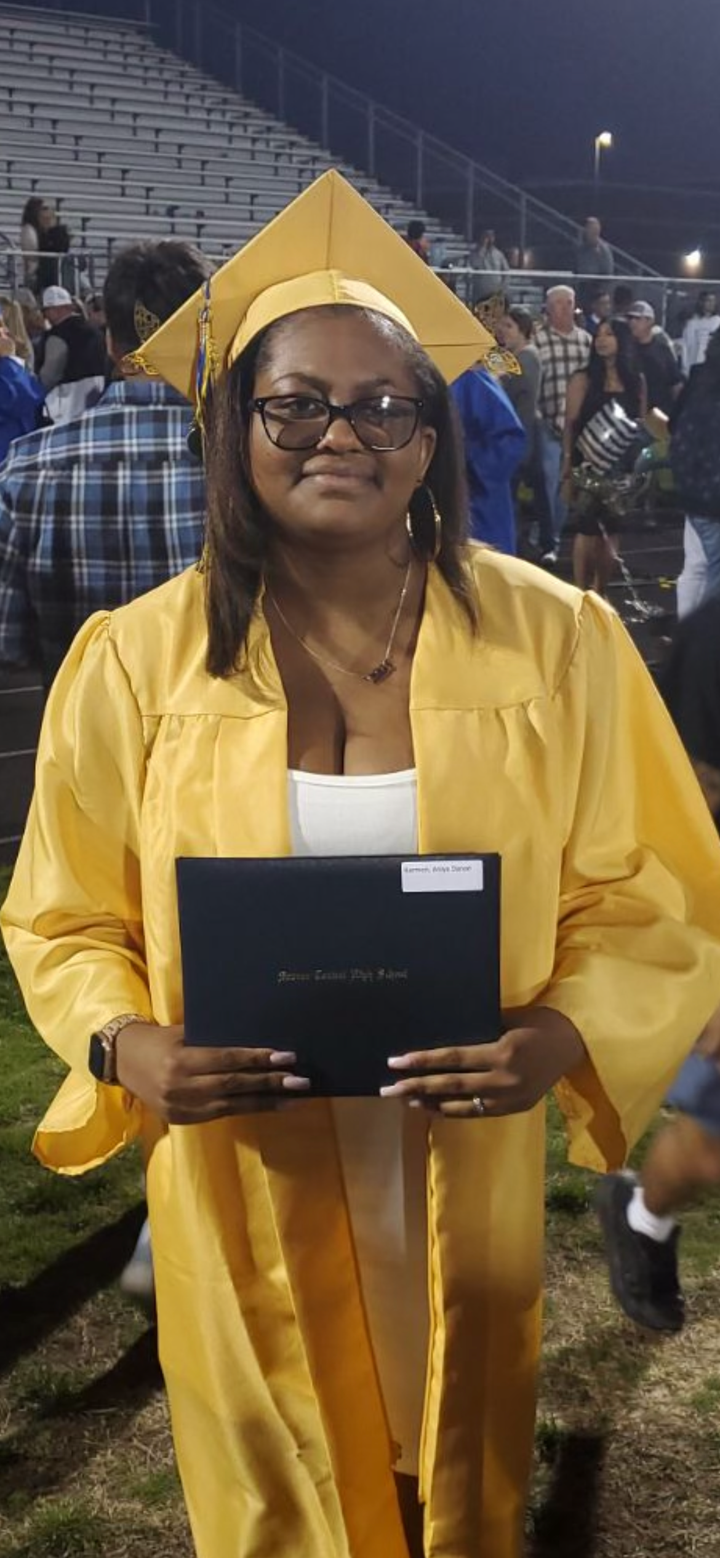 An attorney for Layfield told HuffPost he had no part in creating the meme, and he shared the surveillance video with staff to promote safety. It wasn't clear if Jones had an attorney, and he did not immediately respond to a request for comment through his school email.
According to the lawsuit, Harmon became involved in a verbal argument between a male and female student on the morning of May 17.
Harmon, who was passing the two, told the female student to quiet down, leading the female student to scream at and threaten her, according to the lawsuit.
An attorney for Layfield, Thomas Neuberger, described the incident as a fight and alleged Harmon yelled at the male student and told the female student to shut up before attacking her.
A staff member tried to break up the incident by pulling at Harmon's jacket, which caused her clothes to come apart and exposed her right breast. Neuberger said the staff member who was restraining Harmon tried to hold onto her and inadvertently pulled down her shirt, revealing her breast for "1-2 seconds" and "for 2-3 steps."
Neuberger said the principal reviewed the surveillance footage to determine what happened, calling it a serious fight with "racial overtones."
In an interview with HuffPost, Harmon said there was no physical fight.
"The girl was yelling very loudly. I had turned around and told her to be quiet because nobody wants to hear that early in the morning. After that, that's when she started coming after me verbally [in a] disrespectful tone. So I had exchanged some words back, and that's when I was pulled from behind, and my breast had fell out ― my right breast," Harmon said.
Attorney Emeka Igwe, representing Harmon, told HuffPost that Neuberger's claim that the hallway incident had racial overtones was "inappropriate."
Igwe said, "There was absolutely no racial thing other than the fact that Aniya happened to be African American and the female involved happened to be caucasian."
According to Neuberger, Layfield invited staff members into his office throughout the day to view the footage on his computer to teach them how to be safe during fights.
"Dr. Layfield reports that there have been countless fights where surveillance camera footage is shared with staff members to keep the school safe and protect students from further fights," Neuberger said.
Igwe added that, to his knowledge, the people shown the video were all male faculty members with no reason to view it for school safety.
"This was clearly shared for their perverse amusement... enjoyment," Igwe said. "These individuals had no reason to have to see the video for school safety."
According to the lawsuit, Harmon was told to leave school for a few days following the incident. When she returned to campus on May 19, her mother began hearing rumors about a Janet Jackson meme with the singer's face superimposed on the image of Harmon from the surveillance footage, a spokesperson for her attorney told HuffPost, and her suspicions were confirmed last week when she and her family met with the Delaware Department of Justice. Harmon and her family are asking for a criminal investigation into the matter; the state's attorney and state police did not immediately respond to questions from HuffPost.
Tosha White, Harmon's mother, told HuffPost that the school never contacted her or her daughter to inform them that the meme was circulating.
"We're angry. We're upset. There's so many emotions running, but I think those are the top ones," White said. "How do you do something like this to someone and then just act like it never even happened or nothing exists?"
Layfield and Jones have been put on administrative leave, according to the lawsuit. In a statement to HuffPost, the Indian River School District said it does not comment on pending litigation.
In an August press release, Neuberger said Layfield should never have been suspended, and he is now seeking to "clear his good name."
Neuberger added, "All this having been said, if the district believes it somehow was an abuse of discretion for my client on four occasions to show this video that day, warn him and put a letter in his file and return him to his duties. And clear his good name. STOP THE RUMORS!"
Neuberger told HuffPost that Layfield has received threats from community members and also faces an investigation by the state board of education to determine whether he should lose his professional educator license and accreditation.
Harmon told HuffPost that her social life had been drastically impacted since the incident, adding she's felt upset, disappointed and shocked.
"I don't go out. I don't do anything. I kind of just go to work and go to school," Harmon said.
In an interview with ABC affiliate WMDT, Harmon and her mother noted they don't want to see Layfield and Jones work around kids or in any school district.
Harmon added, "In this situation, it definitely made me feel uncomfortable."
Support HuffPost
The Stakes Have Never Been Higher
Popular in the Community