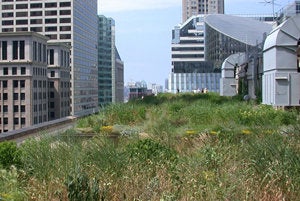 "Sustainable" is the new green. In a world where there is sustainable agriculture (farming that is adjusted to the local ecosystem), sustainable architecture (minimizing environmental impacts of new building) and even sustainable banking (socially responsible investments), we now have sustainable art, or art dealing with environmental issues.
In case that is a new term to you, you are already a couple of steps behind, because "sustainability" has already been institutionalized into an elective concentration (a type of minor) for Bachelor of Fine Arts students at both Otis College of Art and Design and the Maryland Institute College of Art starting this fall. Called "Sustainability and Social Practice Concentration," the MICA program (according to the school's website) "prepares students to engage their creative practice with the social and ecological issues facing the world today, earning the knowledge, language, and skills necessary to excel in this emerging field."
Hugh Pocock, a sculpture and video professor at the college, who is the founder and coordinator of this new concentration, stated that "fine art is one of the last fields to be engaged in social responsibility and ecological awareness," as students traditionally have been taught to express themselves without regard to the larger societal context in which their work exists. "Art students regularly ask themselves, 'What is my art for? Why am I making art? Is it simply to have my art follow a trajectory from studio to art gallery to buyer?' In this program, we are looking to raise the bar and bring into the conversation issues of social, political and ecological justice."
Still don't get what this art looks like? (One hint: It is less a style than a message.) Let's look at what some professional artists already in this field have been doing, starting with Eve Mosher's most recent project, "Seeding the City," which involves placing 4-feet-by-4-feet trays of growing (native) plants on 1,000 rooftops on buildings in Brooklyn and Manhattan. Each of the participating building owners would agree to contact three other building owners about having a plant box sited on their roofs, and all of these building would be identified by a flag on both the roof and at street level flag. The concept behind the project is that plants consume carbon dioxide, resulting in a cleaner and cooler environment, but it is not Mosher's assumption that 1,000 plant trays actually will alter New York City's climate. Rather, it is the participation of the building owners and the visibility of the flags that will spark awareness among passers-by of the urban environment and how it could be changed.
Another example of eco-art, but one that does not involve growing plants, is Mary Miss' 2007 project in Boulder, Colo., "Connect the Dots," which involved the placement of 600 large blue metal dots affixed to trees and municipal buildings throughout the city that identify the high-water marks of floods that have inundated the city in 1894, 1914, 1919, 1921, 1938 and 1969. The intent of the art project to remind residents of the need for preparation. "Because of its location, the nature of the steep slopes and long approach upstream the city is highly susceptible to flooding," the artist said. "The city is considered to be a high hazard zone where the question is not if there will be a flood but when will it happen."
Perhaps the brightest star of this field of art is Mierle Laderman Ukeles, who creates what she calls "maintenance art" (combining art and everyday activities, such as cooking and cleaning) and has been since 1977 the unsalaried artist-in-residence of the New York City Department of Sanitation. Among her artworks was a choreographed ballet of backhoes titled "Romeo and Juliet" and her "Touch Sanitation" that involved shaking hands with all 8,500 workers in the sanitation department while saying "thank you."

These projects don't solve an environmental problem but point up potential solutions and raise awareness. Pocock noted "a growing segment of the population that wanted to address social change and ecology and were searching for the skills and language that would help them apply their art making to these areas."

Like "green" and "all-natural," the definition of "sustainability" is a moving target, and its application to works of art varies widely. Art that focuses on issues of sustainability doesn't have a certain look, in the way that abstract expressionism or Pop Art is easily and quickly recognized, but rather reflects a series of ideas about the role of art in the environment and in society. ("What I think you can say is that it won't look like things sold in galleries," Mary Miss said.) Too, the type of artwork created may be of any style or subject matter -- it could be of a monolithic icon sort -- but is called sustainable because the materials used were locally sourced (limiting the carbon-burning transportation costs), water-based or biodegradable. In general, the art project itself reflects in some way on a social or ecological issue.
Environmental sustainability as a focus of an artist's work tends to upend the customary business model for fine artists -- many of them don't create objects that can be sold in an art gallery to a collector. "I've never made any money from selling something," Eve Mosher said, and Newton Harrison, who works with his wife Helen to create art projects that highlight the effects of climate change and poor land management practices, noted that their income is "a mix of money for talks, grants, projects and teaching." This class of artists is sustained on project grants and other forms of funding. Mary Miss noted that "I've sold a drawing once in a while," but her principal sources of income have been the Ford Foundation, the National Endowment for the Arts, the National Science Foundation, the National Oceanic and Atmospheric Administration and the Rockefeller Brothers Cultural Innovation Fund.
Artists in this field, according to Mosher, "need a different skill set," such as the ability to write grants, negotiate, network, create partnerships and do a lot of research. (Mosher's "Seeding the City" project, for instance, was sponsored by the Greater New York Development Fund of the New York City Department of Cultural Affairs and overseen by the Brooklyn Arts Council.)
Pocock stated that art schools don't teach students how to make a living but, rather, give them the conceptual and technical tools in order to pursue their interests. "Art-making has been questioning its relationship to the commercial market for 60 years," he said, "much of this questioning work has been what has defined contemporary art. The place of education is to allow a conversation based on ideas and esthetics that is free of market concerns from four to six years in order to strengthen the cores values and concepts."

Support HuffPost
The Stakes Have Never Been Higher
Related
Popular in the Community