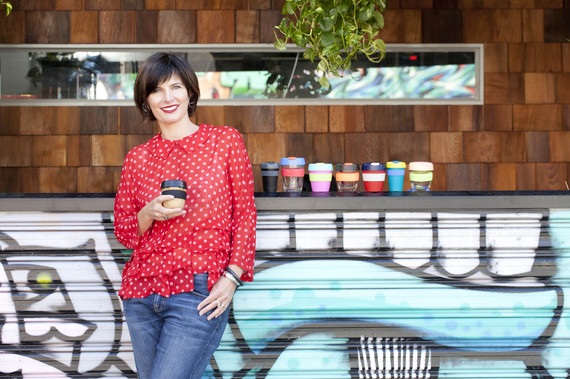 "A movement happens when people talk to one another, when ideas spread within the community, and most of all, when peer support leads people to do what they always knew was the right thing." Seth Godin, Tribes
My brother and I started a café business called Bluebag in Melbourne in 1998. As the business grew we became increasingly concerned about the volume of packaging waste our business and our customers consumed.
We looked to purchase and sell reusable cups as an alternative to disposable, but observed that not only were existing options unsuitable for specialty coffee, they hadn't won the hearts of consumers.
Ceramic mugs were heavy, breakable, needing to be heated prior to filling and impossible to dose correctly with milk and coffee. Thermoses were bulky, unattractive and invariably the coffee shot had to be poured into the thermos destroying the crema on the shot.
Further to this, both options were made of composite materials, making them dishwasher unfriendly and difficult to recycle at the end of life.
We had the notion to make our own, but were daunted by the enormous costs of set up and manufacture. My moment of clarity was when I was heating the milk in my daughter's sippy cup one morning. Imagine if I gave her milk in a disposable cup and then discarded it? That idea seemed so wasteful, yet I did it with coffee twice a day!
This moment was the call to action.
We took a huge gamble that usability and aesthetics were the key reasons for poor take up of reusables as an alternative to disposable cups. Our café experience was invaluable in providing input to make the KeepCup work for the coffee machine, as well as for the user.
Almost four years later, with a great deal of help from design professionals, we have kick started a behavioral change in Melbourne that is spreading across the world. People purchase KeepCups because they love the way they look and feel, and continue doing so because they form a positive habit.
For many of our customers it has been the beginning of a journey to reduce the consequences of convenience behavior. Feel good. Do good.
KeepCup is from Australia with love. The environmental footprint of our products is really important to us, so we were committed to local manufacture. Sustainability is linked to usability, and we believe; quality underpins the ethos of the business.
As the business expanded globally, we were hesitant to proclaim our Australian manufacture but it turns out this is a really positive message, and made in Melbourne even more so, given our city's reputation for specialty coffee.
Very few industries in the world illustrate the sustainability loop as the coffee industry. At trade events, a grower might have a stand beside the paper cup company. If you are a multinational chain talking about climate change and poverty at origin and yet disposable cups account for 98 percent of sales, you are creating the problem you are trying to solve. It is the task of Sisyphus; no one wins.
Due to the altitude required to grow coffee -- the second largest traded commodity in the world -- it is one of the crops most adversely affected by climate change.
The world over, sustainability is moving from being a department in an organization with no budget, to a bottom line performance evaluation for the whole business. Within the next ten years sustainability will no longer be a marketing platform; it will be a precondition for commercial viability.
The industry can only continue to grow if it looks after the environments it affects. Every minute around the world one million disposable cups are discarded to landfill. That's over 500 billion disposable cups a year.
Eighty percent of the environment outcomes of any product are determined in the design phase. Care in product design; choice of materials, shipping, longevity, end of life, take you a long way to deliver sustainable outcomes. But whilst product design is critical, we give equal weight to creating the right circumstances to tip the behaviour change from discard to reuse.
Here are some of the lessons I've learned:
Strike a positive note; for most of us, the word "should" is immediately dis-engaging. We all need to do better, and we can, it's about giving ourselves and others the space to take positive action.
Find the enablers within your industry and engage them. We love it when the barista says 'good on you' or 'nice KeepCup'. It's a wonderful feeling to have your efforts acknowledged and this assists, to embed the positive behaviour. Take a bow baristas of the world!
Provide an accessible entry point to the sustainability journey. For many of our customers it has been the beginning of a journey to reduce the consequences of convenience behaviour.
Re-users, we salute you!
About Abigail Forsyth
In 1998 Abigail started Bluebag with her brother, Jamie - a feel good food chain of fresh and healthy sandwich shops in Melbourne's CBD.

The business was sold in 2010, having provided the idea and stepping stone for her latest venture, KeepCup. Her and Jamie set about designing KeepCup as a product response that would inspire and assist in the behaviour change from discard to reuse.

Now in 2015, over 4 million KeepCups have been sold globally. KeepCup products are designed and manufactured in Australia and exported to the world. KeepCup has offices and warehouses in Australia, USA and the UK, and 25 global distribution partners. KeepCups are sold in 32 countries around the world and positive word of mouth has turned the world's first barista standard reusable cup into a global phenomenon.

Abigail lives in Melbourne with her husband and two children.
REAL LIFE. REAL NEWS. REAL VOICES.
Help us tell more of the stories that matter from voices that too often remain unheard.