After two decades as successful water quality and coastal advocates, we both came to the conclusion that existing environmental laws won't be enough to protect nature, biodiversity and human health. Our numerous environmental success stories are incremental wins, not nearly enough to stall, let alone reverse, accelerating environmental degradation on a wide scale. Even the Deepwater Horizon explosion and subsequent spill of over 200 million gallons of oil hasn't translated to needed changes in environmental laws.
The first Earth Day in 1970 held promise -- 20 million people rallied for a healthy environment when rallies were organized by phone calls and mimeographed fliers. Their voices pushed numerous, far-reaching environmental laws through Congress in just a few years. This heady beginning quickly slowed, however, with personal stewardship giving way to a complex regulatory maze that fails to resonate with the public.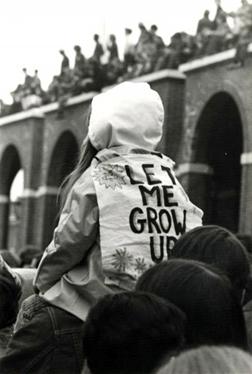 Rally on eve of first Earth Day, Philadelphia, PA, April 21, 1970. Photo from 1970 Earth Week Committee of Philadelphia (Creative Commons).
Protection of the environment has yet to become a moral obligation or a way of life for all. Current environmental laws, premised on permitting degradation, are allowing growing harm to the environment. Climate change is now threatening to send the planet irreversibly past a biologic "tipping point," with potentially catastrophic consequences for people, ecosystems and species. Corporations are claiming the same (or more) rights as people, and in Citizens United the Supreme Court expanded those rights. Comparatively unlimited corporate money is influencing our democracy in an unprecedented manner. The result is growing corporate influence over our lives and the Earth.
To course-correct this destructive path, a movement to recognize the rights of nature began about a decade ago. It has grown up largely in communities and nations threatened by corporations coming in to mine, drill, extract, and conduct other locally devastating activities. Pittsburgh, the largest city that passed such an ordinance, recognized in 2010 the rights of nature and rejected the rights of corporations to conduct gas drilling against the people's will, providing citizen enforcement authority as a safeguard. Ecuador similarly passed constitutional provisions in 2008 stating that nature had the inherent right to exist, thrive and evolve, also granting citizen enforcement authority to uphold those rights.
In Santa Monica, the city is taking a broader approach. After two years of meetings with the public and city staff, on March 12 Santa Monica staff offered the Sustainability Rights Ordinance for City Council consideration at first reading. The public spoke soundly in favor of the Ordinance, and, on April 9, the City Council voted unanimously (7-0) to approve the Ordinance.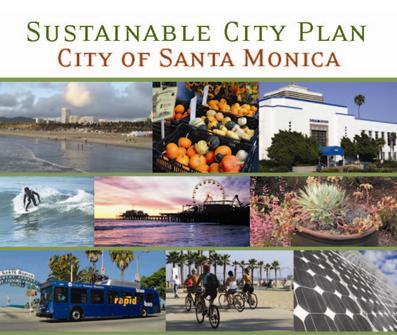 The Ordinance lays out rights that must be protected, including the fundamental and inalienable rights of all residents of Santa Monica to clean water from sustainable sources, marine waters safe for recreation, clean indoor and outdoor air, a sustainable food system that provides healthy, locally grown food, climate that supports flourishing human life and a thriving environment, comprehensive waste disposal systems that do not degrade the environment, and a sustainable energy future based on renewable energy sources. These rights set the stage for positive actions by the city and residents, through the Sustainable City Plan and other strategies, to live within the Earth's limits and ensure human and environmental well-being.
The Ordinance also recognizes that the environment possesses fundamental, inalienable rights to exist and flourish in Santa Monica. It provides enforcement authority to city residents to protect these rights on behalf of "natural communities and ecosystems," defined for Santa Monica as groundwater aquifers, atmospheric systems, marine waters and native species within the boundaries of the city. By calling on us to recognize the rights of nature, this language guides us to live well within its boundaries.
The Ordinance further addresses the threats to the rights of people and nature posed by Citizens United and other corporate "personhood" claims. It states that Santa Monica residents possess the rights to self-governance, and to a municipal government that recognizes that all free governments are founded on the people's authority and consent. It also makes clear that corporate entities do not enjoy special privileges or powers that subordinate the community's rights to private corporate interests.
Accountability to the public is also built into the Ordinance, which requires the city to report on implementation of the Ordinance and the Sustainable City Plan biennially.
This is a bold ordinance that is groundbreaking in many ways, including by its attention to implementation through a strong Sustainable City Plan, which is being updated now. But this is just the first step in a city of 100,000 people.
We need nothing short of a new groundswell of citizens as we saw in 1970, this time calling for an environmental rights movement, which protects our rights to clean water, air, soil, food and a natural climate, and reverses rather than just slows degradation. An environmental rights movement must begin with and be led by students, by workers, by communities, by congregations -- by the people, who know that respect for the rights of nature preserves our own rights and well-being.
By fighting together for our own environmental rights and for the fundamental rights of nature, we will collectively forge a path to protect, preserve and sustain the planet for many generations to come.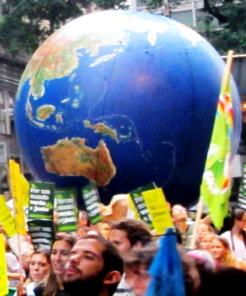 People's Summit March, UN Conference on Sustainable Development, Rio de Janeiro, Brazil, June 2012. Photo by Linda Sheehan
Related
Popular in the Community