Conflict increases in the face of fuel, food and water scarcity.
This concept seems relatively simple, yet too often we seem fixated on blunt force solutions to problems (military intervention, financial aid, food distribution) that could be better solved with tech-enabled abundance, conservation, distributed energy and other proven methods of increasing the world's access to the elements of survival.
Check out this map depicting global water shortage.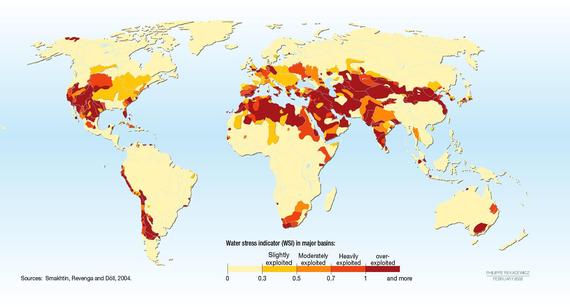 Now look at a map of global nourishment shortages.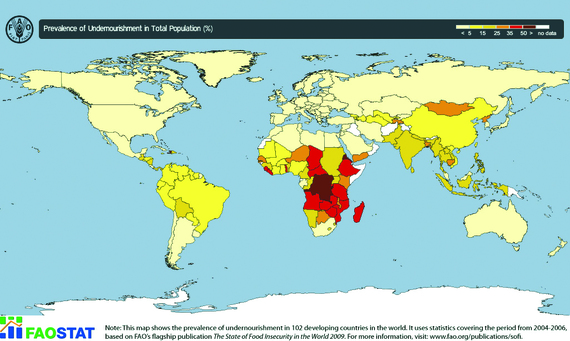 Compare these two to this map depicting the most dangerous places in the world to live because of murder, terrorism, war, and other forms of violence.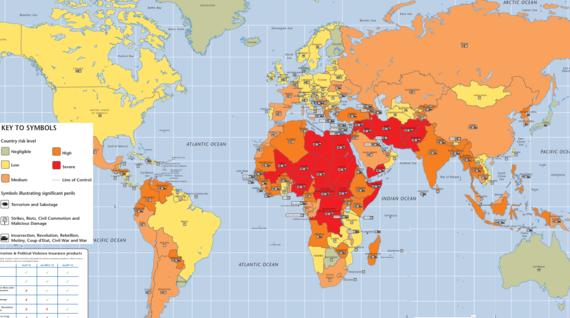 Violence, uncertainty and unrest go hand in hand with food, water and energy scarcity. Probably no Americans are more acutely aware of this fact than the men and women we have sent into harm's way over the last 20 years.
That's why I am so pleased that the White House is honoring my friend Liz Perez-Halperin, a wounded Navy vet and survivor of the bombing of the USS Cole, in its "Champions of Change" ceremony today.
Liz is the President and Founder of GC Green Inc., a green building general contracting and consulting firm. GC Green works to broaden the outreach and impact of the green economy by promoting education, training, apprenticeship, and project placement opportunities in energy efficiency and renewable energy systems for veterans and other displaced workers in California
Liz was one of the first vets to show me the causative link between sustainability and security. Since our first on-air discussion, I have been impressed by her clear vision and determination.
Impressed but not surprised. Perez embodies the sense of purpose, unoffendability and desire to bring new technology to bear on old, seemingly intractable problems.
Congratulations Liz. This well-earned honor shows just how much you live by your personal motto to "make every day count."
Calling all HuffPost superfans!
Sign up for membership to become a founding member and help shape HuffPost's next chapter