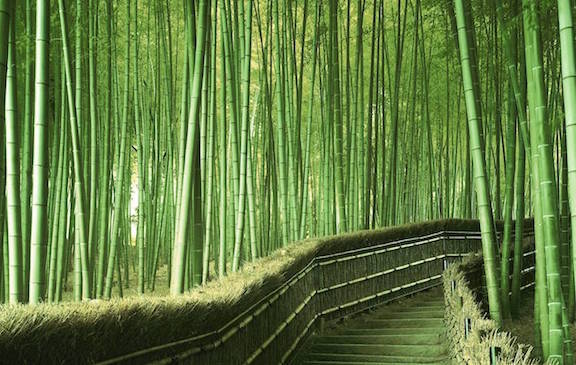 "The bamboo that bends is stronger than the oak that resists." — Zen Proverb
Each week, an estimated one million acres of forest are lost to deforestation. But bamboo's versatility as a renewable alternative for hardwoods offers a chance to considerably reduce that amount and protect the forests we have left. It's said that bamboo's versatility and sustainability can save the planet from deforestation and degradation of the environment.
Consequently, wondrous bamboo is now being used in various industries: from pulp and paper (laser copy paper, toilet tissue and coffee filters), automotive (steering wheels, dashboards), recreation (skateboards, snowboards, baseball bats), and electronics (iPhone/iPad cases, keyboards), to everything else.
For example, when I checked the Hollywood location of Guitar Center, a nationwide musical instrument chain, I found all sorts of equipment using bamboo, including multi-sticks that are super handy for cajon players, along with tambourines (bamboo frame), and both bamboo bongos and Didgeridoos.
And one of my neighbors, who's an avid recreational surfer, says that "surf animals" can destroy just about any type of board. But bamboo boards offer an interesting option because of performance (unique flex), durability (longer fatigue life), weight and cost (as light and as cost competitive as a glass board), and environmentally friendly.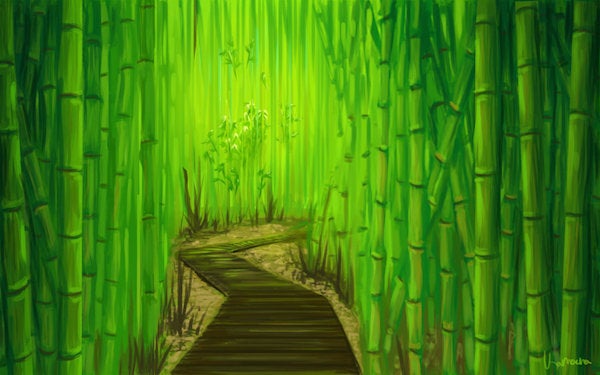 There are about 1,000 species of bamboo, and one plant can grow up to three feet a day. Also, it only takes a year for bamboo to reach full height and 2-4 years for full maturation. This short growth period makes bamboo a super attractive option for making wood products — hardwoods like oak can take forty years to mature before harvesting.
And once again, because bamboo is sustainable and renewable, we don't need to continually hack down our forests. I know, right?!
And, bamboo is increasingly turning up in newer products like watches, even luxury versions.

Step right up, Thunder Liger, a distributor that sells gorgeous-looking bamboo and wooden watches. The watches are made from renewable resources "at a fraction" of what the competition charges primarily because they actually don't re-brand or add their logo to drive costs up.
The watch company's entertaining background story is like something you'd hear from comedians Cheech & Chong whose second comic album was called (not Bamboo but) "Big Bambu" — it's hilariously told tall tales.
Fred Davidson is part of Thunder Liger's two-man entrepreneurial team along with Glenn Carter, and he tells their own tall tale on how they began, with tongue firmly planted in his cheek:
It all started in the shadows of mount Vesuvius (near Naples) where two cool dudes met at a Starbucks while writing their screenplays. After an angry yelling match debating pineapple on pizza and some serious Greco-Roman wrestling, we came up with a genius idea: let's create the most badass and awesome store while not shafting over customers. The result? Thunder Liger: the hippest importer of exotic stuff from far-flung places, offering the said stuff at a much lower price than the competitor. Some dude named Forbes once dubbed us 'The Pablo Escobar of cool stuff.' At least, that's how we're telling it. And so we've been importing and exporting a little bit of this and a little bit of that. We'd take all the credit, but really our success really comes from the wisdom of an old Shaolin monk who taught us the ways of the import.
Alright, now that's really funny, considering Davidson says their "monk" moonlights on Google. But what's a bamboo watch really like?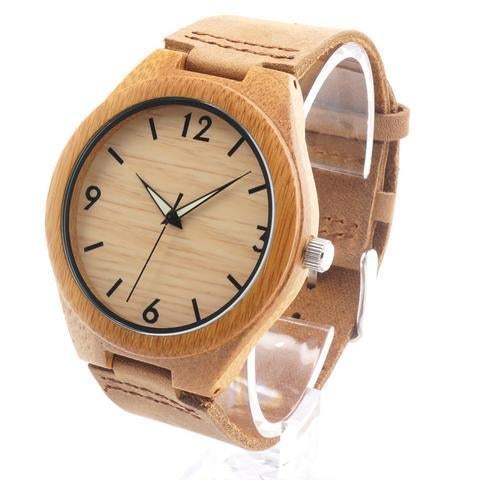 Well, because I like to work out vigorously daily and hike in nearby Griffith Park, I'm really hard on watches. My father's antique, decidedly priceless Rolex, which was once waterproof, has been through the wars with me. I've had to replace many straps and the crystal is wearing thin.
But a bamboo watch, with a bamboo frame and wristband, is surprisingly light, durable and water resistant. Shake and knock it around, even sweat on it — and it really does take a licking. Additionally, over time, Davidson says that our body oils almost give the watch an aged polish, a sort of "je ne sais quoi" sheen.
Cost-competitive, using an awesome renewable and sustainable resource, with two guys who try and make you laugh along the way, what's not to like?
I mean, who can resist Thunder Liger's far-out, self-promotion: "No word of a lie. 'It's hotter than two rats banging in a wool sock!' is how we overheard two hobos in a New Orleans back alley describe our store."
With Father's Day coming up, maybe a spiffy bamboo watch could help one's own father/son relationship. And help save the planet, too!
Popular in the Community