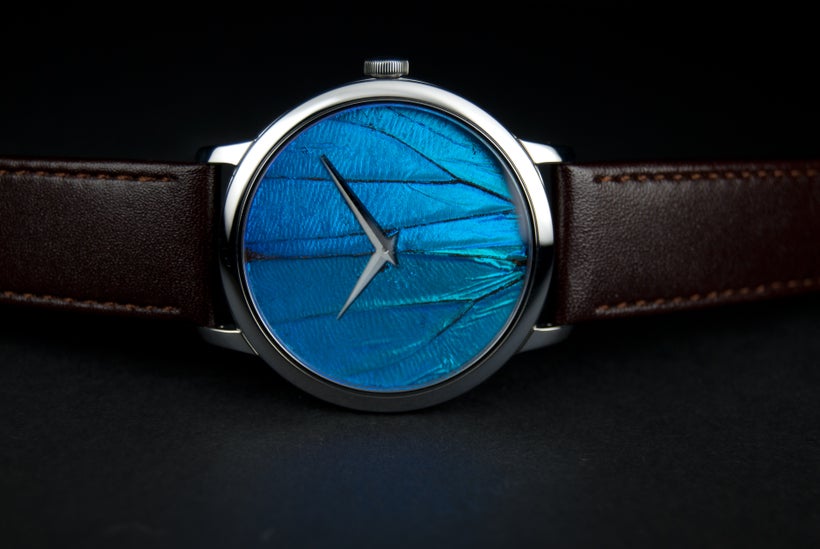 "Making something and sending it out into the world and then people not only responding to it but adopting it for their own and making a separate thing for it, that's beautiful. It just shows you how much you can affect other people... the butterfly effect of everything you put out into the world." Marketa Irglova
Haute Art de Papillon - the newest exotic creation in luxury with a positive impact.
Picture this: A completely renewable and natural, exclusive material which is new to the luxury world! Haute Art de Papillon is the name of this extraordinary innovative material and stands for butterfly wing marquetry. Imagine using the most radiant iridescent qualities of butterfly wings, inlayed into objects d'art and design by the highest level of craftsmanship. Then showcasing these precious materials into the finest accessories, jewelry and watches. In return, it creates an eco-conscious, socially responsible luxury brand that sustainably sources from butterfly farms in South America, Africa and Madagascar and saves the rainforest!
Is this part of a new sustainability focused movement in the luxury market, the start of a Butterfly Effect? The Butterfly effect (with reference to chaos theory) is the phenomenon whereby a minute localized change in a complex system can have large effects elsewhere.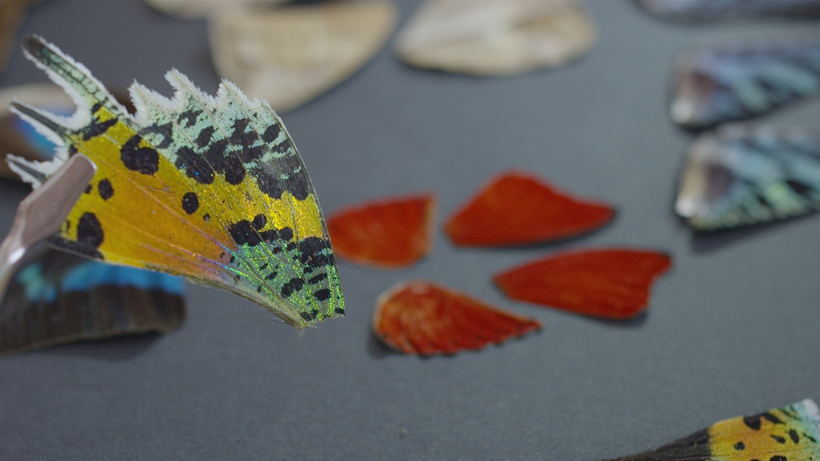 The average person might know a handful of different butterfly species, but is not aware that there are over 180,000 differently shaped and colored butterfly species in the world. Yet new species are discovered every year! There is a whole universe of unlimited fascinating colors and patterns which is not noticed by general society at all. Haute Art de Papillon makes this fascination tangible and brings it from the remote tropical places of origin into the hands of people within the large metropoles where people almost forgot about the beauty of nature.
There is only one luxury brand specializing in this material, so-called "Haute Art de Papillon" making it one of the most exclusive luxuries in the world. The company, Khamama, is a family business founded by two brothers, based in England. This seems to fit well with the historic background of England, as is was the country where the first butterfly was ever collected in the late 17h century and is still preserved in Oxford, England.
Their collection represents the most extensive array of the most beautiful butterfly & most magical moth wings. The items they create are defined by their timeless designs, positive environmental impact and the natural uniqueness of each handmade item.
This might be the start of a new refined artistic craftsmanship which at the same time protects the environment sustainably. They have recently launched an exceptional new Timepieces collection! They also offer luxury iPhone casdes, clutch handbags and interior design art pieces.
"The butterfly counts not months but moments, and has time enough." Rabindranath Tagore
Butterflies are a fascinating phenomenon, and a magical species to behold and the list special tropical butterflies are used. Considering the rarity and ephemeral quality they are harvested after their completed whole natural life cycle. In fact, butterflies and moths only live a very short amount of time, just few days or less. Some just use all of their energy as a caterpillar to become a butterfly and then don't even eat after their metamorphosis.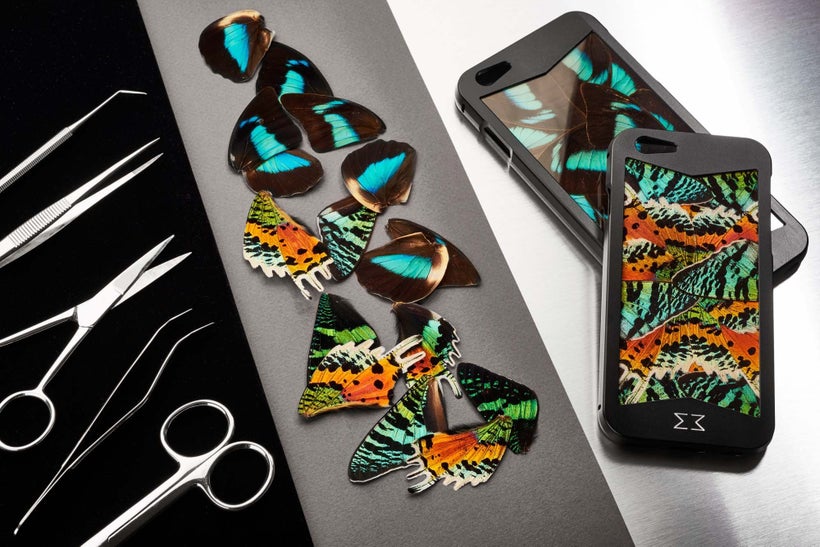 The butterfly farms are always located where the specific butterfly species are originally, as they require the eco-climates where they naturally live in symbiosis with specific plants. They only eat one specific plant for each species. The plants need very particular conditions, like altitude, humidity, amount of sunlight and many more in order to flourish Ecuador, Brazil, Madagascar or Malaysia. Butterfly & moth farms either work for the silk industry or farm butterflies until they turn into the pupae form and are shipped to zoos where they are hatched and exhibited. The butterfly & moth farms used by Haute Art de Papillon artisans are much like silk farms, but allow the butterflies to live their full life expectancy.
Butterflies live longer in a butterfly farm rather than the wild. They are protected from natural predators like birds, taken care of and get enough food and water. In these artificially contained habitats 98% of the caterpillars turn into butterflies, while in the harsh conditions of nature only around 2% would. In fact the whole process is completely organic and environmentally friendly, with no artificial irrigation needed, taking advantage of the host plants local to the area, no fertilizer and ultimately requiring to maintain the local eco-system. The full life cycle of this industry not only helps to prevent cutting down the rainforest, but also employs and supports indigenous people.
The specialized patented process of assembling and applying the delicate wings, preserving the radiance of the natural colors and hermetically sealing them with a sapphire crystal is absolutely unique. All the colors they use are natural and not dyed and the iridescent effects of the wings are one of a kind. This shine is created by nanostructure on the wings which are created during their metamorphosis. These nanostructures, like invisibly tiny crystals, reflect light from different angles with different colors. The KHAMAMA Blue 1874 watch may look like bright blue from one angle and dark violet from another.
"Metamorphosis has always been the greatest symbol of change for poets and artists. Imagine that you could be a caterpillar one moment and a butterfly the next." - Louie Schwartzberg
Butterfly wing art was popular at the end of the 19th century to 20th, where they often displayed the whole butterfly as such. The Victorian era that propelled the butterfly to become an item of status. Especially large, rare and beautiful butterflies have been named after the British royals of this time: "The Queen Victoria's Birdwing" butterfly (scientificially: Ornithoptera victoriae) or "The Queen Alexandra's Birdwing" butterfly (scientifically: Ornithoptera alexandrae). The lustrous shine from the butterfly wings were the attraction as well as the colors of the wings and the scientific interest in these fascinating creations. They often lacquered the wings of butterflies and insects creating jewelry pieces or displayed the butterflies scientifically as a whole. The only other butterfly wing art used today is by Harry Winston. There is a big difference though since Khamama utilizes only the wings as a beautiful material similar to the use of exotic feathers or leathers.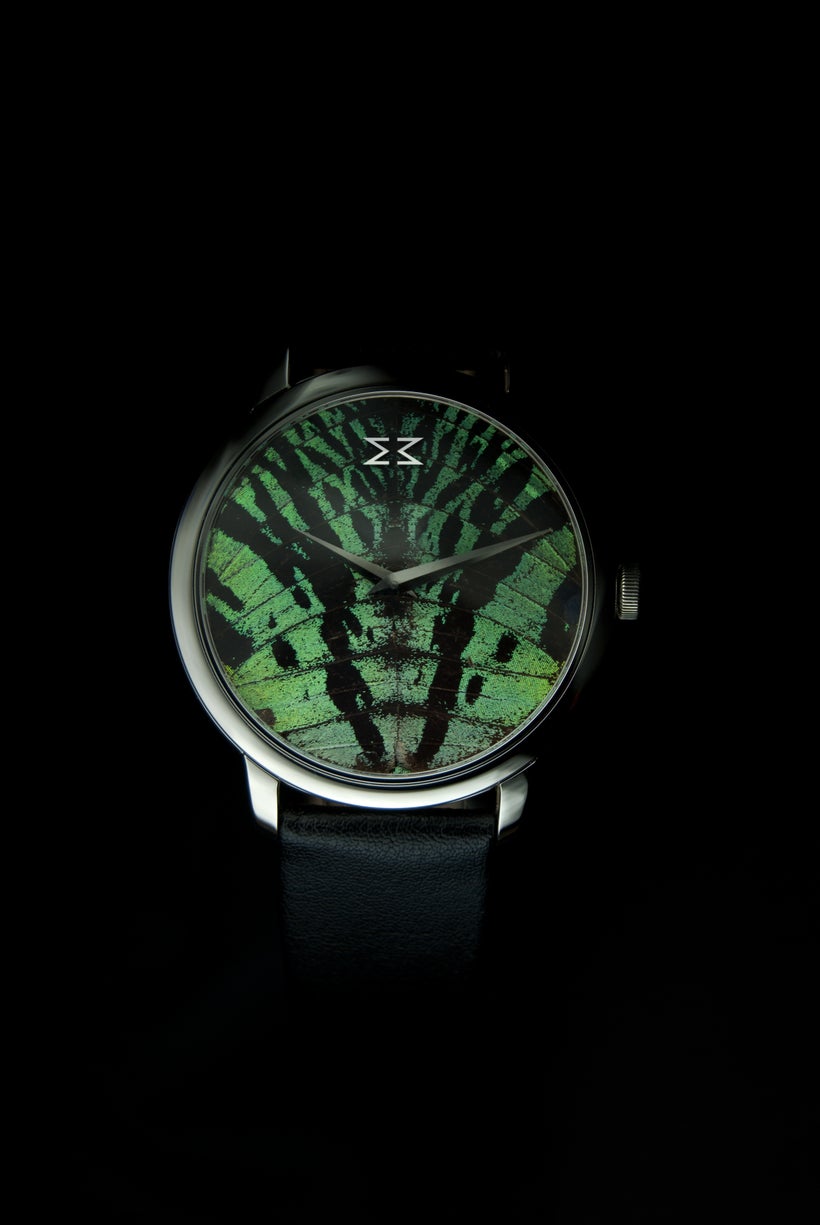 The current trend in haute couture luxury brands seems to be an obsession with butterflies & moths as motif. Haute Art de Papillon, of course, for their association with the Hope Diamond – has released the Harry Winston Premier Precious Butterfly Watch Collection in 2015 featuring watches that feature one-of-a-kind dials with butterfly wing marquetry. This collection seems to bring the luxuries of the Victorian ages back en vogue again, but only for a very small audience as their watches start at $30,000 USD.
Launching this exceptional new luxury brand on Kickstarter, will make this exquisitely designed Timepiece collection accessible to a broader audience by offering their watches at $330 USD.(This is the first time a true Parisian Luxury brand is available on Kickstarter.)
We are inspired that our watches will accompany their distinguished wearers to exclusive dinners, mesmerizing opera and ballet nights, splendid balls, luxurious black tie events, sophisticated vernissages (art openings) and glamorous red carpets The Hornstein Brothers, founders
In fact, while other Kickstarter campaigns profess to be 'luxury design, Yann Llorens, the designer behind this premiere concept is a real Parisian luxury designer on their team, who previously worked for Louis Vuitton, Van Cleef & Arpels and Lorenz Bäumer. The jewellery pieces he usually designs are starting at 5/6-digit prices. His exceptional work can be seen here.
Another interesting aspect, is that they are on the leading edge of the trend of gender-fluidity. All six watches are to be worn by both men and woman. The appeal is that wearing a magnificent work of art does not need to be distinguished by gender specific aspects, but the individual can choose to wear their watch because they truly love it. This trending topic is addressed by Alice Newbold (editor at British Vogue) in summer 2017 about the new fashion shows:
"The spring/summer 2018 menswear shows are a prime example of the fashion industry shifting towards a gender-fluid space where skirts are not female wardrobe staples, but a garment to be worn – and enjoyed – by all."
They symbolize, freedom, fun, happiness naturalness, purity and regeneration. This new fascinating collection of timepieces and accessories is capturing all this meaning and combining it with a good environmental impact. It is bound to become one of the most coveted and unique collectables.
Who knows? - Maybe it will even have a positive Butterfly Effect within the luxury market!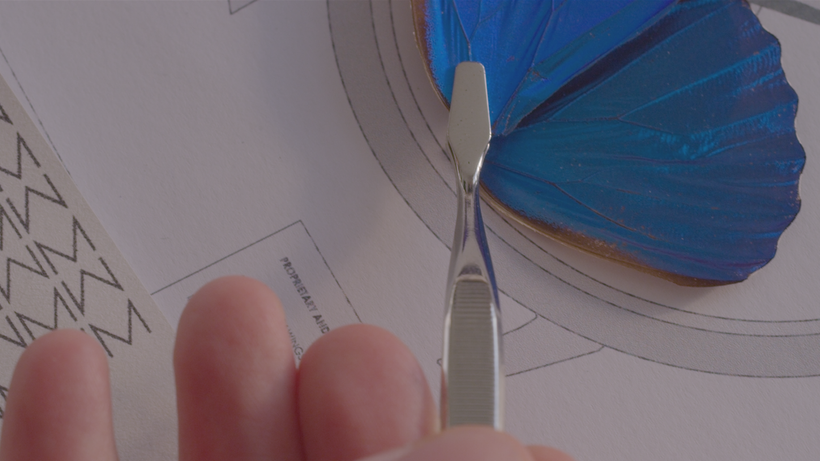 REAL LIFE. REAL NEWS. REAL VOICES.
Help us tell more of the stories that matter from voices that too often remain unheard.
This post was published on the now-closed HuffPost Contributor platform. Contributors control their own work and posted freely to our site. If you need to flag this entry as abusive,
send us an email
.