You're wearing it. You sleep in it. You dry yourself off with it. Cotton is everywhere in our lives, and its production, which relies heavily on water and pesticides and can cause soil erosion, takes a severe toll on the environment.
More sustainable options, such as organic and fair trade cotton, can be produced with less harm to the planet, but popular companies are doing a poor job of ensuring the cotton used in their supply chains is sustainably sourced, according to a new report.
Conducted by Rank a Brand, the study assessed 37 companies -- from hip clothing brands to furniture retailers -- on their cotton policy, sourcing and traceability based on publicly available information. Companies were then awarded a score, from a zero to 19.5. The higher the score, the better the company is at promoting cotton sustainability.
Only a handful of companies scored a 3 or higher.
"Sourcing more sustainable cotton has never been easier so there is no excuse for companies not to offer more responsible products to customers," Richard Holland, director of market transformation with the World Wide Fund for Nature, said in a release. The WWF partnered with the Pesticide Action Network UK and Solidaridad, a Netherlands-based sustainability group, to publish the report.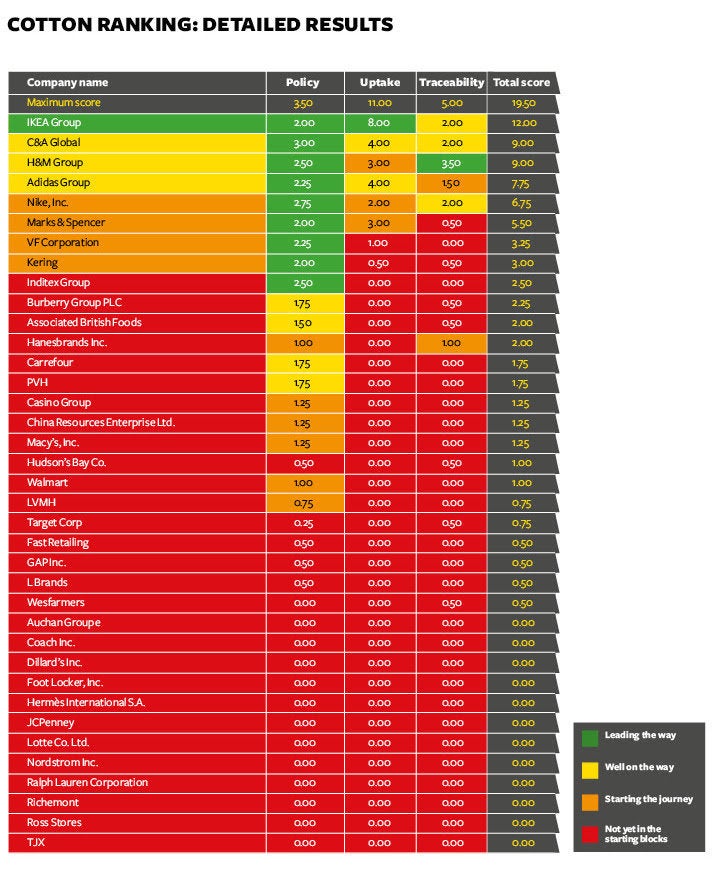 Furniture maker IKEA topped the list with a score of 12. Though IKEA's most commonly used material is wood, the company is also a major consumer of cotton, for bedding, furniture seating and towels.
A few of the other decently ranked companies are H&M, which scored a 9, Adidas (7.75), Nike (6.75) and the British retailer Marks & Spencer (5.5).
It's important to note that although H&M is pretty high on this list, the retailer still must improve many aspects of its manufacturing process -- not just how it sources its cotton -- before it can call itself a truly eco-friendly company. H&M, along with other fast-fashion brands, relies heavily on cheaply produced clothes that are quickly discarded by consumers after just a few wears -- and the environmental costs of this cycle are high.
"The sourcing of raw materials is only one component of sustainability," Holland, director of WWF's market transformation initiative, told The Huffington Post. "Companies like H&M are looking at how to change their business models while remaining fast fashion."
The companies that scored extremely low on the report's list include Associated British Foods (2), which owns the Irish fast-fashion chain Primark; Carrefour, a French supermarket chain (1.75); Macy's (1.25) and Walmart (1).
A dozen companies scored a zero -- Target, Gap and Foot Locker among them -- which means that info on their cotton policy and sourcing wasn't publicly available and that they didn't provide details when prompted by Rank a Brand.
"A lot of companies scoring [low] are simply not reporting to their stakeholders, investors and customers about what they're doing," said Holland, adding that the list aims to hold the firms accountable for less-than-exemplary practices or a lack of transparency about policy.
It takes more than 5,000 gallons of water to make enough cotton for just a T-shirt and a pair of jeans, according to WWF. The report's publishers said in their release that around 10 percent of the world's cotton supply is sustainably sourced, but less than a fifth of this is used in products.
"Every large cotton user needs to contribute to sustainability," Isabelle Roger, who oversees the global cotton program at Solidaridad, told HuffPost. "Cotton is a key material, and companies need to work toward the security of its supply in the future."
The publishers hope the research will trigger more responsible action in the industry.
"Companies are not particularly feeling the pressure that they should be doing something," Holland said. "But now it's possible to source more sustainable cotton, and the next five years will be critical in making enormous change."
The headline on this article has been updated to emphasize the problems associated with how companies source their cotton, rather than on a single retailer.
Related
Popular in the Community