In partnership with The Earth Institute, CyberSmart Africa has designed a sustainable and scalable platform for digital classroom learning in schools without electricity.
Learning from teacher's classroom lessons
Lesson observation is an important way teachers coach each other to improve their classroom management skills. The CyberSmart Africa team recently observed a group of interactive lessons presented by teachers at Potou Elementary School, Senegal, and noticed that all of the teachers chose to use or develop very familiar digital learning materials. Instead of gravitating toward reference tools and new apps, the teachers were asking their students to use the interactive screen to annotate (draw) over scanned versions of their own textbooks. The teachers were also taking the time to gather multimedia images of food, animals, and people in order to bring more meaning to everyday classroom instruction.
Digital learning is new to these teachers, and they try to make it more familiar by using content they know and trust - scanned textbook activities, and pictures of things that surround their students, like chickens and cows.
The CyberSmart Africa team also observed that whole-class learning with technology can save time - no need for teachers to painstakingly copy text, and draw pictures on the blackboard. Whole-class instruction with technology enables a more active and up-to-date kind of learning that that should be the right of every student in our globalized world.
Figure 2: It's easy and practical to annotate over a scanned textbook, in this case for reading instruction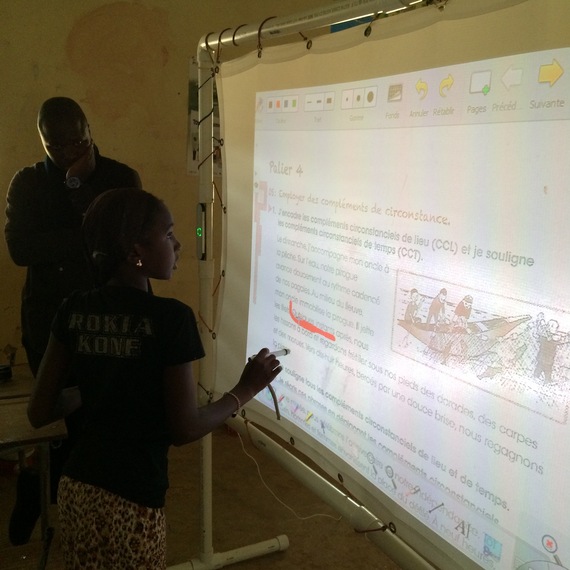 Keep equipment simple to use
Equipment is a key enabler of whole-class learning, and we are striving to make educational technology as easy to use as a mobile phone. Simplifying technology also simplifies teaching in that it frees up more time than can be spent on instruction. For example, teachers should not have to manage several ICT activities - learning how to operate complicated software while operating multiple devices, cables, and chargers - in order to teach a math lesson!
Next Step: A new digital learning platform
The solar-powered CyberSmart Digital Learning Platform is a new all-in-one solar-powered mobile device that is designed based on lessons learned in Potou and other Senegalese schools. It brings together the latest technology, content, and connectivity for whole-classroom instruction. The CyberSmart Digital Learning Platform was created to improve on existing equipment that is too complicated and expensive to scale. The vast majority of schools in sub-Saharan Africa do not have electricity; and there is enormous potential for quick uptake and massive impact.
Figure 3: The CyberSmart Digital Learning Platform, the first technology designed based on lessons learned in Senegalese schools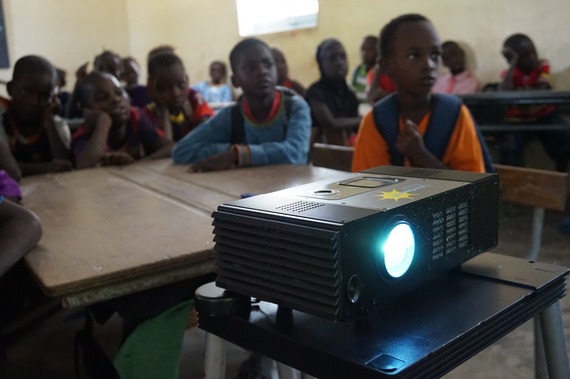 For more information contact Jim Teicher, CEO and Director of CyberSmart Africa at jim@cybersmart.org. Also watch this video.
Calling all HuffPost superfans!
Sign up for membership to become a founding member and help shape HuffPost's next chapter