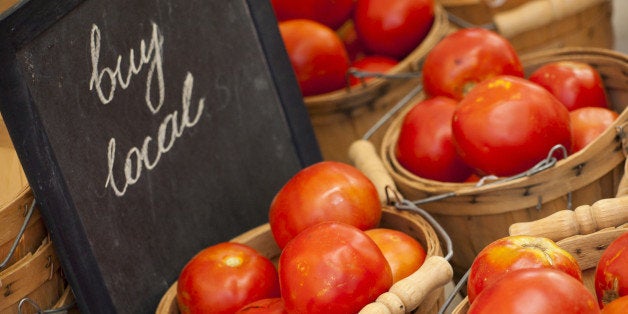 Food and eating out has been at the center of human existence for eons. Restaurants serve as a place for gatherings, celebrations and nourishment. Even back in the Roman Empire, banquets played a vital role in Rome's communal religion and maintaining the food supply to the city was a political issue.
These days, restaurants in the USA are a $660 billion industry that connects us to a long backbone of players, amongst others, traders, farmers and chefs. Yet these interconnections are constantly shifting and over the last few decades we have witnessed push-back on industrialized food sources and what we eat when we eat out. It has become increasingly clear that our daily food choices have a direct economic, social and environmental impact on our world.
This increasing awareness has come about due to growing evidence that there are issues in our current global food systems such as soil degradation due to unsustainable tillage practices and the intensification of corporate monopolies. These issues date back to the post-World War II era, during which the agriculture sector became focused on producing exports and feeding the world. Rockefeller Foundation scientists modified seeds that could produce excess grain and this kicked off the Green Revolution.
However, this style of farming did not emphasize how it made economies more dependent on exports, endangered subsistence farmers, destroyed local agrarian traditions, reduced nutritional content of produce and increased reliance on foreign oil. In addition, the Intergovernmental Panel on Climate Change's (IPCC) fifth assessment report in 2014 highlights that greenhouse gas emissions from agriculture comprises about 10-12% of all man-made emissions in 2010 and that climate-related effects are already decreasing crop yields in some parts of the world. This further emphasizes the need for exploration into alternative methods of food production such as agro-ecological methods e.g. local and organic.
Given this context, many players in the food industry have capitalized on this more conscious vision for food systems. Whilst this new food culture may not be a financial option or alluring to all, it does appeal to a sizeable minority. Within this community there is much debate about organic versus locally grown; vegetarian versus raw food diets; responsibly raised or meat-free? Even the terminology is still highly contested with many feeling that terms are not well defined nor strictly enforced.
Despite this, one thing is certain. The movement towards sustainable, locally grown food is expanding and New York City is a global hub taking steps towards reshaping how we interact and think about food. Under Mayor Michael Bloomberg, New York City has made news with its sweeping sustainability strategy, PlaNYC, a model plan which aims to significantly reduce the city's contribution to global climate change and ensure a higher quality of life. These trends are also apparent in the restaurant industry, where some 329 restaurants were listed on the Eat Well Guide in 2013 as providing locally sourced food and focusing on sustainable food options. These restaurants range from cafés to upscale fine dining, with some opting for stringent criteria of environmental sustainability, living wages for staff and animal welfare measures. In addition, beyond dining, more 'farm-to-counter' markets have been spreading and even edible plants are now gracing sidewalks.
One restaurant which has clearly pushed the envelope on sustainable dining by growing produce on site and buying locally is Roberta's pizzeria in Brooklyn. The garden yields tomatoes, greens, eggplant, apples and figs and greenhouses made out of shipping containers grow food and herbs. Additional produce is sourced from local farms, like Brooklyn Grange which utilizes unused roof space for harvesting crop. This restaurant is abuzz with people and consistently has long wait times, illustrating how artisan pizzas and fresh produce have garnered a strong following.
On the higher end spectrum of dining, ABC Cocina and Michelin star Chef Jean-Georges Vongerichten concentrate on offering customers award-winning cuisine consisting of a seasonal menu that is locally focused and aligned with the farm-to-table movement. For example, the pork is sourced from local farms that focus on pastured livestock and heritage breads. Even the furnishings have eco-conscious trimmings such as LED lamps, restored furniture and antique décor.
Although not exhaustive, nor representative of the multiplicity in sustainable dining, these restaurants give us a glimpse into an alternative way to eat out. They denote an attempt to bring together previously disparate topics such as sustainability, meals, flavor, local development and heritage. In a world where modernism and the Green Revolution has alienated us from our relationship to food, the shift towards alternatives gives us an opportunity to endorse more sustainable and humane methods of growing, sourcing, cooking and eating. In other words, the decisions you make with your fork can help shake up the status quo in the restaurant industry and beyond.
The views expressed in this article are solely those of the author and do not express the views of the World Bank, its Board of Executive Directors or the Governments they represent.