Over several years working in the fashion industry, and countless more wondering what to wear, I've seen the topic of "sustainability," appear with increasing frequency. And while the fashion industry and the media agree on its importance, no one seems able to land on a definition. The Financial Times' Vanessa Friedman spent two days at a conference on the topic, only to conclude that "the more you try to figure it out, the more confusing it becomes." She asked a handful of fashion designers to define the term and received as many varying answers--a troubling result, she wrote, as "sustainability" becomes more ubiquitous in the fashion community.
I don't mind giving designers a little wiggle room as they find their places in the movement, but like Friedman, I'd like to clarify my own concept of sustainable style. So when the Swedish Institute invited me to Stockholm to learn about their country's take on the idea, I happily accepted.
What I found on Day One in Stockholm surprised me.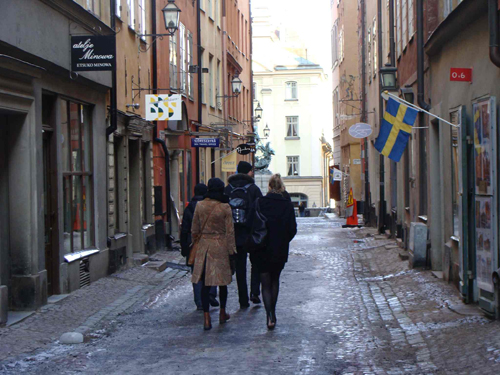 Stockholm's Old City, Gamla Stan
When I met Piotr Zaleski, one half of the duo behind denim label Julian Red, I expected to hear about sustainable materials like organic cotton and natural dyes, and I did. They were integrated into pieces like high-waisted, straight-legged, slightly cropped jeans ("The Lady Hi"--take note) and a floor-grazing skirt in midnight gauzy wool, hand-painted with thin stripes of watery rainbows. The styles were wearable and well-designed, so I found it odd when Piotr said that since 2003, their company has been growing by about 20% each season--much slower, he clarified, than many successful young fashion labels, that easily increase sales by 100% each season.
"Small quantities are the most ecological part of our business," Piotr said. "The idea is not to make more than you need."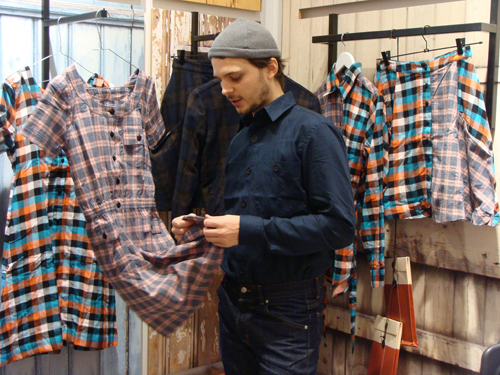 Piotr Zaleski
He explained that Julian Red presently makes no more than about 200 pieces in a given style. It's only now that he is confident with his supply chain, which includes fabric mills in Japan, and factories in Mauritius and Portugal, that Piotr will push the sales a little more--but just a little.
He manages both the brand's marketing and production--a position that likely leaves him sleep-deprived, but also offers him the unique perspective to adopt an effectively non-aggressive sales style (I believe in dating we call this "hard to get") that brings the label to stores like Oak in New York City and Isetan in Japan, while growing at a pace everyone--mills, factories and Piotr and his partner Mattias Lind--is comfortable with. To boot, there aren't scores of leftover clothing each season, an issue another Swedish brand has reckoned with in regrettable fashion.
This idea, sustainability defined as growth at a supportable pace for a business and its partners, shouldn't seem so novel. But let's be honest, this is fashion, and designers and the media alike have been trained to strike while the iron is hot, because it might not be for long.
But I think the guys at Julian Red are onto something, adding fuel to a fire--sustainable fashion--that is better off starting as a slow burn.