PANAMA CITY, PANAMA - I danced with a Dominican plastic surgeon one night in Panama, and it all made sense: what really needs to happen to ensure quality healthcare for people in developing countries is to help them connect.
Dr. Miguel Santos, my dance partner, is the chief surgeon at UNIQUEM, a children's burn center in Santiago in the Dominican Republic, the only pediatric burn care center in the entire country of 10 million people. He had traveled to Panama for a Rehabilitative Burn Care Regional Training Conference at the invitation of global health organization Physicians for Peace, whose training missions he has long attended. Dr. Santos was joined by his smiling huggy nurse, Ingrid Encarnacion, and a warm petite clinical psychologist, Mildre Cruz, who stood up after Dr. Santos introduced himself to say how he is "always at the clinic, it's his life. He wants to learn continually to improve the care of his burn patients." For herself, "she says she would do the work she does even if she didn't earn money," a translator told me.
The team from UNIQUEM in the D.R. joined multi-disciplinary teams from the only pediatric burn rehabilitation centers in Honduras and Costa Rica and from APANIQUEM, the hosting burn center in Panama, to talk and share and learn. They connected over the impossibly hard job of enabling patients in excruciating debilitating pain, often disfigured for life, recover physically and psychologically and re-engage in their lives.
I watched Dr. Santos's dark brown eyes narrow and grow intense as he held a patient's severely burned left arm gently in his hand during training rounds with the group. He moved the gentleman's raw-skinned severely bent pinky finger back and forth as if in a gentle Salsa dance as he listened attentively to his story. He shook his head sadly, eyes glossy with near tears of frustration as he responded quickly in Spanish.
"He's saying when they do the surgery, he won't lose the finger, it's not a difficult surgery," the young translator said softly. "But if he'd been treated right away, instead of losing four months, and if the doctor had involved all the other departments he should have, such as anesthesiology and nutrition and taught the nursing staff how to avoid infections, he wouldn't have had all these complications." She nodded sadly as she listened a bit more and looked at me gravely. "He can't see out of his left eye, and that didn't have to happen."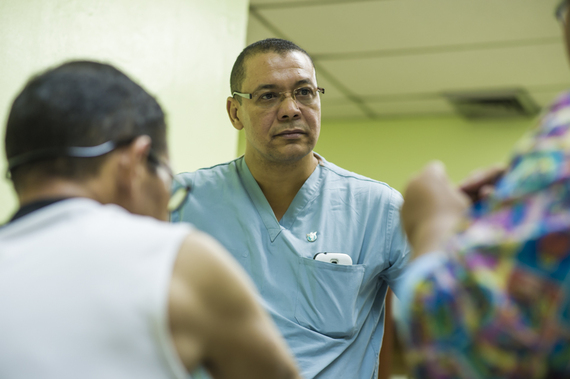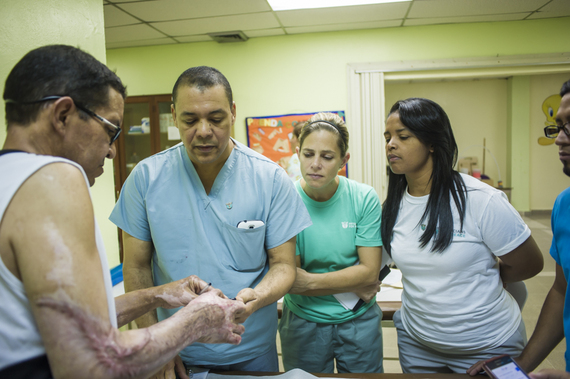 Connecting, I think, it's all about connecting. Connecting doctors to doctors, connecting teams of specialists to one another around a patient so they can share information, so they can move together in unison, as if in a Lambada.
The translator offered a steady voiceover as the patient, Homero, a Panamanian, told the story of how the small plane he was piloting crashed in Venezuela, how he was brought to a hospital there last October with severe burns over 50% of his body. But there is no special burn care facility in Venezuela, so he lay there largely unattended, with no one around who knew what to do, until his wife, a Dominican, began to "act violently, to tell them he needed help," the translator said. "He's been coming to this burn center since May."
Dr. Santos's eyes brightened at the mention of his home country, and he began to talk animatedly. The translator explained. "He's saying how he is welcome to visit him there, in the Dominican Republic, that they are like family." Dr. Santos pulled out a pen and wrote down his personal information on a post-it for Homero, just in case. Connecting.
Dr. Santos and his multi-disciplinary team of eight people treat more than 1,000 burn patients a year in Santiago, many from neighboring countries that have no training or facilities to do what needs to be done for a burn patient. If only people in Venezuela could connect, and get trained. Burns are among the leading cause of disabilities in low- and middle-income countries in large part because they are unique injuries, representing "the most severe model of trauma," according to the National Institute of Health. As such they need intricately specialized treatment in facilities with well-trained multifaceted, patient-centered teams that communicate effectively.
If we can barely get to that level of care in this country, with all our educational resources, how can we expect it from developing countries?
Norfolk, Virginia-based Physicians for Peace was founded in 1989 on the understanding of that need to connect skilled medical people with communities that need skills in order that they might build more sustainable local healthcare. The organization has conducted at least 700 medical training missions in more than 60 countries on specialties such as surgery and maternal care. Dozens of missions to train burn care specialists in Central America have been made since founder Dr. Charles E. Horton first brought a team of surgeons to Managua, Nicaragua in 1994.
"My father came up with the idea of using medicine as a mechanism for people to cooperate and work together who never could," said Dr. Charles Horton, Jr., who has himself been an International Medical Educator on more than 20 missions since his Harvard residency to become a urology surgeon, like his father. "Today, we have created an international humanitarian medical program to provide access to medical care in countries where it is either underserved or doesn't exist, emphasizing training of local medical professionals so that such care is sustainable."
For this latest mission to Panama, the organization's new President and CEO Lisa Arfaa traveled along, four weeks into the job, to see firsthand how the organization makes good on its promise to teach one, heal many.
"It's amazing to see people who are the sole champions of specialized burn care in their entire country connect and share information on what they are doing to help patients, so they can bring the information back and train more people," Ms. Arfaa said. "What Physicians for Peace aims to provide is a global community around healthcare."
Ms. Arfaa's father was a surgeon from Tehran who practiced and raised her outside of Washington, D.C. But Ms. Arfaa's own career veered away from her early dream of going into medicine directly to instead building an impressive resume of positions in politics, education and healthcare nonprofits that has primed her to understand how to affect change more broadly.
"What I know is how important it is to connect with the people who can open doors for you, and the need for collaboration," she said.
Ms. Arfaa listened carefully through a translator as Dr. Santos and Dr. Carlos Leon, a plastic surgeon from Panama's Children's Hospital--the only acute burn care hospital in the country--spoke on exactly those themes.
Dr. Leon has been referring patients to APANIQUEM since it opened in 2005 through the funding of the Ministry of Health and the local Rotary Club. Before then, there were no specialized burn centers in Panama, which meant surgeons didn't have the ability to offer children compression garments that reduce disfiguring scars or the physical therapy that helps to prevent immobility. Before then, 14-year-old Cecilion, whose arm was badly burned when he threw a match on a gasoline-filled latrine at 8, wouldn't have been able to get the rehab necessary to be able to pitch for his baseball team in the Veraguas province of Panama, four hours away. And that would be a shame, since he is so good that scouts are beginning to sniff around.
Dr. Leon says there is still so much education necessary to train young surgeons and hospitals' various departments on the crucial protocols and teamwork necessary to lessen disabilities created by burn injuries.
"We have to bring whole medical teams together, and the earlier the better," Dr. Leon said. "It's all about communication."
The joy in the room among the burn specialists, being able to learn and share and connect, was palpable. "I'm like a fish in water! You are my people!" cried out Yesenia Ochoa, a physical therapist and the Executive Director of APANIQUEM, which recently expanded to include adult care after a bus accident in Panama City left 40 burn patients with nowhere to turn for rehabilitation.
Grazia Bruni smiled big and nodded. She has regularly attended PFP trainings for six years from Honduras, where she works daily at CRISAQ, the out-patient burn rehab center that has cared for 2,000 children since it opened in 2006.
Despite working in the field already, Ms. Bruni has yet to complete her combined bachelor's degree in physical therapy and occupational therapy. Even though she is among the lucky few in her country that can afford to pay the $15-a-semester tuition, there is no bachelor's degree program in Honduras, so she travels to El Salvador 9 hours each way five times a year. "But anyway," she says, "that degree does not specifically train for burns." It is up to her to learn what she can, and to then turn around to teach burn rehab evaluation and practices to the 50 associate physical therapy degree students she teaches at the University in Honduras.
Ms. Bruni is a fierce advocate for the need for a multi-disciplinary approach to burn care and rehabilitation in Honduras. She plans to help start a bachelor's degree program along with the seven students she has been traveling with to El Salvador.
"So often in the hospital in Honduras, patients are only treated with surgery and not given the physical therapy and other procedures they need to fully recover," Ms. Bruni said. "Through teaching people who will work with patients in hospitals, I will be able to greatly multiply the knowledge I've gained from Physicians for Peace."
At dinner one night, I learned why burns are so near and dear to Ms. Bruni's heart. Recapping the day's psychology training on how families must be educated about preventative measures against burns instead of always calling them 'accidents,' Ms. Bruni's eyes got a faraway look.
"I still remember it," she said, "even though I was only 18 months old."
Dolor. Pain, in Spanish. The word had come up on the screen a lot that day as something burn specialists need to understand. She had nodded knowingly. It turns out she really did know.
She recalled how she pulled the boiling hot water her grandfather had heated for her bath down from on top of the toilet, how she never wears sandals even now because of the scars on her right foot, which she shows patients, she said, to prove to them "it doesn't go away, but it gets better." She amends, "It can get better."
By connecting with other experts, by learning and passing on that learning, Ms. Bruni will help thousands of people recover, as will Dr. Santos and the other medical teams who gathered in Panama to share their expertise. Building community healthcare takes training and people willing to lead that training, like Physicians for Peace.
Calling all HuffPost superfans!
Sign up for membership to become a founding member and help shape HuffPost's next chapter