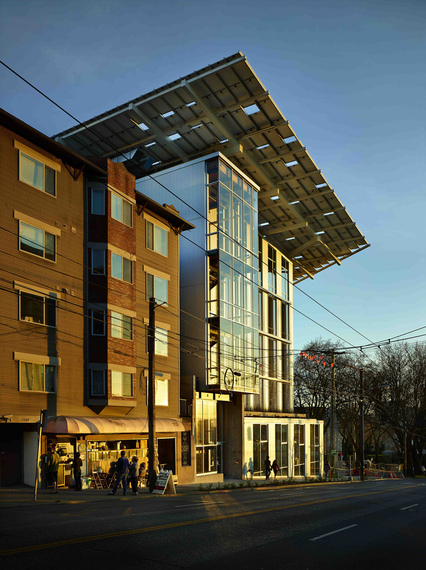 ImpactAlpha.com -- We get energy from coal, from gas and from the wind and the sun. And we also get energy from improving technologies, as we perform the same useful work more efficiently. Last week, the public utility in Seattle got the green light to buy and sell the energy from energy efficiency just like energy from any other source.
The approval of an agreement for Seattle City Light to purchase kilowatt-hours of electricity "generated" by the state-of-the-art Bullitt Center, and to sell it back to building tenants as well, could represent a breakthrough in the financing of energy efficiency upgrades on a broader scale. Once the energy from energy efficiency can be metered, the cost of generating it can be financed over time, unlocking the long-anticipated benefits of smarter and less carbon-intensive buildings.
The Bullitt Center is a showcase of energy-saving systems. Stainless steel shades scatter sunlight in the summer and maximize natural daylight in winter. Windows are opened automatically when the building needs to breathe. The elevator captures electricity from its own braking. Bullitt Center operates at an energy use index of 16, compared to an EUI of 92 for a typical office building, meaning it gets more than five times as many "miles per gallon."
"This building is an amazing building and it's getting a lot of attention, deservedly so," said Mike O'Brien, a member of the Seattle City Council, which unanimously approved the first-ever MEETS agreement (for Metered Energy Efficiency Transaction Structure). "But it may be possible that 10 or 20 years from now we look back and say the most impactful thing is not the building but the design of this new rate structure."
Accurate metering is key to Seattle City Light's ability to both buy and sell the energy generated by the Bullitt Center's energy efficiency features. The building's energy efficiency yield is measured by a "DeltaMeter" that measures the reduced energy supply relative to a dynamic baseline. The DeltaMeter adjusts for occupancy, weather and other factors and thus meters only the actual energy efficiency yield delivered to the utility.
A 20-year power purchase agreement treats that energy just like energy from any other power generator. Seattle City Light will make monthly payments to the Bullitt Center's investors for the delivered energy savings, repaying over time the costs of the energy improvements.
Power purchase agreements, or PPAs, are standard for solar and wind as well as conventional energy projects and provide the long-term, reliable source of revenues required to attract third-party investment. Putting such business-as-usual financing schemes to work to finance energy efficiency upgrades, can help utilities meet their mandates to make energy efficiency a major part of their future capacity plans.
The same DeltaMeter enables the utility to bill Bullitt Center tenants for the cost of the efficient energy. "Tenants are paying for a certain experience," O'Brien, the councilmember, said at a hearing. "A tenant wants a building that is light, and whether they get that from a light switch or from a window that is bigger and designed to let more light in, they get that experience. So a building owner might say, 'We're going to put more windows in, and save more money on electricity.'"
The building's investors receive payment for the portion of the bill generated by efficiency; the utility receives payment for the portion delivered from the grid.
Utilities in California, New York and elsewhere are exploring MEETS and other metering and financing structures as they seek proposals for thousands of megawatts of energy-efficiency projects to meet mandated renewable and carbon-reduction goals as well as growing demand, especially in constrained urban areas.
"What is exciting to me about the MEETS concept is that for the first time, with smart meter data and sophisticated data analytics, we are able to measure the change in consumption that an energy efficiency investment creates," Mike Florio, a commissioner on the California Public Utilities Commission, said at an investor conference sponsored by Equilibrium Capital Group this summer. "Instead of trying to bribe people to do what is already in their self interest, we now open up an investment opportunity that is vast and revolutionary."
Southern California Edison is seeking energy efficiency proposals to help fill an anticipated gap in local supply as many older power plants go offline in the next several years. In New York, Consolidated Edison is seeking proposals for energy efficiency and other distributed approaches to avoid the need for a new $1.1 billion substation to serve parts of Brooklyn and Queens.
Metering also is key to ensuring the performance of the energy efficiency improvements over time. Currently, utilities are generally limited to being able to offer incentives payments up front for anticipated savings from efficiency upgrades, with little accountability for actual performance. The DeltaMeter lets utilities "pay for performance" relative to the dynamic baseline, which is based on the performance of a typical building that meets current building codes.
Equilibrium Capital, based in Portland, Ore., is developing investment vehicles to scale-up energy efficiency and accelerate its adoption as a significant part of the U.S. energy mix. It is the backer of EnergyRM, the Portland company that developed the DeltaMeter. (Disclosure: Equilibrium Capital is a sponsor of ImpactAlpha.)
"When we can see the energy from energy efficiency, we can understand where and by whom it is being consumed, so it can be charged to its consumer like any other energy form," said Bill Campbell, Equilibrium's co-founder and principal, who helped develop the MEETS model. "MEETS makes the value of the energy in energy efficiency available for transactions, and thus available to finance at scale."
Related