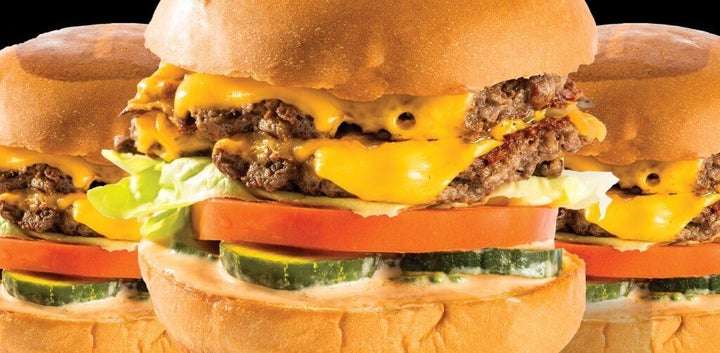 There are several different schools of thought by meat eaters when it comes to meatless cuisine. Some are apt to try; some think it's a healthier option; others scoff or run away; and some just don't get it. As a food blogger, I'm open to try just about anything and, personally, I'm a fan of a lot of vegan food. Although the idea of Tofurky or turkey from a box just sounds wrong. So, when I had the opportunity to try several meatless options I jumped at the chance. From burgers to sushi, there are meat substitution galore. Some, of course, are better than others.
Veggie patties and vegan burgers are nothing new. Most, for me, can't replace that euphoric feeling I get when I bite into a killer burger. And while the notion of sustainability is important, don't fool yourself into thinking most meatless options will taste better than the original. It's one thing to want to do right by the planet, it's another issue altogether if you're a foodie only concerned with the best possible taste.
When Crossroads Kitchen launched the West Coast debut of the Impossible Burger back in 2016 (it first debuted at David Chang's Momofuku Nishi in New York City) chef/owner and co-founder of Impossible Burger Tal Ronnen approached the meatless burger like a science experiment. Impossible Foods, founded by biochemist Patrick Brown, began researching meat back in 2011. The Impossible patty is made from wheat protein, coconut oil and potato protein. But it's heme, heralded by Impossible Foods as "the building block of life in all organisms, including plants", that really brought this dish to life. Heme is the iron-containing molecule in blood—it's what makes our blood red and uncooked meat pink. And it's heme which makes the Impossible Burger bleed and it's there that discussion and debate ensued.
The vegans and vegetarians that I talked to don't want their burger to bleed. After all, they're purposely choosing to eat food that does not bleed. Preparing a meatless hamburger that looks like an In-N-Out Burger is more for the rabid meat eater. But do they care if their meatless burger bleeds? I thought this was a lame gimmick from the get-go. But the proof is in the pudding or in this case the taste of the meatless burger itself.
While it's hardly impossible to get me to enjoy vegan or vegetarian food, I did find Crossroads' Impossible Burger disappointing. It was more hype than divine burger goodness. And the "bleeding" was hardly noticeable or impressive.
Gourmet burger chain The Counter got into the meatless burger game by partnering with Impossible Foods to create a plant-based burger and salad to hopefully wow guests. Their Impossible Burger, served on an English muffin, contains Herbed goat cheese, tomatoes, grilled red onions, mixed greens, spicy tomato jam, and Dijon balsamic. And the result is a tasty burger option better than Crossroads. Although it must be said that the meatless "burger" isn't vegan. If you want that, you'll have to order the Impossible Salad with mixed greens, lettuce blend, quinoa, alfalfa sprouts, toasted almonds, grilled red onions, roasted grape tomatoes, and sesame ginger vinaigrette. The English muffin is a vegan deal breaker. The counter also allows you the option to build-your-own Impossible Burger, which will most likely make any burger creation non-vegan.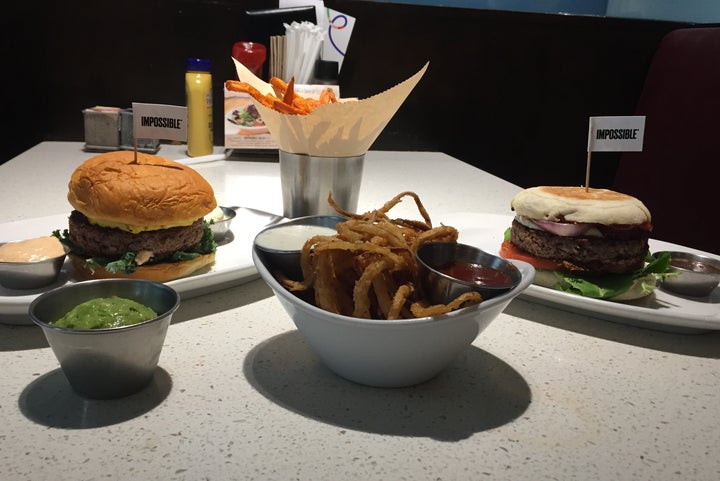 Not to be outdone, Umami Burger, who has always had a Falafel Burger on its menu, also offers an Impossible Burger. The Umami Impossible Burger is two Impossible patties, caramelized onions, American cheese, miso-mustard, house spread, dill pickles, lettuce, and tomato. It's also non-vegetarian and non-vegan as ordered but can be customized to be so.
It seems these meatless options are more about sustainability and offering meat eaters more options. Impossible Foods is concerned with its environmental footprint, which is commendable, but for me, it's all about taste. Props to The Counter and Umami Burger for not harping about their meatless burger bleeding. But it did strike me as odd that they're not selling vegan nor vegetarian burgers—at least as originally advertised. That has angered many vocal non-meat eaters.
But I have to say I did like Umami's Impossible choices, which includes the Impossible Burgers, as well as other options in partnership with Jaden Smith. Yes, the teenage son of Will Smith and Jada Pinkett Smith as well as the voice of Kaz Kaan on Netflix's "Neo Yokio", came up with Jaden's Impossible Trio, which aims to change the world three sliders at a time. The trio features three sliders—the Impossible Slider; Korean BBQ Slider with Impossible patty, gochujang glaze, caramelized kimchi, sesame aioli, Korean ketchup, scallion-cilantro salad; and the U-BBQ Slider with Impossible patty, American cheese, Umami BBQ sauce, tempura serranos, and smoked salt onion strings.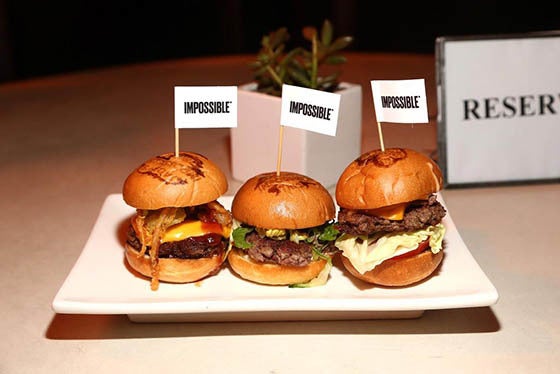 "Umami is at the forefront of something that's really beautiful," Smith said. "You're not going to believe there's no meat in it. We're trying to satisfy different flavors for people but at the same time give them a plant-based burger that they can enjoy and promote healthy living and lifestyle. But I also want there to be a social impact and social change aspect to it as well."
It should be noted that $1 from the sale of the Impossible Trio promotion will be donated to the American Red Cross in support of hurricane relief efforts.
Opting to go beyond impossible, Veggie Grill is the first restaurant in the country to serve the Beyond Burger by Beyond Meats—which is available at Whole Foods Market. The VG Beyond Burger comes with a Beyond patty, American "cheese", grilled onions, house made sauce, tomato, iceberg lettuce, on sesame buns. And this burger comes veggie-friendly without substitutions.
The Beyond patty includes beets, which creates a pinkish hue and "bloody" juiciness just like a beef patty. The Beyond Burger is about 290 calories per quarter-pound raw patty with about 20 grams of protein. But the plant-based burger has zero cholesterol and roughly half the saturated fat as its beef counterpart. But it wasn't an extremely tasty burger and hardly a substitute for the real deal. I thought The Counter and Umami meatless burgers were better.
And if buying Beyond burgers at Whole Foods isn't enough, it's also offering the first-ever vegan alternative to raw tuna. Known as Ahimi, this plant-based and certified vegan tuna product is made from tomatoes and aims to replicate the taste and texture of ahi tuna. And because it's tomato-based, it's safe for pregnant women, nursing mothers, and people with compromised immune systems craving a sushi fix.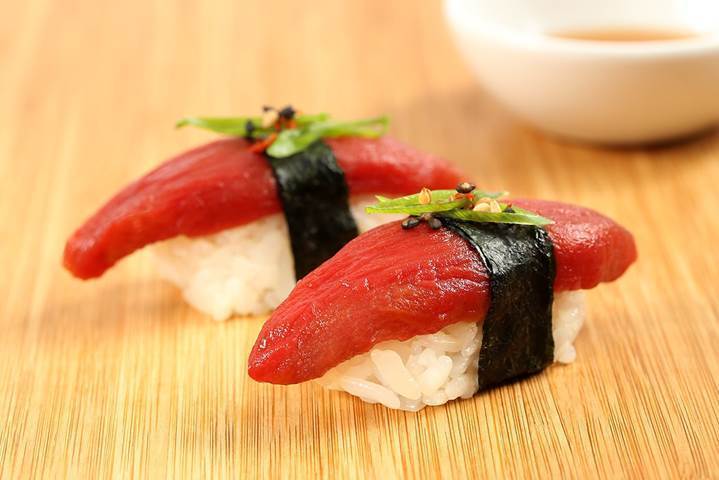 "A tasty, vegan option for raw tuna is at the intersection of a few major trends, including the growing popularity of sushi, as well as the surge in plant-based diets and dishes," said Andy Sasser, global category manager at Whole Foods Market. "We love when we can bring shoppers something delicious that's never been done before, and Ahimi does just that."
Created by Certified Master Chef James Corwell, Whole Foods sells Ahimi Nigiri and Ahimi California Roll. I have to admit it was very tasty. I tried the fishless "sushi" with a vegan who had never had real sushi before and was excited for his first sushi experience. But I have to say, this is hardly a complete or healthy meal as it's just fruit (tomato) and rice—sans of any actual protein. It's more of a snack. Who knew there was a market out there for pregnant or nursing women craving sushi? It does make perfect sense that Whole Foods would tap into the demographic.
So whether your main concern is sustainability or health or non-cruelty to animals, there are infinite options when it comes to eating non-meat dishes. And some of them taste good, even if you're diet normally consists of eating meat. While I'm personally not ready or interested in giving up meat, I like to have options. For me, it all comes down to enjoying what I'm eating and it's comforting to know that it's not impossible to find hearty and satisfying choices that are good for me and the planet. Man cannot sustain on meat along even if it is fun trying.