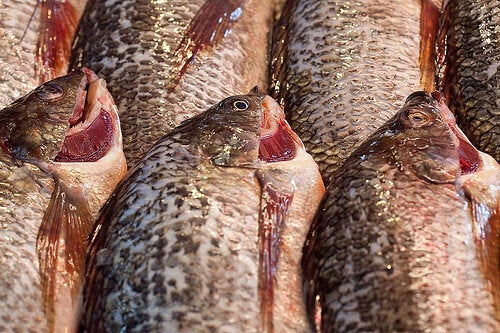 Farm-to-table, organic, locally sourced, and now sustainable! It seems everyone is jumping on the healthy, support-mother-earth-train; and by trend standards, this is a pretty good one. Nothing will kill your appetite quicker than hearing about another disgusting, pink slime or hot dog-stuffed pizza or fatty, KFC concoction story. But now, it seems that freshness is the thing.
So what does sustainable mean? Well, according to Wikipedia, it's the "capacity to endure."
The definition varies depending on whom you ask, but when it comes to seafood, it's basically about fished or farmed sources that keep our eco-system happy. In San Diego, a number of restaurants have started including items like sustainable sea bass, salmon and even sea salt into their menus, and my hope is this trend becomes a mainstay.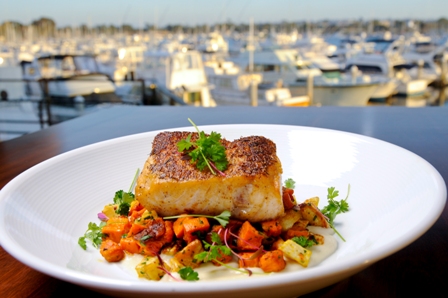 Blackened Mahi Mahi at Red Marlin, Credit: Hyatt Regency Mission Bay Spa & Marina
At the Red Marlin in Mission Bay, San Diego, guests can participate in quarterly cooking courses led by Chef de Cuisine Danny Bannister who has incorporated a variety of earth-friendly items onto his menu like locally harvested Carlsbad mussels, butter lettuce from Go Green Farms and even a Bonterra Sauvignon Blanc which uses organic grapes to produce their wines. At Donovan's Prime Seafood in Downtown, local sea bass and other farmed-fish have also made their way onto the menu, and Gabardine, one of Top Chef Brian Malarkey's latest restaurants, is described as a Portuguese-inspired sustainable seafood restaurant, which serves countless amounts of locally-sourced seafood in a fun, totally Malarkey-style environment.
Humphreys in Point Loma, known mostly for its concerts by the bay, has recently added not only socially responsible seafood to their menu, but salt as well. Humphreys uses SolarRain in Valley Center, Escondido, for their water. This is highly filtered ocean water which goes through a desalination process and what remains is a salt that's rich in both texture and flavor.
In April, the San Diego Oceans Foundation held a "Sustainable Seafood Week" in which over 27 San Diego restaurants served a sustainable seafood plate or prix fixe menu and then donated a portion of their profits to support the Foundation's research and education programs. While San Diego does sound like the ideal place to serve up sustainability (I mean, the Pacific is right there) other foodie cities like Las Vegas and San Francisco have jumped on the bandwagon, slowly, but steadily.
Sure, there are still some issues like how do you really know where your fishy is coming from? But a step in the right direction is still a step in the right direction. While sustainability hasn't seen its fair share of glamorous publicity like other food trends (i.e. bacon on everything and cupcakes) I say it's time to shine a spectacular spotlight on those keeping our bellies satisfied and our oceans full.
Related