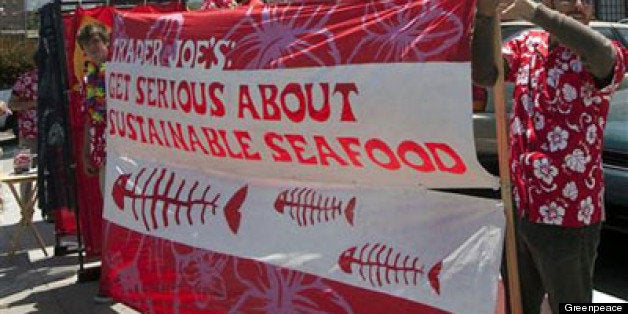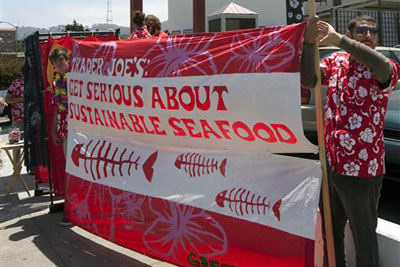 I'm a Trader Joe's groupie. So I was thrilled when my Hawaiian-shirt-clad friends announced that they would be purchasing all their seafood from sustainable sources by the end of 2012. The Monrovia, Calif.,-based retailer had been a target of a Greenpeace "Traitor Joe's" campaign for its ocean-unfriendly policies, including the sale of a variety of endangered fish. With that pledge, Trader Joe's joined the good guys.
But four months past the deadline, my glee has changed to frustration over Trader Joe's unwillingness to say whether it has indeed gone sustainable. The retailer's only statement on the subject, a customer update posted on its website March 27, does not address the deadline at all. Instead it lays out a number of steps it has taken in "support of our seafood goal of shifting to sustainable sources."
Trader Joe's says it will do the following: Stop selling swordfish caught in Southeast Asia, only sell canned yellowfin and albacore tuna caught using approved sustainable methods, set up new standards for suppliers of farmed shrimp and keep genetically engineered salmon off its shelves. The store has also stopped selling endangered Chilean sea bass, orange roughy and red snapper. Those are all steps in the right direction.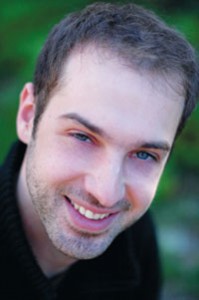 But can I go to Trader Joe's today and pick up fish fillets for dinner without worrying about whether I am contributing to the degradation of the ocean? Apparently not. When asked whether Trader Joe's had met its December deadline, company spokeswoman Alison Mochizuki was mum. "Beyond the statement, there is nothing else we can say at this time," she says.
Why the mystery? Everyone understands a missed deadline, particularly when it involves something as complex as seafood sustainability, global supply chains and the economics of food. But refusing to discuss the matter makes it look like Trader Joe's is hiding something.
Casson Trenor, a senior seafood campaigner at Greenpeace, acknowledges Trader Joe's is making "tremendous progress" toward saving the oceans. But he says the company's reluctance to provide more information about its seafood sourcing policies has made it nearly impossible to determine whether the retailer is actually living up to its promises.
For example, he says the store is still selling items such as farmed salmon and dredged scallops that Greenpeace and other groups do not consider sustainable. Are they simply clearing out old inventory? Or are they flouting their own goals and hoping others won't notice?
There are a lot of things to love about Trader Joe's if you're a foodie on a budget, a time-strapped cook (who knew broccoli slaw could taste so good?) or an aficionado of cheap wine. But unfortunately, transparency isn't one of them. Trenor explains that a key part of Trader Joe's success is its ability to create tasty, easy-to-use foods -- such as spicy fish fillets -- that aren't available anywhere else. To prevent those products from being copied, the retailer has resisted pressure to reveal its sourcing or its suppliers.
"Trader Joe's is all about magic and illusion," Trenor says. "It delivers an experience that it doesn't have to compete for because no one else can produce that product. Why would it give itself away?"
Verifying the sustainability of a seafood product requires two key pieces of information: where it was caught or farmed and how it was caught or farmed, explains Victoria Galitzine of FishWise, a Santa Cruz, Calif., organization working with the seafood industry to develop sustainable business practices. As a first step, she recommends checking out the Monterey Bay Aquarium's Seafood Watch program, which has an app and pocket-sized cards with lists of ocean-friendly seafood and fish to avoid.
Trader Joe's says it is in the process of enhancing its package labeling to include information on species' Latin names; origin; and catch or production method. But until that happens, I will need to ask my friendly sales clerk whether that frozen yellowfin tuna from Fiji was caught using a long-line or purse seine equipped with a "fish aggregating device, or FAD." If the answer is yes to the FAD, it's on the red list and off my grill.
"Asking questions demonstrates to the retailers that its customers care about the environmental performance of its seafood and eventually those messages will trickle up the chain of command to the decision-makers who can affect significant change," Galitzine says.
I can also support retailers who are clearly ocean-friendly. In mid-May, Greenpeace will publish its annual Seafood Sustainability Scorecard ranking grocery stores by their sustainable seafood practices. Last year, the top scores went to Safeway and Whole Foods while Trader Joe's ranked 15 out of 20.
Trenor wouldn't say whether Trader Joe's will be getting a better grade this year. However, if Greenpeace finds a large gap between Trader Joe's promises and its delivery, he is not ruling out a revival of its "Traitor Joe's" campaign.
"Trader Joe's did make a promise to Greenpeace and other groups and that's why we suspended our campaign," he says. "The time is up. The question now is did they actually do what they said they were going to do?"
Photos from top:
A Greenpeace protest at a Trader Joe's store. Credit: Greenpeace
Casson Trenor. Credit: Greenpeace
Zester Daily contributor Evelyn Iritani, a former economics writer for the Los Angeles Times, won the Pulitzer Prize in 2004 for a series she co-authored on Wal-Mart's impact on the global economy. An interest in Japan, her family's ancestral homeland, was the inspiration for her book, "An Ocean Between Us: The Changing Relationship of Japan and the United States Told in Four Stories from the Life of an American Town." In her spare time, she loves making wickedly rich desserts and herding cows in Montana.
Related