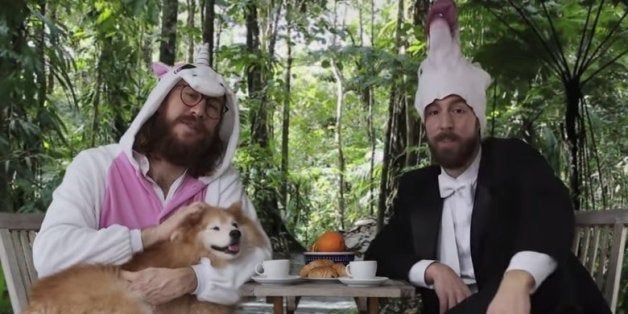 Everyone's experienced this: You're shopping in a drugstore, and you have everything on your list except for one thing.
You approach the aisle full of feminine hygiene products and diapers. You inconspicuously glance behind your shoulder, then frantically grab for a package of condoms and put it quickly in your shopping basket, hidden under that bag of chips.
Phew. Nobody saw anything, right? At the register, you subtly drape the bag of chips over the bright red box of condoms and then become the picture of innocence as the cashier glides the two items over the barcode scanner.
"The average condom purchase lasts less than one second"
Buying condoms is embarrassing for almost everyone, even now. "Studies say that the average condom purchase lasts less than one second," said startup founder Waldemar Zeiler.
Zeiler and his business partner, Philip Seifer, find that completely absurd. As a result, the two Berliners have set an ambitious goal for themselves: to make contraception sexy.
With their "Einhorn" project ("unicorn" in English) they want to make the most beautiful thing in the world even more beautiful: with condoms in stylish, designer packaging that looks just like a bag of chips.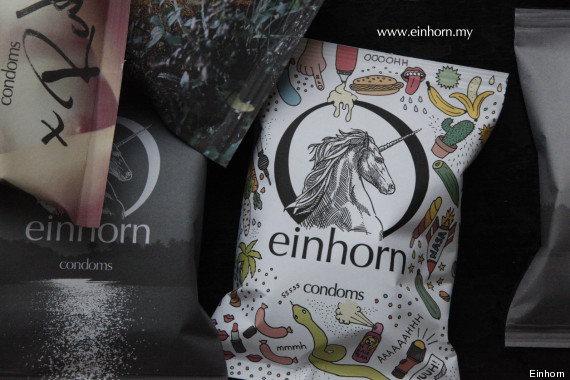 Each bag holds about half an ounce or, in other words, seven condoms. The daily recommended dose of Einhorn condoms is 0.14 oz.
The young entrepreneurs want to sell their product primarily over the Internet, allowing customers to completely avoid that embarrassing moment at the register.
"Condoms are the ideal product for e-commerce," said Zeiler. "It's a branch completely behind the times. The manufacturers are old men who probably don't even have sex anymore and are miles away from us, the largest target group for their products."
The first sustainable, fair-trade condoms in the world
But these Unicorn condoms are not only cute -- the young entrepreneurs' project also has a social aspect. These will be the first fair-trade, sustainably produced condoms on the market.
The country is one of the largest producers of natural rubber. They were shocked at how little the workers profit from the billion-dollar contraceptive business. "The rubber growers don't even receive 1 percent of the profits," said Zeiler.
And even worse: For the production of condoms, entire rainforests are cut down in order to plant more rubber trees. And the pesticides used contaminate ground water.
A successful crowdfunding campaign
The business duo doesn't want to just sit back and wait for success. Last month, the entrepreneurs started a crowdfunding campaign. After only two days, "Einhorn" reached its needed minimum of 50,000 euros ($56,538 USD) -- no doubt aided by a hilarious video:
Their ultimate goal is 300,000 euros ($339,232 USD). Once they've reached that sum, the founders want to get started with their ambitious project and honor their "entrepreneur's pledge" initiative.
Under this initiative, 50 percent of all profits would go toward social projects, such as sex education and awareness for adolescents. What's more, the rubber farmers would be better paid. Zeiler explained that he and his team want to fly to Malaysia regularly to examine working conditions on the plantations.
With the total from the crowdfunding project, a cooperative of scientists would be founded to promote sustainable cultivation of rubber and to enforce standards worldwide.
This post originally appeared on HuffPost Germany and was translated into English.
Related