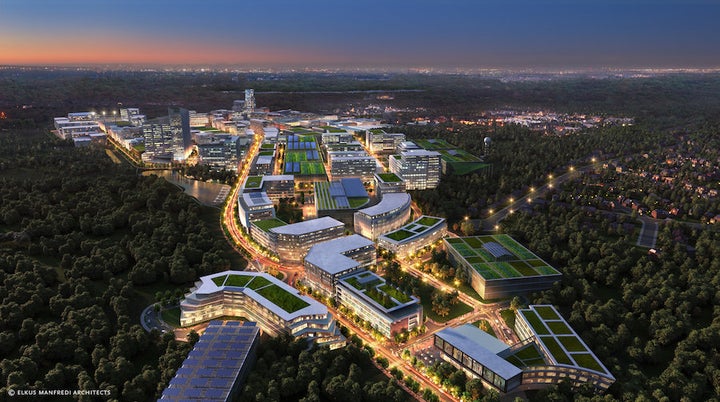 When you think of a "master-planned community," what comes to mind? An exclusive, walled-off subdivision? A retirement village?
What about an environmentally sustainable, high-tech "smart city"? That's the vision for Union Point, a small-scale urban development currently under construction near Boston.
As mayors across the globe grapple with how to incorporate green technology into aging city infrastructure, a real estate developer called LStar Ventures has landed the rare opportunity to build a sustainable community from the ground up ― on a 1,400-acre chunk of land in the South Shore region of Massachusetts.
They're hoping to sell their vision to innovative tech companies, people seeking an environmentally conscious but still urban lifestyle, and perhaps even Amazon.
"While cities are having to retrofit themselves to accommodate things like electric vehicles, the cool thing about building a city from the ground up is that we can think about this stuff now," said Cameron Thomson of Arup, the design and engineering firm responsible for the sustainability aspects of Union Point, based on a masterplan created by Elkus Manfredi Architects and the planning and landscape architecture firm Sasaki.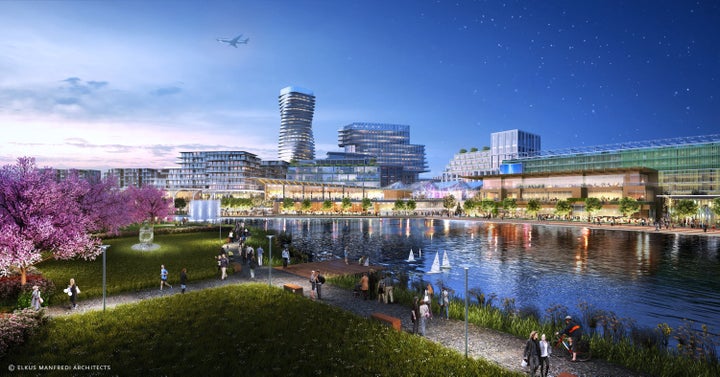 Once home to the South Weymouth Naval Air Station, the Union Point site straddles the borders of three Massachusetts towns: Weymouth, Abington and Rockland. LStar bought the property from the prior developer in May 2015.
The firm typically builds upscale housing developments, but this time they're aiming for something more ambitious, LStar CEO Kyle Corkum said.
LStar is using energy efficient designs for the new construction ― meeting LEED Gold or Platinum standards in the commercial buildings, for example. In addition, they're installing Internet of Things and smart grid technology ― basically software, sensors and meters that control and monitor everything from a building's mechanical and electrical equipment, to LED lighting inside and outside, to heating, ventilation and air conditioning equipment. The idea is to have an integrated network of downtown buildings that will make Union Point's energy system much more efficient than traditional systems right off the bat.
Over time, solar power and battery storage will play an increasing role in providing electricity, according to Thomson.
Rooftop solar will be installed on most of Union Point's downtown buildings, and a solar farm will be constructed adjacent to the development. As battery technology matures and becomes cheaper ― which has already begun to happen ― it will increasingly be used to smooth out demand and make Union Point less reliant on the regional power grid.
"The project has come at a perfect time because a lot of the necessary technologies are becoming affordable and readily available," Thomson said.
The blueprint for Union Point calls for 4,000 units of residential space and 10 million square feet of commercial space, including office buildings, retail and restaurants. Rooftop farms will provide the restaurants with at least some of their produce. Beside green public spaces within the community, Union Point will be surrounded by 1,000 acres of green habitat, with 50 miles of hiking and bike trails.
Twenty-five percent of the housing is now complete, and around 1,200 people live in Union Point, including the residents of 500 single-family homes built by the prior developer. Corkum estimates that the first full phase of building ― which also includes the first few commercial structures ― will be complete by around the end of 2018.
But this is a long-term project, with early cost estimates of $5 billion, that will likely take 15 years or more to entirely come to fruition.
Here's what the city currently looks like:
The goal is for Union Point to run entirely on clean energy such as solar and wind by 2050, possibly sooner, although Thomson acknowledged this would not be an easy target to reach. It will be an evolutionary process, with Union Point slowly reducing its dependence on fossil fuels as technologies improve and get cheaper.
Furthermore, because this scheme requires some combination of onsite clean energy generation and electricity from the regional power grid, the Union Point plan looks to the regional grid to increase its share of clean energy as well.
Currently, Massachusetts utility companies have to purchase only 12 percent of their electricity from renewable energy sources, such as solar, wind and hydro. Activists are pushing a bill that would require an increase of at least 3 percent per year to get the state to 50 percent renewable energy by 2030, with the ultimate goal being 100 percent renewable energy for electricity, heating and transportation by 2050.
However, this is far from a done deal.
If Union Point does not hit its target, it won't be alone. On a much grander scale, Masdar City in the United Arab Emirates was conceived roughly a decade ago as the world's first planned sustainable city. As of last year, when Masdar was originally scheduled for completion, managers had given up on the original goal of a zero-carbon city.
Simply put, we have a long way to go to wean ourselves off fossil fuels, according to Ngai Yin Yip, assistant professor at Columbia University's Department of Earth and Environmental Engineering. "It's a huge gap we're probably not going to be able to close in one leap," Yip said.
He added that it makes sense for Union Point to take a gradual approach.
"We still have a lot of lessons to learn about how we build our cities so that they are truly sustainable, so that they can achieve a near zero carbon footprint," Yip said. "And these lessons a lot of times might need to be learned the hard way."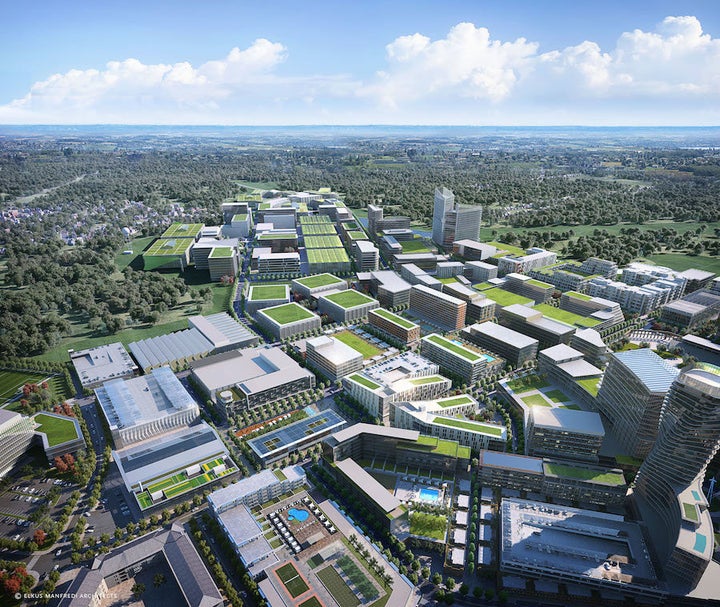 In the meantime, LStar hopes Union Point will serve as an incubator for new technology, green and otherwise ― a place where companies can try out innovations in an urban environment, but with space to grow. This aspect of the project sounds similar to plans recently laid out by Google sister company Sidewalk Labs, which aims to turn swaths of 16 North American cities into smart-city tech hubs, starting in Toronto.
Union Point's developers also envision the community as both a draw for workers living around southeastern Massachusetts and a home for people commuting into Boston. The property already has a train station, which provides easy access to and from the big city in 20 minutes.
The prospect of both jobs and much-needed housing won over the three towns that share the Union Point property. Each town's zoning board green-lit LStar's plans and agreed to an expedited 30-day approval process for new buildings.
"We all know this could be an economic dynamo for the region," said Allan Chiocca, the town administrator for Rockland.
Before You Go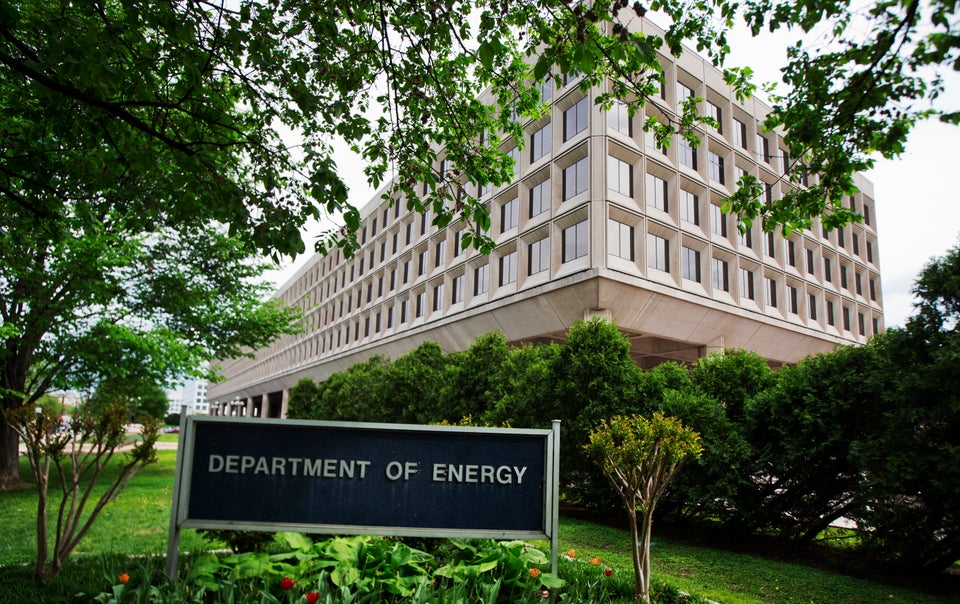 8 Reasons To Worry About Rick Perry Running The Department Of Energy