Last week I had the pleasure of speaking at the PM4SD (Project Management For Sustainable Development) Conference in Akureyri, Iceland. Akureyri only has a little less than 18,000 residents but is the fourth largest town outside of Reykjavik, and the largest town not near the capital. Locals call it the capital of the North.
Akureyri was selected in part because it was the recipient of the #1 Europe Destination in 2015 by Lonely Planet who said:
"Akureyri, in contrast, sits on the north coast under snowcapped peaks at the head of Iceland's longest fjord. It's Iceland's second biggest urban area, and while you shouldn't expect a big-city vibe (the population is only 18,000), this easy-going place has more buzz than anywhere outside of Reykjavík. It's also a great base for exploring the north's green pastures, fishing villages, mudpots, waterfalls, ski fields and whale-filled bays. Signs of the earth's power - glaciers, volcanoes, lava fields and stacks of basalt - are everywhere, while strange underwater features lure divers and offshore islands are home to colonies of seabirds."

Iceland has become a global leader in renewable energy and greenhouse gas reduction. Geothermal and hydro meet 81% of Iceland's primary energy needs for electricity, heat, and transportation.
Reykjavik, where 40% of Iceland's residents live, has set a goal of being entirely free of fossil fuels by 2050. Geothermal energy powers all buildings in the city. This heats the homes, lights the streets, and powers the greenhouses that produce most of the vegetables. It also heats the popular outdoor pools popular for swimming and bathing year round by locals and tourists alike. Only around 0.1% of Iceland's electricity is generated using fossil fuels.
It was from this backdrop, that the PM4SD conference offered some valuable lessons for sustainable development in general and sustainable tourism more specifically.
PM4SD brought together a wide diversity of panelists from government, academia and the private sector. The conference opened with an enthusiastic presentation from the Ms. Olof Yrr Atladottir, Director General Icelandic Tourism Board, who spoke proudly of the nations 99% electricity coming from renewables and there current exploration with companies like Tesla to make their transportation more renewable as well.
Silvia Barbone, the executive director of PM4SD and chief organizer of the conference framed the conference beautifully as an opportunity to build on existing sustainable development management knowledge and sustainable tourism best practices to create the future that we wan.
One panel featured representatives from the UNTWO, UNEP, and the World Bank and was moderated by local TV News personality Hilda Jana Gisladottir. Some key points included:
- Chris Imbsen from the UNWTO reminded us of the power of the tourism industry with it accounting for 10% of the worlds GDP, one out eleven jobs, and being the third largest export, behind fuels and chemicals but ahead of food. Chris also shared an inspirational video on the opportunity for all to participate in the UN Year for Sustainable Tourism for Development.
- Deirdre Shurland, senior consultant at UNEP discussed the opportunities for tourism to respond to the challenges of low carbon development, monitoring and measuring, resilience, quality tourism services, and resource efficiency.
- Shaun Mann - World Bank - Senior Tourism Specialist, spoke of the biggest challenges being political economy around the tourism sector, governance: national / local, social and economic inclusion, and in-country capacity / infrastructure. He suggested the need to use a "whole government approach" that would bring together national, regional, and local champions along with public private dialogues to create quick wins to gain necessary momentum.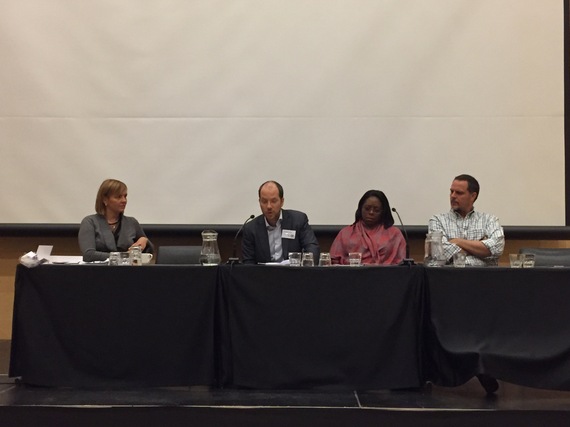 In another panel Rob Holmes spoke of the power of story telling in connecting people with nature and promoting sustainable destinations.
My own presentation presented our Blue Community model that suggests we move beyond the traditional sustainable tourism model of balancing social, economic, and environmental concerns to a new model that would take into account the four pillars of the GSTC (Global Sustainable Tourism Council) and operate with just and sustainable economic development, create a safe and just space for humanity, within the limitations of the science of planetary boundaries.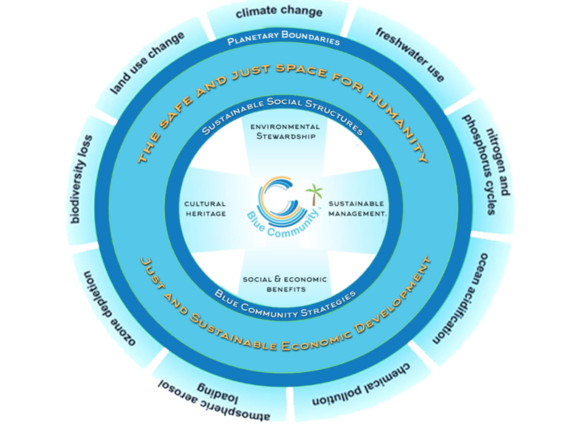 Some of the key lessons were found in the PM4SD excursions. On these trips we learned the importance of sustainable fishing, the ability of local people to protect and preserve their cultural and historical heritage, the value of mass transportation, the opportunities of featuring natural resources, and the treasure to be found in connecting people with nature in a sustainable manner. Some examples included:
1. Preserving Cultural Heritage. Siglufjordur, Iceland is the most northern town in Iceland. It is less than 30 miles from the Arctic Cirlce, and is a historic fishing village. The small town has a number of museums and galleries, the most famous of which is the award-winning Herring Era Museum.
The small town of only about 1200 people was quite impressive on how the local people were creative and resilient to turn around a decline town following the collapse of the herring fishing industry. The town has developed a tourism industry through development of a small conference center with a building for meetings, a restaurant, and coffee shop. Volunteers have built a fantastic fishing museum telling the story of the herring industry. Opportunities for tourism also now includes fishing and hiking, and the wonderful hospitality of the local people.
The town in the 1950's had about 3000 people when herring was king of the fishing industry. Although warnings were given, about overfishing the warnings were not heeded until to late and the result was that the industry collapsed.
The town has learned the valuable lessons of sustainable fishing practices and the role that tourism can play to diversify an economy.
Part of the lesson is the importance that preserving a community's unique cultural heritage can have in both bringing a community together, and providing a new resource for attracting tourists. Although Siglufjordur is a small town, The Herring Era Museum is the largest maritime museum in Iceland and has won the European Museum Award.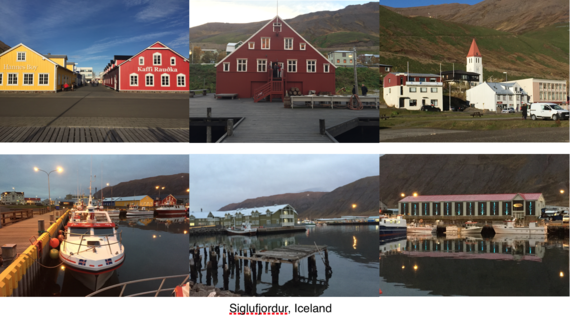 2. Packaging Natural Resources. - A trip to Godafoss "Waterfall of the Gods", the Myvatn Nature Baths, and the Dettifos waterfall was a lesson in how different natural resources can be packaged into an exciting tourism program while at the same time providing incentive to protect the natural world.
Our first stop was Godafoss "Waterfall of the Gods", one of the most spectacular waterfalls of Iceland. It received its name from Þorgeir Ljósvetningagoði, a local ruler around 1000 A.D. who made Christianity the official religion of Iceland. He then threw his Norse God Statues into the water fall thus giving it the name Godafoss meaning "Waterfall of the Gods".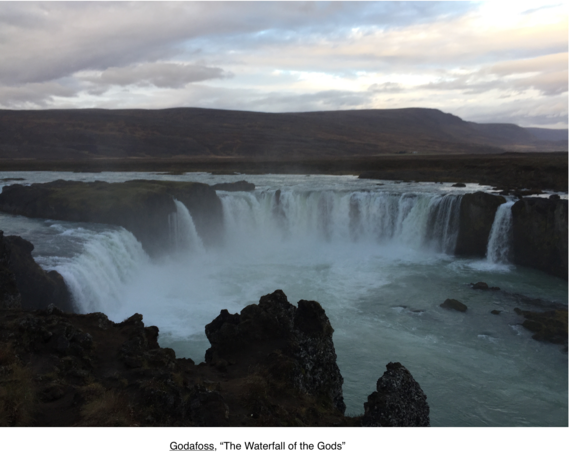 Following our trip to Godafoss we relaxed and played in the in the Myvatn Nature Baths. The baths are a human made creation utilizing the National Power Company's bore hole for the supply of water. The bath has a scenic overview of the landscape where guests can swim or bathe in 97 to 104 degree water and relax in the pool with the scenic views.
The lesson is that we can utilize existing resources to partner with the natural environment to create new and sustainable attractions for locals and visitors alike.

We then traveled to the Dettifos Waterfall in Vatnajökull National Park. After a short and pleasant hike we arrived at an overlook where we realized that Godafoss was just a warm-up when it comes to viewing spectacular waterfalls.
Detifoss is the most powerful waterfall in Europe with a height of 45 meters (150 ft) and about 100 metres (330 ft) wide. The water volume is about 500 cubic meters of water per second, the most powerful in all Europe
The lesson was the importance of preserving and protecting our natural environment. The Vatnajökull National Park is a relatively new national park, established in June 2008. It has since expanded and now the second largest national park in Europe, and covers 14% of Iceland. Iceland has three National Parks and a strong foundation for continuing to increase its tourist base through this national protection.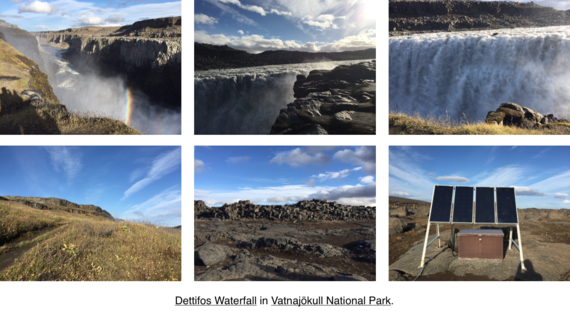 3. Making Tourism Attractions Carbon Neutral - Our last stop on the day's tour was in Husavik, where we were treated to a carbon neutral whale watching trip provided by North Sailing. North Sailing is working to become more sustainable in every action it takes. Some of the ways they are doing this include:
Setting a goal to become totally carbon neutral by 2020 using electric propulsion on day tours and hybrid regenerative systems and second hand bio diesel on expeditions where possible
Restoring old boats and buildings for modern use. All of the North Sailing ships are restored vessels. Given a new purpose, saving materials and preserving cultural heritage. Restaurant Gamli Baukur, there restaurant at the dock, is a replica of historical buildings constructed from driftwood collected in Northern Iceland
Electric company cars. North Sailing is already using two electric cars that utilize Iceland's green energy source. The goal is to make the car fleet as environmentally friendly as the ships
Local food. The Gamil Baukur's menu focuses on the daily catch of the local fishermen and the meat is from the local farmers.
Nature friendly operations. Respect for nature and focus on sustainability is the goal and basis for every decision. North Sailing adheres to a strict code of conduct for responsible whale watching.
For example sound travels more than four times faster in water than air and the noise from large vessels can carry long distances and impact and disrupt whales in important feeding grounds. North Sailings use of wooden sailing boats with slow propellers that operate at slow speeds makes this whale watching virtually noise free.
North Sailing advertises itself as "Pioneers in Sustainable Tourism". From what I saw and experienced, I would have to agree. Hopefully they will be a model that others will follow.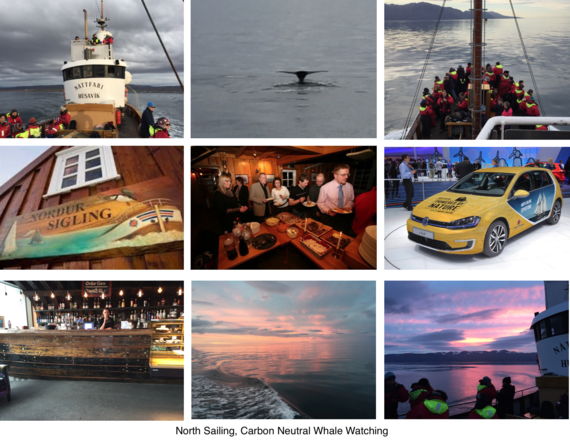 In summary, Iceland is a good case study for others who are beginning the process of transforming from old unsustainable models to new ones.
For sustainable tourism they provide good examples of best practices for preserving cultural heritage for tourism, protecting natural resources and packaging them for the visitor, and transforming a whale watching tour business to become carbon neutral and more sustainable.
I look forward to returning to Iceland again to explore and learn more.
Related
Popular in the Community