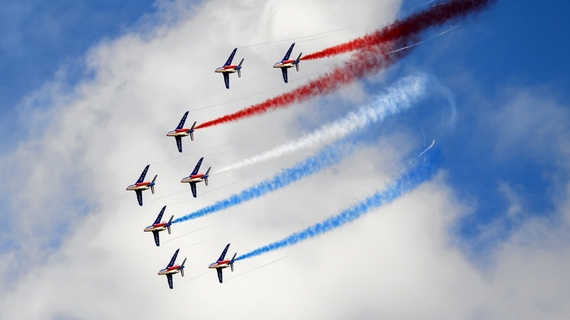 Photo courtesy of Getty Images
By Rebecca K.C. Hersman, Franklin C. Miller, and Shanelle Van
Today's security landscape includes a growing set of nuclear dangers emanating from adversaries both new and old. These risks come not only from long-simmering regional tensions that have taken on nuclear dimensions, but also from countries returning to a kind of nuclear saber-rattling thought to have gone the way of the Berlin Wall. Of principal concern today are North Korea, where growing nuclear and missile capabilities are coupled with a dictator's penchant for provocation, and Russia, which has issued irresponsible nuclear-tinged threats amidst "snap" military exercises and aggressive posturing. But India, Pakistan, China, and Iran, too, with their assertions of regional dominance and potentially escalatory behavior, are sources of instability in the overall nuclear landscape as well. In addition, the fear of nuclear terrorism prompted by growing extremism and enabled by weaknesses in the international nuclear security system lurks continuously in the background. These challenges knit together to form a complex and unpredictable security environment - one in which nuclear threats on the rise are interwoven with new conventional capabilities in the space and cyber domains - that will require that we continue to work closely with our allies.
The importance of alliances generally, and the significance of NATO specifically, has taken on growing prominence in a world that no longer assumes the unqualified benefits of internationalist commitments to collective security. In this world of danger and challenge, the unique role of the United States, the United Kingdom, and France as a unit (the P3) becomes ever more important. They are the only nuclear weapons states that share common values and principles directed toward the same objective of global peace and security. They set an example for the responsible stewardship of nuclear weapons and seek at every opportunity to advance the goals outlined in the Nuclear Non-Proliferation Treaty (NPT). And, as permanent members of the UN Security Council, they have long stood as steadfast allies and partners.
Today, our alliances and other multilateral structures are under great pressure. The populist wave that swept in Brexit and President Trump, and which continues to move through Europe, questions the value of extended deterrence and advocates for stepping back from active engagement in the world. These nationalistic sentiments will test the postwar transatlantic partnerships between the United States, the United Kingdom, and France that have served as a stabilizing force for more than 70 years. It should worry us that some see these ties as resting on uncertain ground as nuclear tensions escalate throughout Asia and along NATO's periphery. It would behoove us to shore up these relationships, rather than take their strength for granted. We need only imagine the void that would be left by their absence to understand why the importance of the bonds amongst the P3 cannot be overstated.
We need only imagine the void that would be left by their absence to understand why the importance of the bonds amongst the P3 cannot be overstated.
Recognizing this, the Center for Strategic and International Studies established in 2009 a forum, called the European Trilateral Track 2 Nuclear Dialogues, for bringing together American, British, and French nuclear experts to discuss nuclear policy issues and to identify areas of consensus among the three countries. This forum is now in its eighth year, but there is as much to talk about now as there was in 2009. Many nuclear issues will be coming to a head over the next few years: the future of the Joint Comprehensive Plan of Action (otherwise known as the Iran Deal), the proposed United Nations nuclear weapons treaty ban, how best to deter an expansionist Russia from both further aggression and from using nuclear weapons, and the prospect of a North Korea with intercontinental ballistic missile capabilities. Addressing them will require more than P3 consultation - it will take coordination, cooperation, and creativity to find and broaden the bipartisan middle ground of practical and pragmatic policy positions on deterrence, arms control, nonproliferation, and disarmament.
The consensus statement produced every year by the European Trilateral Track 2 Nuclear Dialogues' non-governmental participants - who come from across the political spectrum, and who have collectively spent several lifetimes in public service - is evidence that this seemingly elusive common ground exists. This year, our consensus statement addresses some of the most vital, and, at times, divisive, issues in the Euro-Atlantic security environment and beyond. It rebukes Russia's nuclear saber-rattling as actions unbecoming a responsible nuclear power and pushes for consequences for its violation of the Intermediate-Range Nuclear Forces (INF) Treaty. It advises the revitalization of NATO's nuclear mission and continued enhancement of defense along its periphery, applauding the Communiqué that emerged from the Warsaw Summit last July and affirming: "It is incumbent upon the NATO Alliance - and particularly upon its three nuclear weapons states - to make clear that, as in the past, NATO will fulfill its security commitments to its members and will not be divided or intimidated." It calls for the P3 to uphold the Iran Deal and to remain vigilant in enforcing the commitments of all parties, emphasizing that "it is 'the only deal in town' and must be made to work." It acknowledges the motivations underlying the proposed UN nuclear weapons treaty ban, but urges its advocates to instead focus on existing forums such as the NPT and to "exert pressure on those states that contribute to the gridlock by holding arms control and nonproliferation initiatives hostage." Those who have signed this statement agree that these are responsible, advisable, and bipartisan paths forward on the difficult questions that the P3 faces today.
In the months and years ahead, the United States will confront myriad challenges in the nuclear realm, some domestic and others global. President Trump must be able to turn to his counterparts in the United Kingdom and France as dependable allies for consultation and cooperation; they must be able to do the same with President Trump. But maintaining alliances requires constant care. It is the hard work of not only governments and political leaders, but also of civil society and publics, to remember that strong partnerships - even those that have lasted over 70 years - are not a given. The stakes are obviously high. We look forward to continuing our work on the sidelines, through our European Trilateral Track 2 Nuclear Dialogues, facilitating consistently honest and productive discussions on how our three countries can move us closer toward a world free of nuclear dangers.
Rebecca Hersman is Director of the Project on Nuclear Issues and Senior Adviser with the International Security Program at the Center for Strategic and International Studies (CSIS). Ms. Hersman joined CSIS in April 2015 from the Department of Defense, where she served as deputy assistant secretary of defense for countering weapons of mass destruction.
Frank Miller is a Principal at The Scowcroft Group in Washington, D.C. He previously served as a Special Assistant to President George W. Bush and as Senior Director for Defense Policy and Arms Control on the National Security Council staff. His White House assignment capped a 31-year career in the U.S. government, which included two years at the Department of State and 22 years serving under seven Secretaries in a series of progressively senior positions in the Department of Defense.
Shanelle Van is a Research Assistant with the Project on Nuclear Issues (PONI) at the Center for Strategic and International Studies (CSIS). She graduated with a B.A. in public policy and a minor in economics from Duke University.
The consensus statement results from research sponsored by the Naval Postgraduate School's Project on Advanced Systems and Concepts for Countering WMD, with funding from the Defense Threat Reduction Agency, under Assistance Grant/Agreement No. N00244-16-1-0044 awarded by the NAVSUP Fleet Logistics Center San Diego. The views expressed here are those of the author(s) alone and do not represent the official policies of the U.S. Navy or the U.S. Department of Defense.
REAL LIFE. REAL NEWS. REAL VOICES.
Help us tell more of the stories that matter from voices that too often remain unheard.