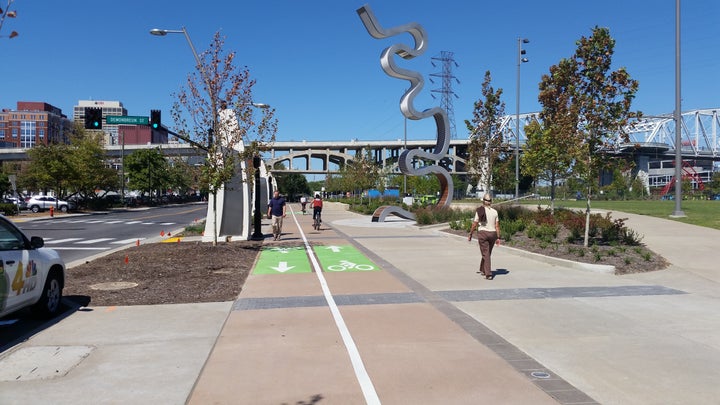 The most confounding thing about current proposals to reverse federal climate change efforts is their purported "populist" basis. The new Trump administration and its allies in Congress have repeatedly described previous Obama administration climate change policy as government run amok, yet a January 2017 Quinnipiac poll found that 59% percent of Americans oppose removing regulations to address climate change, compared to just 32% in support of rollbacks. Seeing the Paris climate agreement come into force this November confirmed that this is truly a global populist groundswell, with former holdouts like China now becoming impressive climate leaders.
With so much to gain, and so little to lose, it would be a self-inflicted wound for our country to halt our climate progress now that we are beginning to see success.
There are other win-win climate solutions at our fingertips, such as investing in our forests and other natural lands.
There are other win-win climate solutions at our fingertips, such as investing in our forests and other natural lands. One of the Obama administration's final climate actions was publication of a visionary Mid-Century Strategy for Deep Decarbonization that charted our course to reducing carbon emissions 80 percent by 2050. One of the central strategies to hit that target? Using forests, farms, wetlands and other lands to capture carbon naturally, including an increase in forest cover by as much as 50 million acres by 2050. Creating financial incentives to help landowners increase carbon capture on their land while still producing farm and forest products is a win-win for climate and our economy.
But not taking these harmful steps would only maintain the climate progress we have been making. Just as importantly, we need to continue public and private investment in climate solutions, from energy and transportation to forests and agriculture. These "no regrets" investments in our people and our economy present opportunities to address climate change while targeting job creation to rural areas and cities alike that are facing economic challenges. At a time when popular sentiment is strong for action on both climate change and the economy, this is too good an opportunity to miss.
REAL LIFE. REAL NEWS. REAL VOICES.
Help us tell more of the stories that matter from voices that too often remain unheard.
BEFORE YOU GO