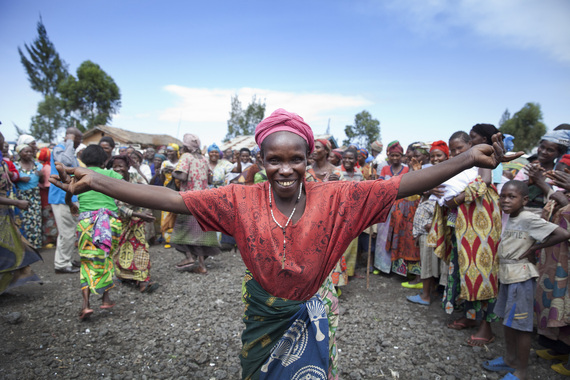 A woman greets Members of the Technical Support Committee (TSC) of the Peace, Security and Cooperation for the Democratic Republic of the Congo (DRC) and the Region during their field visit to Mugunga Internally Displaced Persons camp near Goma, DRC. (UN Photo/Sylvain Liechti)

In September 2015, world leaders gathered at the UN in New York and subscribed to the "2030 Sustainable Development Agenda". They committed together to "Transforming our World" an ambitious package of 17 Sustainable Development Goals that range from ending poverty in our lifetime to curbing dangerous climate change to building peaceful and inclusive societies.
The SDGs came from their predecessors, the Millennium Development Goals, but offer something better. While the MDGs were an agreement of the rich nations to support (Goal 8) social and economic progress in poor regions (Goals 1 to 7), the SDGs are universal, applying to all countries of the world,. The SDGs, an indivisible, coherent and interconnected development package were designed as a far more ambitious agenda, as they address not only the social but also the economic, environmental, peace and governance dimensions of sustainable development. They are, admittedly, more difficult to achieve.
The process of negotiating the 2030 agenda was unprecedented, with diplomats analysing paragraphs of the outcome document while millions of citizens voted on and offline for the Goals they saw as more important for the progress of their societies. The SDGs finally recognised three important features. The first one is the global commitment to leave no-one behind which means working first for the last, for those who have less access to any benefits of welfare, for the communities who are hardest to reach.
The second feature of Agenda 2030 is the focus on reducing the inequalities within and between nations. The third is the explicit recognition that "there can be no peace without sustainable development and no sustainable development without peace". That notion was enshrined into Goal 16 on building peaceful, just and inclusive societies. It was then developed through the concept of "sustaining peace" approved by the United Nations in April this year.
We are saying that Peace not only needs to be conquered, and built, but also consolidated. This can be done by "preventing the outbreak, escalation, continuation and recurrence of conflict, addressing root causes, assisting parties to conflict to end hostilities, ensuring national reconciliation and moving towards recovery, reconstruction and development". An agenda as ambitious as peace itself.
The focus is no longer on restoring peace after a conflict but on making the necessary investments - in policies, laws, capacity, institutions, and importantly in values and principles - to ensure that peace is an essential foundation of society. Sustaining peace requires meeting Goal 16: access to justice for all, effective, accountable and inclusive institutions at all levels, reducing violence, providing legal identity, tackling corruption and organized crime, ensuring access to information and protecting fundamental freedoms.

Goal 16 is an engine for progress and an enabling tool for the other 16 Goals. Adherence to its human rights-inspired values and principles would result in a drastic reduction of conflicts, forced displacement, organized crime, violent extremism and unsafe migrations. Goal 16 furthers other parts of the agenda, such as for example the goals on gender equality, the reduction of other growing inequalities and the promotion of safe cities.
Peace is no longer a public good needed only in conflict affected countries; in today's world, peace dividends are highly valued in all societies, including in some of the most advanced. We may have become more prosperous, but if we do not pay attention to the root causes of poverty, inequality, exclusion and discrimination, we will continue to see a rise in violence, populism, xenophobia and instability.
Around the world, UNDP works to expand access to justice, establish effective institutions, develop the capacity of parliaments, conduct fair and transparent elections - two every month, every year - and promote human rights. Our efforts to sustain peace embrace a vision of a world that doesn't succumb to fear and despair, but thrives on hope and the belief that a better tomorrow, for the future generations, is what we owe our children, our peoples and our planet.
Calling all HuffPost superfans!
Sign up for membership to become a founding member and help shape HuffPost's next chapter