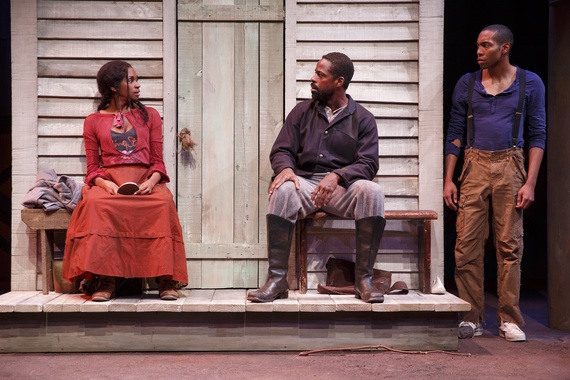 Jenny Jules, Sterling K. Brown and Jeremie Harris in
Father Comes Home from the Wars (Parts 1, 2 & 3). Photo: Joan Marcus
"Dark is the night, long is the day" sings a balladeer at the beginning of Suzan-Lori Parks' masterful Father Comes Home from the Wars (Parts 1, 2 & 3) at the Public. Since the ushers -- along with the ticket-takers and elevator attendants -- have all warned us that the first act runs nearly two hours, we might well hear this as "long is the play." Long, perhaps; but as soon as Parks draws you into her epic, you're likely to lose any notion of time.
The almost three hours of Father Comes Home from the Wars will leave you eager for more. A good thing, as there is more; namely Parts 4-9. It is only a foolhardy or brilliant playwright who will scope out a scheme which will require the erstwhile theatergoer to buy multiple tickets in order to see one complete work; The Life and Adventures of Nicholas Nickleby, Angels in America and The Orphans' Home Cycle spring to mind. While it is too early to place Father Comes Home from the Wars in such company -- Parks has yet to write all nine of the interrelated one-acts, after all -- the first three parts are overloaded with soaring language, trenchant philosophy and provocative debate.
A Measure of a Man starts with a Greek chorus of four "less than desirable" slaves standing on what passes for the local street corner -- it is 1862, on a dusty plantation in West Texas -- betting on whether Hero, the #1 slave, will chose to go to the War as Boss-Master's servant-slave. (It's a society without money; one fellow bets his boots, another his spoon.) We begin to see the universality of this journey -- and this cycle of plays -- when we learn that Hero's wife is named Penny, and that his cross-eyed dog is Odd-See (or Odyssey); there is no Ulysses present, at least early on, other than that marauding general up North.
What makes the burgeoning evening most exciting is that Parks' Greek drama of the American Civil War, set very much in period, is contemporary; there is enough in the characters and the dialogue -- even in the costumes, with some actors drifting on wearing basketball sneakers -- to tell us that Father Comes Home is a play of ideas and freedom that directly speaks to us, here in the 21st century.
The expansive nature of the cycle becomes apparent in the second one-act, A Battle in the Wilderness. The time is later that year, the place a shaded area in the middle of nowhere, the middle of no man's land. A Confederate colonel -- Hero's owner -- is holding a Union captain captive in a wooden cage. Or is he a Union captain? Hero stands guard, but the slave has far more in common with the captive. Parks corners her characters into discussions of freedom, slavery and worth. How much is Hero, in fact, worth? He pridefully considers his monetary value; eight hundred dollars, or isn't he really worth a thousand? If the South loses, though, he is free -- and not worth a dollar. Which is the better existence? And what if he escapes? Is he in effect stealing eight hundred dollars from his hated, hateful master? If slavery is an immoral institution, what does it mean for a slave to be true to his owner?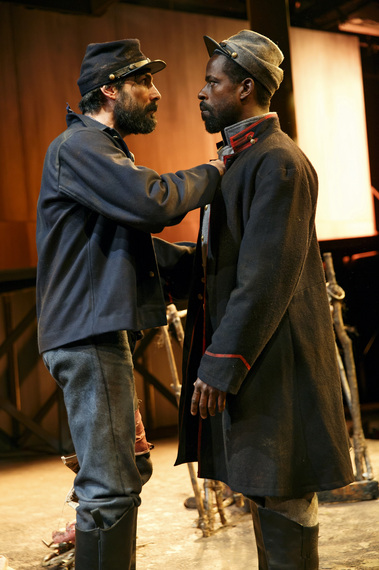 Louis Cancelmi and Sterling K. Brown in
Father Comes Home from the Wars (Parts 1, 2 & 3). Photo: Joan Marcus
After intermission comes the third play, The Union of My Confederate Parts. This is Hero's homecoming from the War in 1863, not as a hero but in defeat. (The War rages on but Boss-Master has been killed in battle.) Penny/Penelope has waited for him, although there are a couple of surprises in store. There are also some runaway slaves hiding on the plantation; as Part 3 ends, they escape -- not knowing that they are technically free, courtesy of the just-declared Emancipation Proclamation. There is much cross-discussion of loyalty and bonds, but the answers are never easy. Parks ups the ante in this section by adding an element of outrageous fantasy that is mighty farfetched, but it works so deliciously well that we are sent out into the night eager for Parts 4, 5 & 6.
Director Jo Bonney (of Small Engine Repair and By the Way, Meet Vera Stark), who has been part of Father Comes Home since 2009, has done a masterful job and is clearly an intrinsic part of the project, which is a coproduction of the Public (Oskar Eustis) and the American Repertory Theatre (Diane Paulus). All deserve credit for the work they've done and the work yet to do, as does the design team of Neil Patel (sets), Esosa (costumes) and Lap Chi Chu (lighting). The ten-person cast of relatively little-known actors does wonderfully well, with standout turns by Sterling K. Brown (Hero), Jenny Jules (Penny), Jeremie Harris (Homer), Louis Cancelmi (Smith, the captive soldier) and Jacob Ming-Trent in a perfectly droll impersonation.
At this point in the creation of the cycle, A Battle in the Wilderness -- with its concentration on slavery and freedom, leading to a sudden (and unexpected) moment of unharnessed emotion -- is the strongest of the plays. The Union of My Confederate Parts is a close second, thanks in part to that fantastical whimsy which provides clarity. Parks is already a Pulitzer-winner for her 2001 play Topdog/Underdog, and a winner of a MacArthur "Genius" Grant. Father Comes Home from the Wars -- and we have no way of knowing whether the cycle will stay in the Civil War era or move on to other prominent American wars -- is on track to be monumental.
Father Comes Home from the Wars (Parts 1, 2 & 3), a new play by Suzan-Lori Parks, opened October 28, 2014 and continues through November 16 at the Public's Anspacher Theater
Popular in the Community