When Suzanne Haley was gravely injured in the Moore, Okla., tornado, she didn't panic. Instead, the teacher's aide tried to allay her first-graders' fears by asking them about the sparkly stickers and rubber stamps they were using on their end-of-year scrapbooks.
Haley, a first-year paraprofessional at Briarwood Elementary School, said she focused on her students even after the metal leg of a desk impaled her right calf.
She was trying to protect the children, who took cover under half-moon-shaped desks when the EF5 tornado, which killed at least 24 people and injured about 240, demolished their school Monday. She described the roof of the school blowing off and the walls falling inward, trapping and burying them in the classroom.
At first, Haley, a 35-year-old single mother of two, thought her leg was simply stuck under something heavy -- until her daughter, who attends Briarwood and was in her classroom, let out a loud scream.
Graphic Photo: To see the unedited version, click here.
Story Continues Below.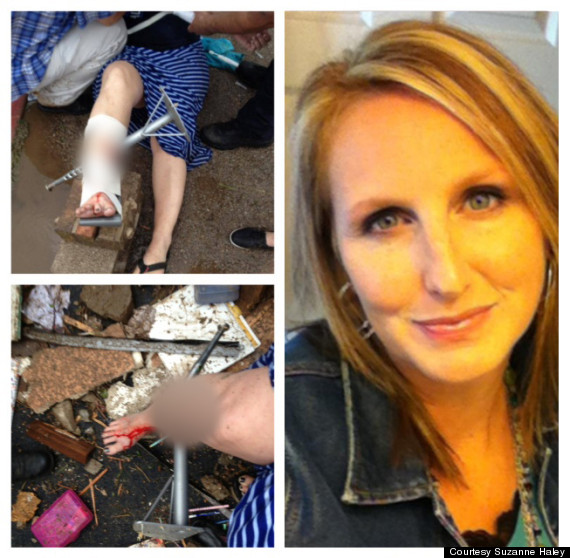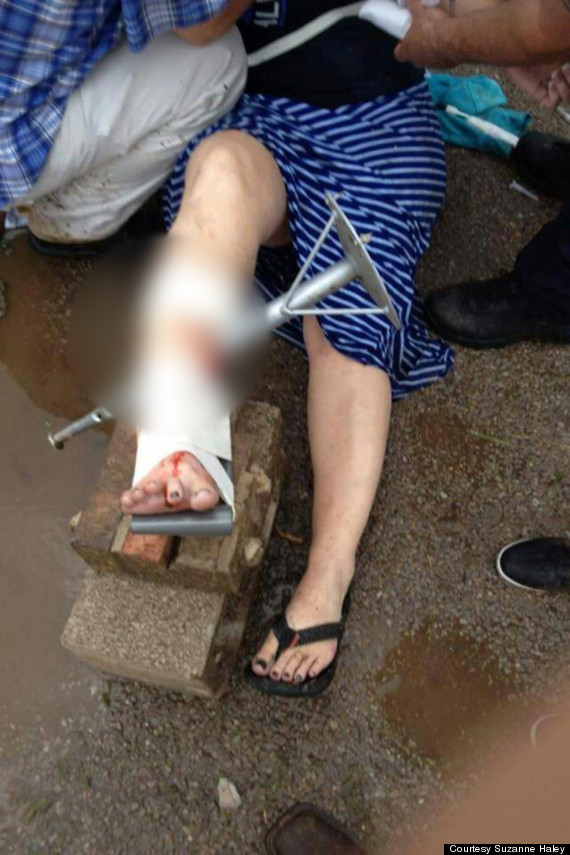 Luckily, the desk leg hit her calf muscle instead of major nerves, bone or arteries, Haley said.
She managed to unscrew the desk leg from the desktop, all while calming her students and daughter. All the children escaped unharmed, she said.
"Suzanne is probably the most selfless person I know. She didn't even think twice to put her body over those children and put her life in danger," Haley's close friend, Michelle Allain, told HuffPost.
According to Haley, a handful of first responders came to the rescue, freeing her and her students from the rubble and administering an IV to her. She was going into shock, she recalled.
She was put in the bed of a truck with her leg stabilized by cinder blocks, and her rescuers initially took her to Moore Medical Center, only to find it leveled. They then drove five miles south to Norman Regional HealthPlex.
Once at the hospital, the teacher's aide underwent anesthesia before a surgeon used a saw to cut through the desk leg. "One of the last things I heard them say was 'hacksaw' before going under," Haley said.
Recovery should take about three months, Richard Kirkpatrick, the Norman Regional surgeon who treated her, told HuffPost. She'll be discharged Thursday, likely with a post-operative boot, and will have to use a walker or crutches.
"We've seen a lot of things and this is certainly unusual, since people don't usually come in with foreign objects still in them," Kirkpatrick said. Since the rescuers couldn't safely remove the impaling desk leg, he added, it "needed to be removed in surgery."
The surgeon said Haley was lucky that the metal object didn't go through any vital parts. "I'm optimistic she will basically have a full recovery," he said. "The muscle will heal as well, and we don't expect her to need lots of follow-up surgery. It's fortunate considering it was a graphic injury."
Following the tornado, he noted, he treated mostly broken bones and lacerations.
Haley said she knows she's lucky and feels love and support, especially from her friend, Allain, who has been at Haley's side since the accident. The two friends also lived through the EF5 tornado that struck Moore in 1999, one of dozens of twisters that killed 44 people across Oklahoma.
Allain said she knew from the 1999 experience that Monday's storm was also an EF5.
"This tornado wrapped and dropped from the sky so fast. I knew it was an F5 when I was watching TV. There's certain ways that things get twisted," she said. "I saw the tornado hit the school on the news, and that's when I knew I had to help [Haley]."
She took off from her home on the north side of Oklahoma City to get to Moore, dodging loose concrete, steel bars and back-to-back traffic. A trip that would normally take 30 minutes, she said, took her four hours.
"I was driving on the highway about 100 mph to get to Moore with my lights flashing, honking and being psychotic," Allain recalled. "Every cop I saw tried to make me turn around. I said, 'You're not God. You're not going to keep me from my friend, who was one of the teachers who was hurt.' I could have driven to Dallas and then some."
Allain noted that Haley's students have come to visit, one giving the teacher's aide an angel necklace and a big hug.
"People wrote on my Facebook wall saying, 'I pray to God that's the type of teacher my kids have -- one who treats my children the way I'd treat my children,'" Allain said.
Haley told HuffPost that any donations she receives will go toward medical expenses and the purchase of a new vehicle. Hers was found crushed outside the school. "I am a single mother, and unfortunately money is already tight as it is," she said.
A fund has been set up in Haley's name. Donations may be transfered on PayPal.com, directed to the email address: Suzannesdisasterrelief@gmail.com.
Disclaimer: You are electing to directly give funds to this individual. For purposes of clarity, any funds that you give are not going to a 501(c)(3) qualified organization or other charitable organization but rather an individual person. The Huffington Post makes no representations or warranties as to the legitimacy of this person's story, need for assistance, or the amount of any medical or other bills, if any, owed by this individual. The Huffington Post makes no representations or warranties that the funds you give will be used by this individual for the intended purpose. The Huffington Post in no way monitors or oversee the use by this individual of any funds you choose to give to them. The Huffington Post makes no representations or warranties as to any tax benefits or deductions available to you by reason of giving funds to this individual.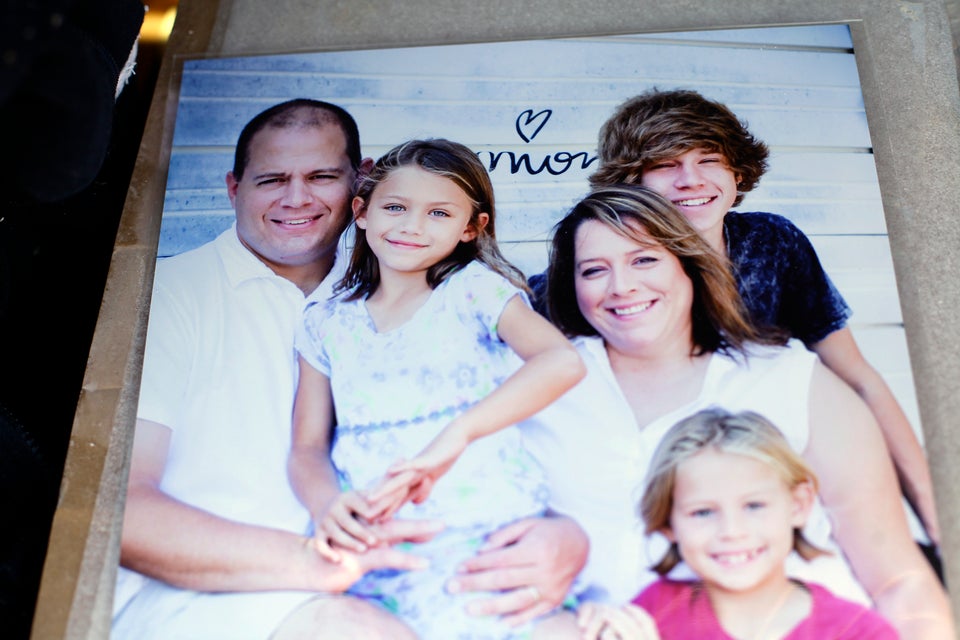 Moore Oklahoma Tornado Victims
Popular in the Community