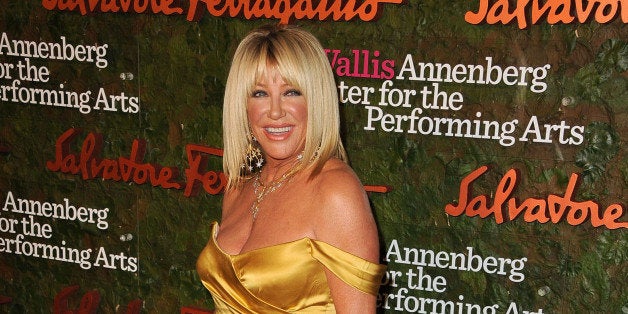 Former "Three's Company" star and ThighMaster aficionado Suzanne Somers thinks President Obama's Affordable Care Act is really just one big Ponzi scheme.
Somers took to The Wall Street Journal to offer up her opinion on what the Affordable Care Act will mean for retirees, and apparently the 67-year-old thinks it all equates to socialized medicine. She said she has observed the pitfalls of this in Canada (her husband, Alan Hamel, is Canadian), where animals supposedly get better care than humans and where she claims her sister-in-law had to wait two months to see a general practitioner.
She also posited that there really isn't anything "affordable" about the Affordable Care Act because "all you are hearing on the news is how everyone's premiums are doubling and tripling." For retirees, she added, this "might work if you don't get too old and you don't get too sick, and you don't live too long." After claiming Medicare dollars will be spent to cover the "skyrocketing cost" Obamacare, she concluded: "Boomers are smart. They see the train wreck coming … most I speak with think the Affordable Care Act is a greater Ponzi scheme than that pulled off by Bernie Madoff."
Ryan Chittum, deputy editor of Columbia Journalism Review's The Audit, skewered Somers' piece as well as The Wall Street Journal:
The Wall Street Journal, of all places, shouldn't be going anywhere near a dangerous crackpot like Suzanne Somers on the topic of health care. Here are a few of her qualifications:

— She played Chrissy on "Three's Company."

— Promotes alternative therapies over chemotherapy to treat cancer. ...

— Wrote a book about bioidentical hormone replacement therapy pushing the "scientifically unproven and dangerous" advice of an actress with a bachelor's in anthropology.
The Journal is owned by Rupert Murdoch's News Corp. Somers belongs to the Journal's "Experts" panel, "an exclusive group of industry, academic and cultural thought leaders who weigh in on the latest debates in The Journal Report." Others in the group include Pat Sajak and Morgan Fairchild.
Calling all HuffPost superfans!
Sign up for membership to become a founding member and help shape HuffPost's next chapter
BEFORE YOU GO
PHOTO GALLERY
Lies And Distortions Of The Health Care Debate