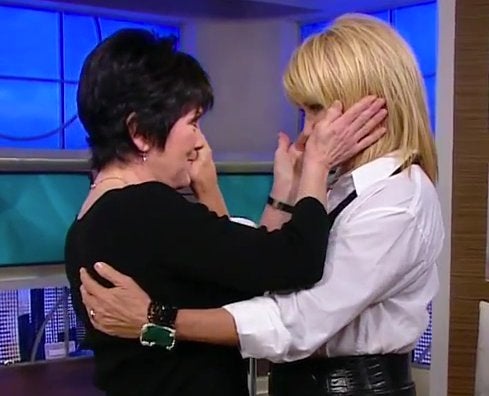 Suzanne Somers and Joyce Dewitt have finally buried their 30-year feud, coming together for a long-awaited "Three's Company" reunion on Somers' web series, "Breaking Through."
The two actresses had not spoken since Somers left the iconic sitcom in 1981 over a salary dispute, leading to what was an awkward and emotional scene on stage. Somers asked Dewitt if her parents were still alive (they are) and was surprised to hear that her young brother had died, asking how he passed (a heart problem at age 48).
The conversation then turned to their late co-star John Ritter; Somers remembered being contacted in 2003 by Ritter, who asked both her and Dewitt to make cameo together in a dream sequence of his show "Eight Simple Rules for Dating My Teenage Daughter." Both actresses declined, and Ritter died of an aortic dissection a short time later.
The reunited co-stars also reminisced about working with Ritter on their show; Somers called him "the greatest physical comic of our era" and remembered marveling at his ability.
"His legs were, like, made of rubber," she said. "He had a way of moving you around that, for me, made me more of a physical comic than I really was."
CORRECTION: An earlier version of this story stated that Ritter died of a heart attack; he died from an aortic dissection.
Popular in the Community