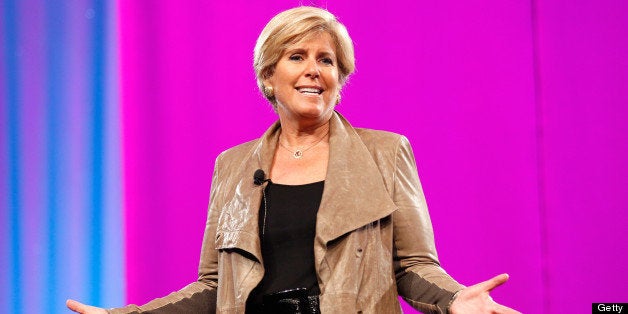 Whether she's onstage with Oprah or on the set of her own CNBC show, Suze Orman is a financial force to be reckoned with.
The no-nonsense money expert is constantly giving advice and helping others with their make sense of their savings, but what does Orman need help with?
We found out when we recently chatted with her and also got her to dish on everything from living within your means to Gay Pride, whether gays should move to states where they are legally allowed to be married, the crucial lesbian pop culture moment she missed out on and more.
The Huffington Post: If you could only give one piece of advice to someone, what would it be?
Suze Orman: Live below your means, but within your needs. With most people, the more money you make the more money you spend. From this day forward every time you are about to purchase something ask yourself "Is this a want or a need?" If it's a want, don't buy it. If it's a need then you have to do it. If everything you spend money on this day forward is a need and not a want then you will have extra money, and if you can get as much enjoyment out of saving that you do as spending, then you will have more money.
Do young gay people ever ask for your advice?
Here's whats funny: More than the gay kids asking for advice, their parents talk to me. There are a lot of people in the media whose children happen to be gay, and they know I'm gay, and they really want to be supportive of their children, but their children haven't told them yet, but the parents already know. "Suze, if i just connect you with my kid, could you talk with him, write with him, be with him, help them with this process of coming out?" More parents come to me than kids themselves.
Everyone looks to you for advice, what do you need help with? Is it cooking? Gardening?
I don't care about the kitchen. KT [Kathy Travis, Orman's partner] loves to cook, I love to do dishes. That works perfectly. The one thing I do need help with is learning how to be a captain on a boat. Its really difficult to learn how to read the waters and how to go into foreign waters. I'm proud to say I am a self-sufficient woman. I am very, very self-sufficient in almost every single way, except I ask for help with my boat all the time.
Do you find that you have a large gay audience?
I think of myself as The Money Lady. Money crosses all races, all sexual preferences, all religions, tax brackets -- everything. So, I have a large audience of minorities, older people, 15 year olds, 20 year olds, gay people, but I have large audiences from every single sector. Being gay seems so natural to me, and so normal, it's all I've ever been. I don't see it as a big issue, I see it as my life.
You recently spoke about The Great Gay Migration, telling gay couples to move to and spend their money in states that recognized gay marriage. Do you still stand behind that?
KT is not for that, just so you know. I really think that it is really important that all of us support states that support us. I'm a Florida resident but I find it difficult to be a resident of a state that chances of it passing marriage equality is almost nil. The problem KT has with us leaving... It's the same reason when we lived in California, we really were California residents. You would be far better off taking your energy and rather than punishing the state of Florida, save the money you would save on state income tax from New York, and take the money, put it towards marriage equality in Florida. I think it's far better to change the laws than change your state. If DOMA is overturned, it will be a far easier change in states that are quite conservative, then if DOMA isn't overturned. If DOMA isn't overturned, then it doesn't matter on any level -- it'll be such a loss. [Editor's Note: This interview was conducted before the recent Supreme Court rulings on DOMA.]
The clip of you on "The Piers Morgan Show," where you laid out why gay marriage is so important on a federal level, was a huge hit online. What were your thoughts about that show?
Well, the show started with someone from The Heritage Society and I didn't know that it was going to start that way. I do think it's equally bad for us to put those who don't understand us down, as it is for them to put us down. I think change is built on mutual respect for one another and the ability to hear disagreements in an intelligent way and then coming to an informed opinion on how you think about something. It breaks my heart that as gay people we are expected to pay taxes, expected to be viable members of society, yet on the major important levels of life we are not recognized and in fact penalized. It feels great that the most listened to personal finance expert in the world today is gay and can go all over the world and talk about this.
Was there a moment you knew you were gay?
I knew I was gay when I had serious crushes on my girlfriends. We would all go out with boys. I went out with a boy who liked to double date and we would go out with a boy who liked to double date with a girl I had a crush on. What I really felt was the emotion and attraction to my girlfriends, it was effort when I had to go out with a guy.
Do you remember your first Pride event?
Obviously in San Francisco, back in the early '70s, the dykes on bikes and thinking, Wow! This is the greatest thing I've ever been to, and looking forward to that June 25th date or whatever it was every year and just loving it.
Have you ever been asked to be a grand marshall in a Pride parade?
I have been asked, not for a Pride parade, but I've been in the Chicago Thanksgiving parades and other events. If I was asked I would most certainly do it. I'm sure KT would love to do it with me. I love when gay people celebrate who they are. I don't care if half of them are naked and the drag queens come out -- I think it's fabulous. I think everyone should be able to be whoever they want to be and I just love every part of it. I love any expression of gayness. An expression of gayness is an expression of freedom and that is a God-given right. It's a constitutional right to be free and say what you want to be.
As a public gay figure, what are your thoughts on gay celebrities and gay entertainment? Did you ever watch "The L Word?" What other gay celebrities do you love?
I've never seen "The L Word" once. Never even turned it on. I love watching Ellen. I get extreme pleasure watching her being Ellen every day. I always love watching the gay anchors on TV, when I know you're gay, I love watching you do your thing because I know it took a little bit more for you to do what you're doing than anybody else. I just love the fact that they did it.
For more information on Suze Orman, visit her official website and follow her on Twitter. You can catch her show, "The Suze Orman Show" Saturday nights at 9pm EST on CNBC.
REAL LIFE. REAL NEWS. REAL VOICES.
Help us tell more of the stories that matter from voices that too often remain unheard.
BEFORE YOU GO
PHOTO GALLERY
42 Historical LGBT Moments